You are here
Housing crisis threatens Syrian refugees — UNHCR report
By JT - Mar 27,2014 - Last updated at Mar 27,2014
AMMAN — After three years of conflict in Syria, hundreds of thousands of refugees living in urban areas in the Kingdom are struggling to meet their daily needs, according to a new report by the UN Refugee Agency.
The study by UNHCR and its longstanding partner International Relief and Development (IRD) "highlights for the first time the struggle and day-to-day survival of 450,000 Syrians who live outside Jordan's formal refugee camps, as they face rising rents, inadequate accommodation and educational challenges for their children".
The report was based on 92,000 interviews during home visits in 2012 and 2013, and marks growing concern that as the war enters its fourth year, many refugees have reached the limits of their ability to cope, according to a UNCHR statement sent to The Jordan Times.
"The report shows the dilemma that refugees face to survive in urban areas, despite the outstanding generosity and significant support that Jordan has continued to offer them, including free public health and education. Less than 3 per cent of Syrian refugees reported having to spend money on healthcare, as Jordan has offered primary, secondary and some tertiary healthcare since May 2012," the statement said.
"After escaping the horrors of war at home, hundreds of thousands of Syrians who have fled the violence and deprivation are facing a second crisis in their place of refuge," said Andrew Harper, UNHCR's representative in Jordan. "Syrian refugees in Jordan are hanging on by a thread, struggling to keep a roof over their heads and earn enough money to get by," the statement quoted Harper as saying.
Almost four in five Syrian refugees in Jordan live outside the formal camps, but only get a fraction of the international attention, contrary to the focus on the Zaatari Refugee Camp, the UN Refugee Agency noted.
UNHCR and IRD workers visited and interviewed tens of thousands of households to identify needs and help the hidden majority of refugees who live in towns and cities throughout the country.
The report comes amid indications that as the last of their assets are drying up, many families are turning to negative coping mechanisms to make ends meet, sometimes placing themselves at risk of exploitation, the statement said.
"Syria's children have already lost their past. We cannot now allow a generation to lose its future," Harper said.
"Syrian children in Jordan must be given the skills to rebuild, for themselves and the future of their country," he added.
The report said cash for rent and better accommodation is urgently needed by many refugee families, as almost 80 per cent of Syrian refugees in Jordan have found homes outside the camps — the vast majority in apartments and some in basements, prefabs, tents and even mud huts.
Paying for rent has become a primary concern, as prices have risen from 2012 to 2013 by 15-25 per cent depending on the location, and rent accounts for almost two-thirds of their expenditure, according to the study.
Half of the refugees feel they live in "inadequate" dwellings, such as apartments suffering from damp and mould.
Refugee families reported that 61 per cent of school-age children covered by the study did not go to school during the 2012-2013 academic year, while 5 per cent of children who were in school reported having dropped out.
UNHCR said the agency continues to investigate this issue in ongoing home visits, but known reasons include challenges in adjusting to the Jordanian curriculum, inability to catch up, working in order to earn money for their families.
The study also found that 16 per cent of refugees do not have adequate water and sanitation, while 84 per cent of families considered their water supply was adequate.
A quarter of all respondents said their families had become separated from either nuclear or extended family members and one in three households with minors were headed by women, the report indicated.
"Syrian refugees in Jordan are becoming increasingly self-reliant" and although access to legal employment is challenging, the percentage of refugees receiving income from work increased between 2012 and 2013 from 28 per cent to 36 per cent, according to the survey.
Meanwhile the percentage of refugee cases receiving income from humanitarian assistance and charity decreased from 63 per cent to 49 per cent.
By the end of 2013, UNHCR had given close to $32.5m in cash assistance to 120,000 Syrian refugees, identified on the basis of this study, the statement said.
In 2013, UNHCR Jordan received $237m from the US, Kuwait, the EU, Japan, the UK, Australia, the Netherlands, Germany, Finland, Canada and many more donors from the private sector and from Gulf countries such as Oman, Qatar, Saudi Arabia and the UAE, according to the agency.
Related Articles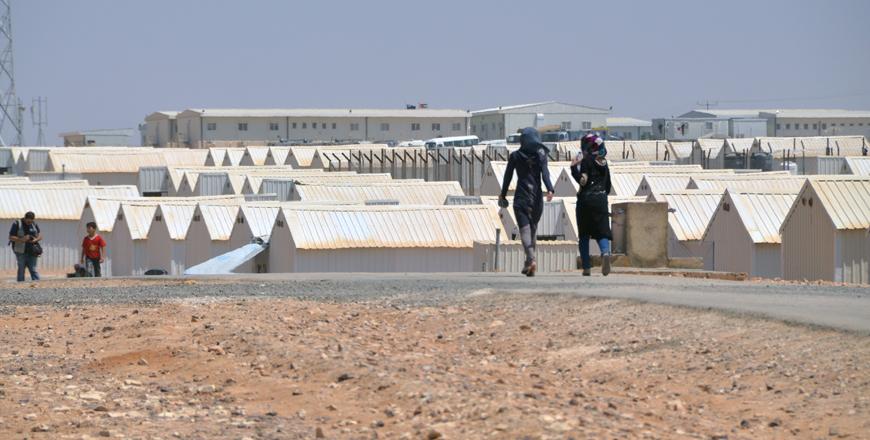 Aug 03,2015
AMMAN — More than 3,000 Syrian refugees have returned to Azraq Refugee Camp from urban areas in the first half of the year, the UNHCR said i
Jun 30,2015
AMMAN — Around 80 per cent of Syrian refugee families living among host communities across the Kingdom said their main concern is paying ren
Jun 22,2015
AMMAN — UNHCR on Monday said it has launched a major campaign during the fasting month of Ramadan to raise funds to help some of the most vu
Newsletter
Get top stories and blog posts emailed to you each day.