You are here
Housing developers appeal to government to 'rescue' sector
By Laila Azzeh - Jun 11,2017 - Last updated at Jun 11,2017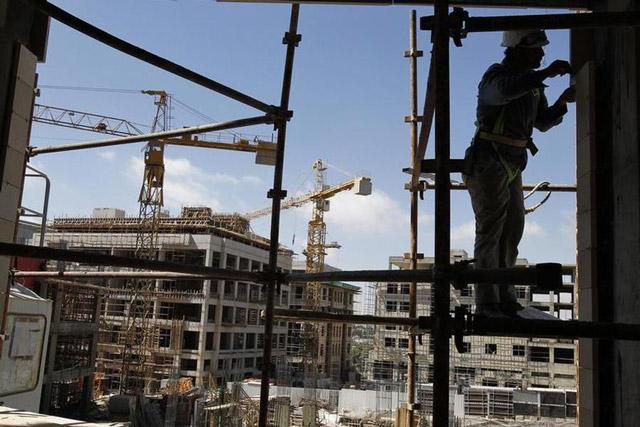 The Jordan Housing Developers Association has called on the government to intervene to 'rescue' the housing sector (Reuters photo by Muhammad Hamed)
AMMAN – The Jordan Housing Developers Association (JHDA) is urging the government to swiftly intervene to "rescue" the housing sector, which it says is going through "huge financial difficulties" that might affect the national economy, according to a concerned source.
In a letter directed to Prime Minister Hani Mulki late last week, the association urged the government to provide the sector with a number of incentives in order to prevent threatened companies from "exiting the market".
"Hundreds of housing firms are facing a very difficult financial situation that might affect their ability to continue in their business. Failing to support them will have negative consequences on the national economy," JHDA President Zuheir Omari told The Jordan Times on Sunday.
In the letter, the syndicate highlighted that some companies have resorted to selling apartments at less than the cost of construction, incurring huge losses and threatening to cause a "real-estate crisis''.
To this end, the JHDA, an umbrella of more than 3,000 real-estate companies, has called for exempting the first 150 square metres of every purchased residential property from taxes and reducing the ownership transfer fees to 5 per cent until September.
"We have to seize the opportunity of having expatriates come to Jordan in the summer to boost the real-estate sector, a key contributor to economic activity," Omari said, adding that 30 per cent of the sector's revenues go to the Treasury.
He noted that the sector boosts at least 40 other fields that are linked to construction, while creating thousands of direct and indirect work opportunities.
"We are still waiting for the premier's reply, but we hope that they would positively respond to our appeal…this is only a short-term plan but we hope that the sector is included in the economic stimuluation plan," the sector representative said.
In earlier remarks to The Jordan Times, JHDA Vice President Munir Abu Assal warned of a "possible spread of slums" because citizens will not be able to afford the increasing prices of apartments, prompting them to look for alternatives, such as arbitrary construction.
Noting that the sector currently generates more than JD10 billion a year, he also warned that the "high" taxes on the sector make it harder for citizens to purchase their own housing units, which would eventually harm the sector and affect its ability to support the economy.
Related Articles
Jun 22,2017
AMMAN — The government has yet to respond to the appeal from real-estate investors to provide incentives to the sector ahead of the summer,
Aug 15,2015
AMMAN – UNRWA is still exerting all efforts to secure the necessary funds that would enable it to sustain its services, especially those rel
Feb 09,2017
AMMAN – Increasing taxes on steel threatens the construction and real estate sectors, which are already suffering from the hike of other bui