You are here
Huwaitat tribe calls Jafer trial 'purely political'
Maarek Sami Tawayha sentenced to life in prison for killing 3 US soldiers
By Ahmed Bani Mustafa - Jul 22,2017 - Last updated at Jul 22,2017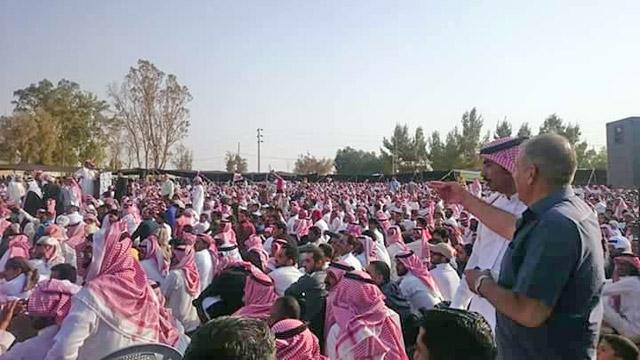 The Huwaitat tribe on Friday held a council to discuss the life sentence of a Jordanian soldier who was convicted last week of killing three US Special Forces instructors (Photo courtesy of the Huwaitat tribe's Facebook page)
AMMAN — The Huwaitat tribe on Friday held a council to discuss the life sentence of a Jordanian soldier who was convicted last week of killing three US Special Forces instructors.
During a gathering in Jafer in Maan Governorate, 220km south of Amman, the tribe issued a statement in which they hailed the soldier, Maarek Sami Tawayha, as a "hero" and labelled the military court which last week found him guilty as "unconstitutional" and "illegal".
The statement also claimed that the trial was "purely political" and called for Tawayha's release and reinstatement in the army.
The statement also said that the meeting was attended by "many other tribes", alongside the Huwaitat.
Responding to questions from The Jordan Times, a senior government official, who preferred not to be named, stated that it is not the government's policy to comment on judicial proceedings.
"Our judicial system is well known for its transparency and credibility," the source added.
Meanwhile, some social media users have circulated another statement online, which called for the resignation of the prime minister and the army's chief, and the dissolution of Parliament.
However, the tribe's Facebook page denied that it had issued the second statement.
Hussein Huwaiti commented on Facebook that those demands were voiced by representatives of other tribes at the meeting and "do not represent the Huwaitat".
Last week, a military court handed Tawayha a life sentence.
The tribunal also ordered demoting the soldier to the rank of private and dismissing him from military service.
Tawayha shot dead three US Special Forces instructors outside the King Feisal Airbase in Jafer, Maan, in November 2016.
Families of the victims have praised the court's rulings and the trial's "conformity with the best judicial practices", according to the Jordan News Agency, Petra.
For its part, the US embassy quoted embassy spokesperson Eric Barbee in a statement after the verdict as saying that the embassy observed the trial and judicial proceedings, which "confirmed that the deceased US service members followed all established procedures when accessing the base the day of the incident, as we have noted before".
"We are reassured to see the perpetrator brought to justice. We appreciate the access provided to us and to the families of the victims, as well as the expedience and seriousness of the court proceedings, consistent with the Jordanian law. Despite this tragedy, Jordan remains a strategic partner," Barbee said.
The French embassy in Jordan recently issued repeated advice to French nationals warning against travel in Maan following the verdict.
On Wednesday, the UK government's official website also posted a travel alert warning of "heightened tensions" following the decision, urging against use of the Desert Highway between Karak and Aqaba.
Also on Wednesday, a bus carrying tourists was reportedly attacked with stones on the Desert Highway in Maan Governorate.
Related Articles
Jul 18,2017
AMMAN — A military court on Monday handed down a life sentence to a Jordanian soldier for killing three US officers at a military base, the
Jul 20,2017
AMMAN — The lawyer of a Jordanian soldier, who earlier this week was sentenced to life in prison for killing three US officers at an army ba
Aug 04,2017
AMMAN — The Military Appeals Court on Thursday upheld a July life sentence passed on a Jordanian soldier, after he was convicted by a milita