You are here
IAEA to assess proposed nuclear plant site
By JT - Feb 03,2014 - Last updated at Feb 03,2014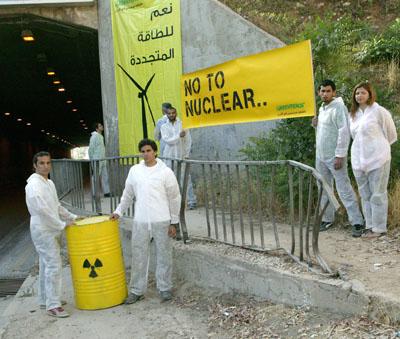 AMMAN — Delegates from the International Atomic Energy Agency (IAEA) are scheduled to visit Jordan in April to assess the studies conducted on the proposed site for Jordan's planned nuclear plant, an official said on Monday.
The IAEA experts will train Jordan Nuclear Regulatory Commission (JNRC) personnel on conducting the environmental impact assessment required for the nuclear project, JNRC President Majd Hawari noted.
In October last year, the Jordan Atomic Energy Commission (JAEC) announced plans to construct twin 1,000-megawatt reactors in the Qusayr Amra region east of Amman.
It cited the site's distance from major urban centres and proximity to the Khirbet Samra Wastewater Treatment Plant among its advantages.
The commission selected the Russian Federal Agency for Atomic Energy (Rosatom) as the preferred vendor to construct the reactors by 2021.
Activists and local residents claim that the reactors threaten the underground aquifers in Azraq, some 15 kilometres from the proposed site.
In remarks to the Jordan News Agency, Petra, upon his return from Vienna, where he held talks with IAEA officials, Hawari said the IAEA will build the capacities of JNRC employees under a 150,000-euro plan funded by the agency.
The employees will be trained to monitor the safety of the national nuclear project, Petra reported.
A team of 19 IAEA experts will visit the Kingdom for two weeks to offer their expertise to the JNRC in reviewing the technical and administrative procedures required to issue reports on the preventive measures needed in monitoring the nuclear programme.
In late January, the JAEC said it will sign an agreement with Russian state-owned firm Rosatom in mid-February to develop Jordan's first nuclear plant.
The Russian company has agreed to take on 49 per cent of the plants' $10 billion construction and operation costs on a build-own-operate basis, with the government shouldering the remaining 51 per cent and retaining a majority share in the plants.
Prime Minister Abdullah Ensour noted in recent remarks that nuclear energy can provide Jordan with almost one-third of its future needs of electric power and can cut costs by around one-third.
Stressing that the government is open to all opinions regarding the nuclear plan, the premier said in January that it will not take a decision on proceeding with the national nuclear programme until after some 20 months.
Related Articles
Feb 11,2014
The International Atomic Energy Agency (IAEA) has commended the Jordan Atomic Energy Commission's (JAEC) assessment studies of the Kingdom's planned nuclear plant.
Mar 26,2014
Experts from the International Atomic Energy Agency (IAEA) on Wednesday began reviewing an assessment report on Jordan's projected nuclear plant prepared by the Jordan Atomic Energy Commission (JAEC) and the Jordan Nuclear Regulatory Commission (JNRC).
Feb 15,2014
The government is still conducting all the studies needed to implement the nuclear project, which is expected to be operational by 2021, a government official said on Saturday.