You are here
Intellectuals discuss 'civil state' in Arab and Islamic context
By Fares Al Abed - Oct 25,2017 - Last updated at Oct 25,2017
Culture Minister Nabih Shuqum on Tuesday inaugurated the 15th Amman Cultural Forum held under the title 'civil state' at the Royal Cultural Centre (Petra photo)
AMMAN — Culture Minister Nabih Shuqum on Tuesday inaugurated the 15th Amman Cultural Forum held under the title "civil state" at the Royal Cultural Centre.
The two-day forum, held under the patronage of His Majesty King Abdullah, has attracted the participation of Arab and foreign researchers, as part of events planned to celebrate Amman as the Capital of Islamic Culture 2017.
The forum focuses on the concept of "civil state" and the ways to achieve it, as well as the challenges to the concept of civil state in the Arab and Islamic context.
Participants will exchange examples of the civil state through an analysis of their civil, historical and political experiences.
Representing the forum's higher committee, researcher, author and leading columnist Mohammad Abu Rumman said that the concept of "civil state" has taken a "large share" in the political and intellectual debates, triggering controversies in the Arab world over the past years.
He attributed that to the significance of the issue, describing it as "the Arab political reality and division along religious, sectarian and ethnic lines has pushed the issue of civil statehood to the forefront, as the best alternative" to the present situation and the "common ground" where all could meet.
He said that the civil state is based on social contract, citizenship and compliance with the Constitution and law.
Abu Rumman stated that the two-day forum is an opportunity to figure out where the civil state concept stands in the global intellectual context, and how it is perceived in the Arab and Islamic societies.
Mohammad Kharboush, an Egyptian professor of political science, said that the civil state is an "ambiguous concept" that has become familiar in the Arab region, especially among political elites, media and writers in the recent years, adding that the modern Arab state is always walking a "thin line" between committing to the modern state standards and respecting religion.
The forum's Director Ahmad Rashid said that the conference is tackling five themes: civil state as a term, the approach to civil statehood, possibilities and challenges facing the evolution of a civil state that fits Arab and Islamic culture, the civil state and its relation with religion, while panellists will also examine various examples of a civil state under the fifth theme of the gathering.
up
62 users have voted, including you.
Related Articles
Jul 21,2016
ISTANBUL — Since surviving last week's coup attempt, Turkish President Recep Tayyip Erdogan has escalated his battle against his arch-enemy,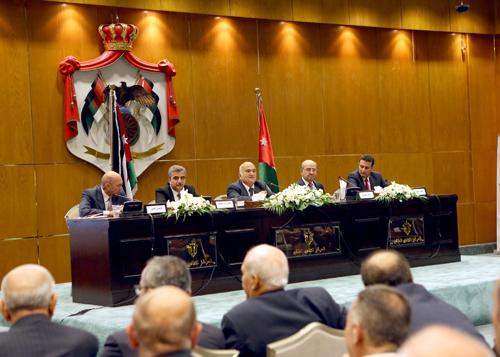 Sep 10,2015
AMMAN — The Arab Thought Forum (ATF) on Tuesday issued a publication compiling its dialogue sessions of the Royal discussion papers authored
Sep 20,2014
Egypt's President Abdel Fattah Al Sisi told The Associated Press on Saturday he is prepared to give whatever support is needed in the fight against the Islamic State group but called for a "comprehensive strategy" to tackle the roots of extremism across the region.
Newsletter
Get top stories and blog posts emailed to you each day.