You are here
'Investment promotion requires sincerity by people in charge'
Jun 15,2017 - Last updated at Jun 15,2017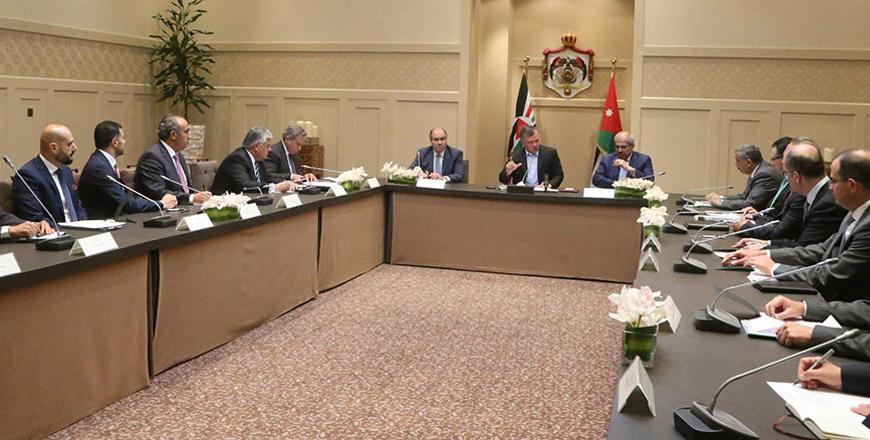 His Majesty King Abdullah chairs a meeting with stakeholders to assess progress in investment promotion plans in Amman on Wednesday (Photo courtesy of Royal Court)
AMMAN — His Majesty King Abdullah on Wednesday chaired a meeting with stakeholders to discuss the government's action plan to encourage investment and develop the business environment.
The meeting, held at Al Husseiniya Palace and attended by Prime Minister Hani Mulki and several business representatives, came as part of His Majesty's follow up on the Economic Stimulation Plan, a Royal Court statement said.
His Majesty said that progress in improving the business environment would not be possible by "making two steps forward and one backward".
He stressed the importance of coordination among the concerned institutions, noting the need to enhance cooperation between the public and the private sectors through a continuous and institutional dialogue to address the obstacles that face the private sector.
The King warned that there would be no tolerance with any person who seeks to hinder the Economic Stimulation Plan.
"When I promote Jordan outside, I need to be sure of the existence of an administration structure that is capable of functioning actively", with people in charge are sincere in their efforts to meet the investors' needs, His Majesty said.
During the meeting, the King discussed the agreed on measures to improve the business environment that related to the Greater Amman Municipality (GAM), the Jordan Customs Department, the Income and Sales Tax Department and the Investment Commission.
In this regard, King Abdullah highlighted the importance of easing governmental procedures to facilitate investor businesses, stressing that there would be intensive periodical follow up on the implementation of the set measures.
For his part, Prime Minister Hani Mulki stressed that the government will work on overcoming all obstructions that face the business sector in the Kingdom.
For their part, the business representatives noted that the slow decision-making process leads to losing investment opportunities.
They called for continuous updating for the Jordanian investment standards, enhancing the efficiency of the public administration to enable it to provide quality services, and improving cooperation between Jordan Standards and Metrology Organisation and the private sector.
They also called for not taking any decisions that might have an adverse financial impact on the economic sector without giving concerned parties enough time to cope with them.
Related Articles
Oct 08,2016
Following is the full text of His Majesty King Abdullah's speech at the Peace of Westphalia Prize ceremony in Munster, Germany, on Saturday.
Jun 06,2017
AMMAN — Total investments in the King Hussein International Airport stand at JD100 million, Aqaba Special Economic Zone Authority Chief Comm
Jul 29,2017
AMMAN — Minister of State for Investment Affairs Muhannad Shehadeh on Saturday announced that an investment map for governorates will be lau
Newsletter
Get top stories and blog posts emailed to you each day.