You are here
Irbid bookseller set to open 'dream kiosk' after social media campaign
Six benefactors to cover cost of setting it up
By Omar Obeidat - Oct 16,2016 - Last updated at Oct 16,2016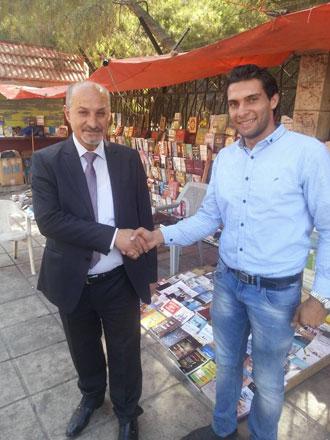 Bookseller Shadi Abu Nasser (right) shakes hands with Irbid Mayor Hussein Bani Hani on Saturday in this photo posted on Abu Nasser's Facebook page (Photo courtesy of Shadi Abu Nasser)
AMMAN — Irbid's young bookseller Shadi Abu Nasser, whose street stall recently became the talk of thousands of Jordanians on social media, has received municipal permission to set up his "dream" kiosk.
Abu Nasser has been selling books on a street stall just outside the northern gate of the Yarmouk University for more than seven years. City officials recently threatened to remove his stall, which was not licensed and violated regulations.
But last Tuesday, a hashtag in Arabic with the message, "Bring back Shadi's stall", stormed Twitter with around 20,000 tweets as tweeps pressured the Irbid Municipality not to remove the 25-year-old English literature graduate's bookstall. The same hashtag also went viral on Facebook.
The campaign on social media has helped the young man keep his small business, as the municipality agreed not to remove the bookstall.
But the good news, according to Abu Nasser, came on Saturday when he was visited at his stall by Irbid Mayor Hussein Bani Hani who promised to grant Abu Nasser a licence for a kiosk.
The bookseller had been trying to obtain municipal approval for a kiosk for nearly six years.
"The mayor visited me here and promised to allow me set up a kiosk," Abu Nasser told The Jordan Times on Sunday.
He posted a photo of himself and Bani Hani on his Facebook page.
Six people from Irbid have volunteered to cover the cost of building the kiosk, Abu Nasser said, adding that he will name it "Irbid Cultural Kiosk" because he has his "dream business" thanks to Irbid's residents.
The kiosk, he said, will be in the same spot as his stall.
In remarks to The Jordan Times last Wednesday, Shadi described himself as a bookworm before becoming a bookseller, noting that his story with books started when he was 18 and he was asked by his family to get rid of the "large number" of books he had.
"I had two options at that time, either to take the books out of the house or they would have them burnt," he recalled.
"I had to take the books and display them on a stall for sale outside the university. I was shocked with the high demand for my merchandise," he added.
Now, he says he sells around 800 books a week.
Abu Nasser said he also imports books from Beirut for his loyal customers, adding that visitors to his stall are Irbid's elite intellectuals, academics and students.
Related Articles
Oct 12,2016
AMMAN – A top trending hashtag in Jordan on social media helped a young bookseller in the northern city of Irbid keep his small business.
Mar 04,2018
AMMAN — Customers and friends of owner of Al Jahez Closet, one of the oldest bookstores in Jordan, Hisham Maaytah are lamenting the death of
Jun 19,2016
ZARQA — "Although this is the age of the Internet, there are people who still prefer to buy real books for their touch and smell", says Anwa
Newsletter
Get top stories and blog posts emailed to you each day.