You are here
Islamic financing tools to be available for Governorate Development Fund beneficiaries
By Dana Al Emam - Jul 23,2015 - Last updated at Jul 23,2015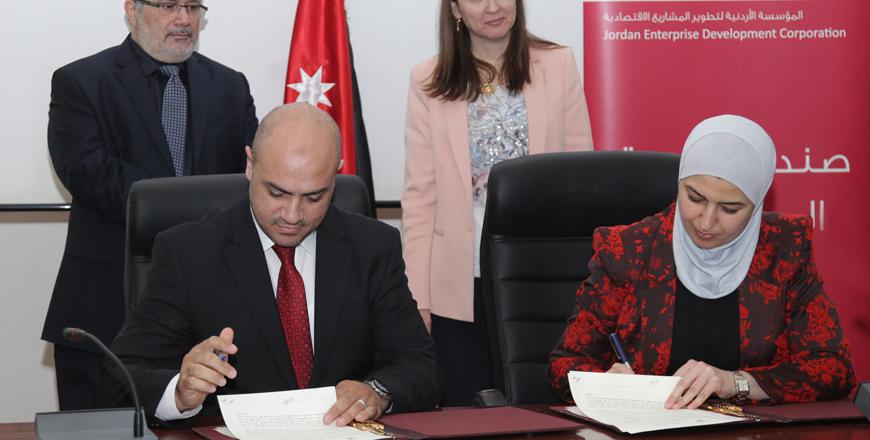 Hajj Fund Director General Wael Arabiyat and Jordan Enterprise Development Corporation CEO Hana Uraidi sign a memorandum of understanding in Amman on Thursday in the presence of Awqaf Minister Hayel Dawood and Trade Minister Maha Ali (Photo courtesy of JEDCO)
AMMAN — Islamic financing tools for projects funded by the Governorate Development Fund (GDF) will be available for beneficiaries, based on a memorandum of understanding signed Thursday with the Hajj Fund.
Hana Uraidi, CEO of the Jordan Enterprise Development Corporation (JEDCO), which supervises the GDF, said the move aims to provide additional financing channels for investors who prefer Islamic financing tools.
She added that the agreement seeks to provide emerging businesses with the needed funding that enhances their competitiveness, highlighting a national need to support small and entrepreneurial projects.
Over the past six years, the GDF has supported 126 out of 1,300 projects, with a total funding value of JD61 million, according to Uraidi, who added that the funded projects created investments worth JD132 million and are expected to provide some 3,600 job opportunities across the country.
For his part, Hajj Fund Director General Wael Arabiyat cited the agreement as an example of strategic partnership between public entities, adding that the move seeks to enhance social and economic development levels through productive projects.
He cited Islamic financing methods, including murabaha, leasing and istisnaa (a contract whereby one party produces an item for another party according to agreed-upon specifications at a set price and with a fixed delivery date).
He told The Jordan Times that murabaha rates depends on how risky a project is, adding that leasing rates for public sector employees is 4.25 per cent of the loan, while it reaches 4.5 per cent for private sector employees.
Minister of Industry, Trade and Supply Maha Ali and Awqaf and Islamic Affairs Minister Hayel Dawood, who attended the signing event, commended the agreement as a tool to diversify funding methods for development projects.
"JEDCO's new strategy emphasises supporting projects in the industrial and service fields," Ali said, adding that Thursday's agreement will provide Islamic funds for a larger number of job-generating projects.
Dawood said the Hajj Fund's JD40 million reserves, collected over the past two years, are now to be invested directly in development projects.
He cited investment and providing job opportunities as a key contributor to societal security, a critical issue in the region these days.
Under the memo, the Hajj Fund will provide JEDCO with consultations on Islamic financing tools and will train its concerned employees on related procedures.
The fund will be in charge of implementing and monitoring Islamic funding and investment procedures that the GDF approves.
The two sides will also hold joint activities to enhance the community's economic abilities, such as conferences, lectures and sessions to amend concerned regulations.
Related Articles
Oct 27,2015
AMMAN — Prime Minister Abdullah Ensour on Tuesday stressed the need to expedite the Governorate Development Fund's (GDF) work and the need f
Feb 10,2016
AMMAN — The value of exports by beneficiaries of the Jordan Enterprise Development Corporation (JEDCO) between 2012 and 2014 exceeded JD121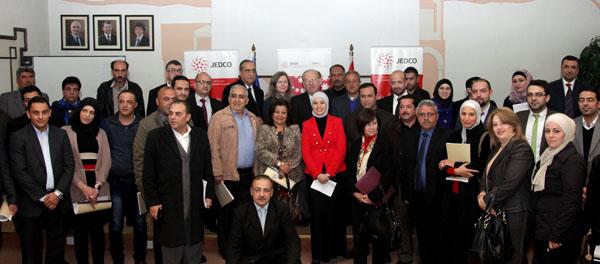 Feb 17,2015
Jordan Enterprise Development Corporation (JEDCO) and the European Union (EU) delegation in Jordan on Tuesday signed an agreement for the second tranche of a grant to finance the last phase of the EU-funded Jordan Services Modernisation Programme (JSMPII).
Newsletter
Get top stories and blog posts emailed to you each day.