You are here
Israeli PM urges Knesset to ease Jerusalem crisis under pressure from Jordan, US — report
By JT - Nov 02,2014 - Last updated at Nov 02,2014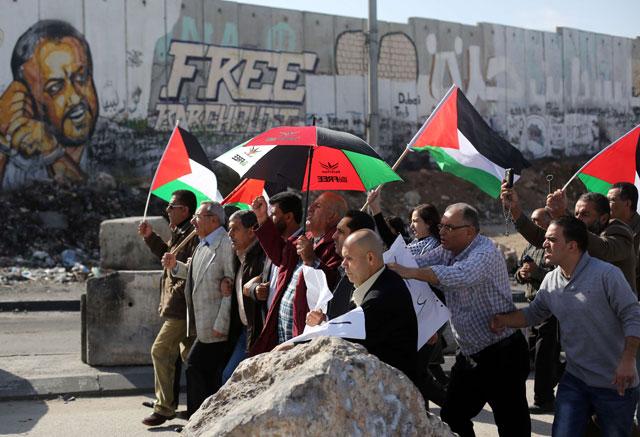 AMMAN — His Majesty King Abdullah's direct contacts with influential international leaders contributed to the reopening of Al Aqsa Mosque, in addition to the intensive efforts of Foreign Minister Nasser Judeh in contacting international organisations, a Foreign Ministry statement said.
Meanwhile, an Israeli report said that Prime Minister Benjamin Netanyahu called on Knesset members Saturday to ease tensions over Al Haram Al Sharif in Jerusalem as US Secretary of State John Kerry asked the Israeli leader to help lower the temperature in all Jerusalem, reported Haaretz.
Senior Jordanian officials have demanded that Israel act to calm the situation in Jerusalem, especially in Al Haram Al Sharif, the report said.
Tensions were high last week in Jerusalem after Israeli occupation forces shot and killed a Palestinian man suspected of an assassination attempt of an Israeli extremist. Israel, subsequently, closed Al Haram Al Sharif to all visitors and worshippers Thursday, before reopening it.
In a telephone conversation Friday, Haaretz said, Kerry asked Netanyahu to work to reduce tensions, stop the escalation of violence and maintain the status quo.
"I am extremely concerned by escalating tensions across Jerusalem and particularly surrounding the Haram Al Sharif/Temple Mount," Kerry said in a statement.
Meanwhile, Jordan on Sunday stressed it would continue to bear its responsibility towards Muslim and Christian sites in Jerusalem based on its historic Hashemite custodianship over the holy places, the Foreign Ministry's statement said.
Bisher Khasawneh, Jordan's permanent representative to the Arab League, made these remarks at an emergency meeting of permanent representatives at the Cairo-based pan-Arab organisation.
Khasawneh said that Jordan would respond to all Israeli practices against Jerusalem's holy sites, especially against Al Aqsa Mosque, and it would not spare any effort to stop these violations and guarantee they would not be repeated in the future.
He also thanked the Arab League's General Assembly and countries that supported Jordan's request for including these Israeli assaults on the agenda of the extraordinary session of the organisation, which started Sunday.
He said that Jerusalem is facing these days an escalatory policy adopted by Israeli occupation authorities under pressure from Israeli hard-line politicians and extremists.
These practices are aimed at changing the legal situation of Jerusalem as an occupied city, in addition to changing the demographic make-up of East Jerusalem and its religious, cultural and Arab identity, Khasawneh added.
In addition to frequent Israeli excavations around Al Haram Al Sharif compound, Israeli forces protect settlers during their recurrent break-ins and desecration of the holy shrine, the envoy told the meeting.
Israeli occupation forces also hinder the work of Islamic awqaf employees, delay restoration works in the compound and ban worshippers from reaching the mosque, he said.
Late last week, Israeli forces completely closed Al Aqsa Mosque for some hours, before its reopening under international pressure, where the Kingdom played a decisive role in forcing Israel to reopen it, the statement added.
Khasawneh noted that Judeh, following the King's directives, was busy last week in contacting his counterparts from member states of the UN Security Council, UN Secretary General Ban Ki-moon and other foreign ministers who visited the Kingdom last week.
During these contacts, Judeh demanded the international community bear its responsibility and work for stopping these Israeli violations and assaults, Khasawneh added.
He called on the international community to adopt a clear position in accordance with international law that forces Israel to immediately and completely halt these unilateral assaults, according to the statement.
Khasawneh also called for resuming peace negotiations that will lead to the establishment of an independent Palestinian state on the basis of the two-state solution within the pre-1967 borders with East Jerusalem as its capital.
Related Articles
Sep 16,2015
AMMAN — His Majesty King Abdullah on Wednesday discussed the recent Israeli acts of aggression on Jerusalem's Al Aqsa Mosque with King Moham
Oct 16,2014
Foreign Minister Nasser Judeh late Wednesday urged UN Secretary General Ban Ki-moon and the international community to stop Israeli violations in Al Haram Al Sharif compound in Jerusalem.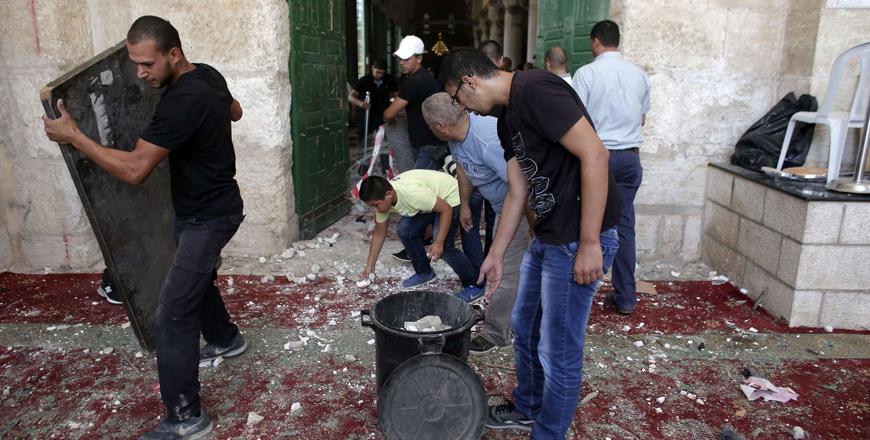 Sep 14,2015
AMMAN/OCCUPIED JERUSALEM — Prime Minister Abdullah Ensour on Sunday said the government has been closely following up on Israeli forces' sto
Newsletter
Get top stories and blog posts emailed to you each day.