You are here
JEDCO, OECD launch $1.3 million SMEs-supporting project
By JT - Apr 21,2017 - Last updated at Apr 21,2017
AMMAN — The Jordan Enterprise Development Corporation (JEDCO), in cooperation with the Organisation for Economic Cooperation and Development (OECD), launched a $1.3 million project titled "Supporting Jordan in improving policies of small- and medium-sized enterprises" (SMEs).
The project aims to improve the capabilities of SMEs in developing policies and increasing coordination between public and private institutions, among others, according to a JEDCO statement.
Industry, Trade and Supply Minister Yarub Qudah said that economic challenges facing the Kingdom include population growth, the influx of Syrian refugees, high public debt and a decline in exports.
Qudah said that the Cabinet reached the final stage of deliberations on the national strategy for developing entrepreneurship and SMEs, following discussions with several stakeholders.
The implementation of the strategy will require sufficient financial resources and a budget guaranteeing the reduction of the ratio of debt to gross domestic product, from 75 and 78 per cent.
A total of JD200 million has been allocated to licensed banks in Jordan to finance SMEs, providing them with competitive interest rates and reasonable grace periods for repayment, Quhad noted. JD40 million was also allocated to the Agricultural Credit Corporation to finance small- and medium-sized projects, he added.
JEDCO's acting CEO Riyadh Al Khatib noted that the project was designed in line with the national strategy's goals and vision.
Improving local communities' economic conditions and enhancing citizens' living standards are supported by economic and social development, both at the local and national levels, Khatib added.
Jordan depends highly on its human resources, especially in the light of the scarce of natural resources, the CEO highlighted.
Related Articles
Oct 07,2014
With the participation of more than 150 organisations, a national conference is scheduled to be held in November to discuss matters related to small- and medium-sized enterprises (SMEs) and their funding methods, organisers said.
Jan 23,2014
The government should not be the sole entity responsible for creating jobs in the Kingdom, the Jordan Enterprise Development Cooperation (JEDCO) said on Thursday.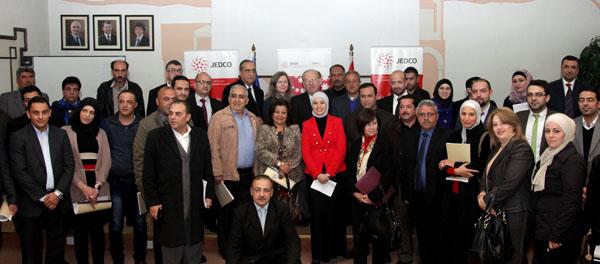 Feb 17,2015
Jordan Enterprise Development Corporation (JEDCO) and the European Union (EU) delegation in Jordan on Tuesday signed an agreement for the second tranche of a grant to finance the last phase of the EU-funded Jordan Services Modernisation Programme (JSMPII).
Newsletter
Get top stories and blog posts emailed to you each day.