You are here
Jerusalem figures discuss response to 'unfavourable' tourism situation in holy city
By JT - Nov 15,2017 - Last updated at Nov 15,2017
AMMAN — A senior Jerusalem awqaf official has said that the situation of foreign visitors to Al Aqsa/Al Haram Al Sharif compound is not favourable as Israel has been controlling the process since 2003.
Director General of Jerusalem Awqaf and Al Aqsa Affairs Sheikh Azzam Khatib said on Monday that before 2000, all non-Muslim visitors were allowed to visit the shrine through his department but Israel, since 2003, installed a bridge at Bab Al Magharbeh that became the only path for tourists to enter the compound, led by Jewish guides.
In addition, he told a Jordan TV talks show on Jerusalem, Israel took advantage of the situation and imposed its own narrative, twisting the historical facts about the Muslim shrine, which is, along with all Muslim and Christian holy sites in the sacred city, under the custodianship of the Hashemite leadership of Jordan.
Wasfi Kilani, CEO of the Hashemite Fund for the Reconstruction of Al Aqsa Mosque, said on the same show that non-Muslims' visits to the mosque have always been allowed, yet they have become controlled by the Israeli occupation authorities and visitors are exposed to the Israeli propaganda
Kilani added that the right response by the Islamic world is through maximising the number of people those who can visit Palestine and Jerusalem, highlighting the importance of fatwas [religious decrees] that have been issued in the Islamic world urging Muslims to visit the city, resulting in an increasing number of tourists from Turkey, Malaysia and Indonesia, among others.
Europe has been fair to the Jerusalem cause, the officials agreed.
Minister of Jerusalem Affairs in the Palestinian National Authority Adnan Husseini highlighted the importance of contacting European diplomatic missions.
For his part, former Palestinian minister of Jerusalem Hatem Abdul Qader said that the visits of EU representatives to Al Haram Al Sharif through the Awqaf department represent a clear recognition of the authority of the department and the Jordanian role in the protection of Al Aqsa Mosque.
Abdul Qader said that these visits constitute a strong European political and diplomatic stand against Israeli violations, especially since Europeans acknowledge the sanctity and status of the mosque, noting that field visits by EU officials help expose the Israeli violations than mere reports by foreign diplomats.
Related Articles
Apr 13,2016
AMMAN — UNESCO on Tuesday adopted the Jordanian-drafted resolution on Jerusalem, following a "diplomatic showdown" with some member states t
Mar 19,2014
Under the protection of Israeli security members, dozens of Jewish settlers on Wednesday entered Al Haram Al Sharif through Bab Al Magharbeh for the second day in a row, according to the Awqaf and Islamic Affairs Department in Jerusalem.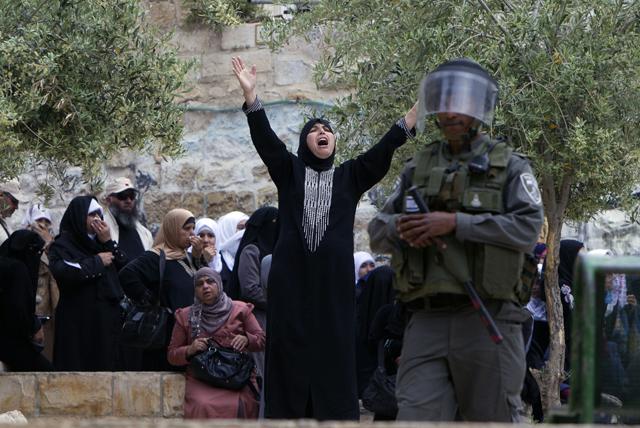 Apr 21,2014
Jordan on Monday summoned Israeli Ambassador in Amman Daniel Nevo to protest the recent Israeli violations against Al Haram Al Sharif compound in Jerusalem. 
Newsletter
Get top stories and blog posts emailed to you each day.