You are here
Job creation, equality top agenda of high-level conference
By Omar Obeidat , Samir Ghawi - May 12,2014 - Last updated at May 12,2014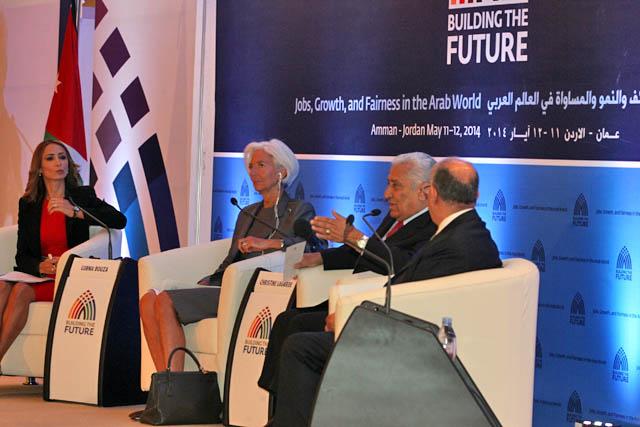 AMMAN – Over the past two days, Arab policy makers and International Monetary Fund (IMF) officials debated policies that can achieve macroeconomic stability in the region, job creation for the young, a better business climate and more transparency in both the public and private sectors.
Under the theme "Building the Future: Jobs, Growth and Fairness in the Arab World", the high-level conference saw the participation of Prime Minister Abdullah Ensour and IMF Managing Director Christine Lagarde, who said the event covered issues that touch the lives of the region's inhabitants.
Over 200 representatives of the private sector, academia, civil society and media also attended the two-day meeting, organised by the government, the Arab Fund for Economic and Social Development, and the IMF.
Policy makers and experts stressed the need to improve government spending in Arab countries in order to achieve inclusive growth.
Participants also highlighted the importance of transparency and good governance, as well as establishing more accountability of the state vis-à-vis its citizens.
Creating more jobs for the younger generation is the most pressing challenge for regional countries and should top decision makers' priorities, policy makers acknowledged, stressing the importance of redefining the role of the state away from being an employer to becoming an enabler for a dynamic private sector, creating education systems that provide bridges to productive employment.
Ensour and Lagarde participated in a panel session on economic transitions in the Arab world on Monday.
The premier said that economic reform is a process that involves several elements, including decisions, for whose implementation, timing, credibility, communications and commitment are essential.
He also briefed the audience on the success of Jordan's reform drive over the years, which he attributed to the leadership's and policy makers' ability to foresee events and act accordingly, adding that engaging the public also helped push forward the reform agenda.
Lagarde said reforms in all areas will take time, stressing the importance of "starting the process now".
In the short run, and if sufficient additional external financing can be mobilised, scaling up public investment could make an important and visible contribution to reducing unemployment, she said.
Related Articles
May 10,2014
The International Monetary Fund (IMF) will on Sunday open in Amman a two-day regional conference to discuss policies that can generate jobs and lead to better growth and equity in the region.
Mar 15,2014
Over 200 policy makers, representatives of the private sector and civil society, and academia from the Middle East and North Africa (MENA) will convene in Amman on May 11 to discuss challenges and opportunities of economic transformation in Arab countries in transition.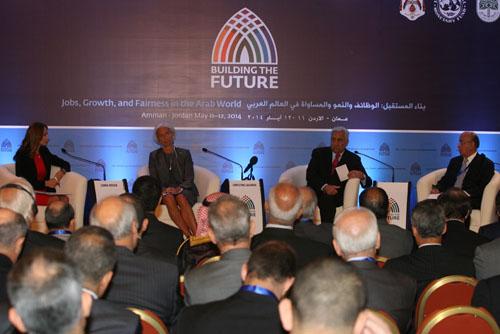 May 12,2014
Public endorsement and support for reform emerged as the most important issue discussed during at a high-level economy conference on Monday.
Newsletter
Get top stories and blog posts emailed to you each day.