You are here
JOHUD establishes first youth organisations coalition with UNESCO
60 organisations focusing on UN sustainable development goals join national coalition
By Ana V. Ibáñez Prieto - Sep 30,2017 - Last updated at Sep 30,2017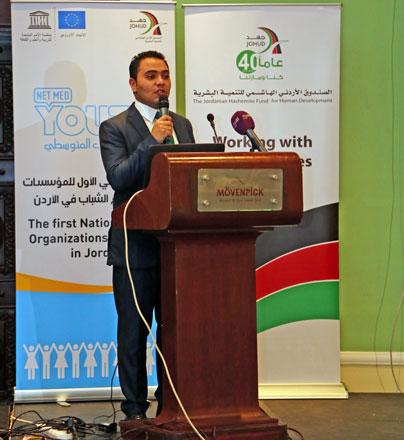 JOHUD Deputy Director Mohammad Al Amoush speaks at a gathering of the first National Youth Organisations Coalition in the Dead Sea area (Photo courtesy of UNESCO Amman Office)
AMMAN — The Jordanian Hashemite Fund for Human Development (JOHUD) has established the first National Youth Organisations Coalition in partnership with UNESCO.
The programme is supported by the European Union through the Networks of the Mediterranean Youth Project (NET-MED Youth), which aims to "create an enabling environment where youth can develop their competences, exercise their rights and engage with their communities", according to a press release by UNESCO.
A total of 60 organisations focusing on the realisation of the Sustainable Development Goals (SDGs) in Jordan have entered the coalition.
According to UNESCO sources, the focus on the SDGs aligns with the organisation's leadership in supporting the government and other stakeholders in the implementation of the 2030 agenda for Sustainable Development, and "reinforces the notion that youth lie at the heart of sustainable development".
Naya for Training (Zarqa), Y-Peer (AmMan) and the Karak innovation Centre (Karak) are some of the organisations that joined the coalition, which recently gathered in the Dead Sea area to discuss the achievements, challenges and requirements for establishing an independent body capable of speaking on behalf of Jordan's youth.
In a recent interview with The Jordan Times project coordinator Talal Shakhanbeh said: "Engaging the youth-based organisations under one umbrella, precising their thematic areas through a three-day workshop and introducing the SDGs in their areas and structuring their work are some of the key achievements so far."
Mohammad Al Amoush, deputy director at JOHUD, reflected on his early years growing up in Zarqa, saying: "I was always dreaming of changing my neighbourhood and I felt a social responsibility to modify the stereotypes surrounding my community."
Amoush has been engaged with the NET-MED youth project for several years, and says he is glad to see a collaboration fostering within the newly established National Youth Coalition.
"NET-MED Youth, through their support in building the First National Youth Coalition, has facilitated a shift in youth and youth organisations' mentality. Rather than competing with each other, youth are now increasingly striving to complement each other's work," he concluded. ​
Related Articles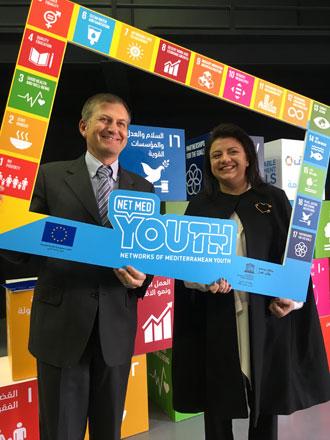 Feb 08,2018
AMMAN — Over 200 youths and experts in the field of development on Wednesday gathered at Ras Al Ain Hangar to discuss youth-led initiatives
Feb 22,2017
AMMAN — The Jordanian Hashemite Fund for Human Development (JOHUD), in partnership with UNESCO in Amman, on Wednesday started a consultative
May 18,2017
AMMAN — UNESCO Amman office on Wednesday launched the "Youth Media Perceptions" discussion papers, as part of an initiative under the region
Newsletter
Get top stories and blog posts emailed to you each day.