You are here
JOHUD, Harvard conduct research on sexual health services for youth
By Ana V. Ibáñez Prieto - May 12,2018 - Last updated at May 12,2018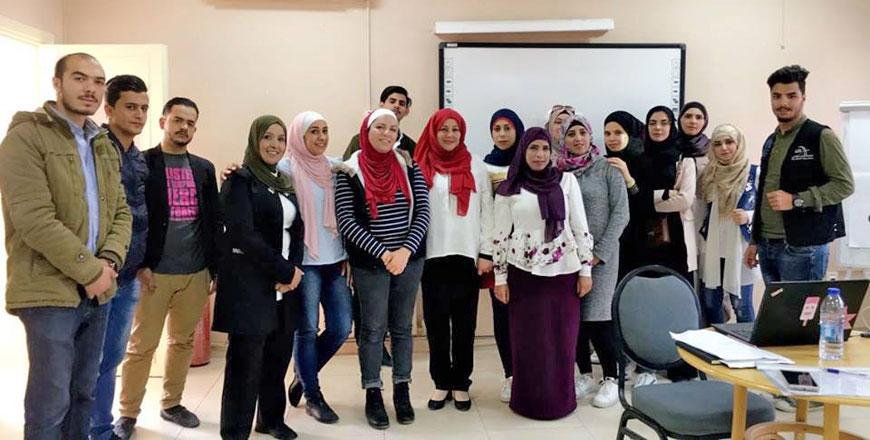 JOHUD has partnered with Harvard's T.H. Chan School of Public Health to conduct a research titled 'Understanding and meeting the sexual and reproductive health needs of Jordanian and Syrian youth', focused on the design of a multilevel intervention aimed at enabling youth access to quality SRH services in the Kingdom (Photo courtesy JOHUD)
AMMAN — The Jordanian Hashemite Fund for Human Development (JOHUD) has partnered with Harvard's T.H. Chan School of Public Health (HSPS) to conduct a research titled "Understanding and meeting the sexual and reproductive health [SRH] needs of Jordanian and Syrian youth", focused on the design of a multilevel intervention aimed at enabling youth access to quality SRH services in the Kingdom.
Conducted in cooperation with the Centre for Women's Studies at the University of Jordan, the study's objective is to meet the "most pressing" SRH needs in Jordan and to translate them into policy and programmes while facilitating a dynamic transfer of knowledge and research capacity, according to a statement published by HSPS on their official website.
"Syrian refugees in Jordan face unprecedented challenges with regard to their sexual and reproductive health and rights [SRHR]," the statement said, stressing that "early pregnancy, child marriage, gender-based violence and sexual assault have become significant problems as a result of changing economic pressures, community dynamics and social norms".
According to a 2016 study run by USAID, 42 per cent of married Syrian refugee women surveyed in Jordan's host communities said they had never taken modern contraception or were considering discontinuing it due to fears about side effects.
"Misconceptions about contraception are common among Syrian refugees," practitioner at the Institute for Family Health Hiba Al Mallah reported to UNFPA earlier this year, noting that "there are also misconceptions about how contraceptives are administered, how they work inside the body and even their size".
"In addition to concerns about infertility, some of them are worried that contraception causes a lot of harmful side effects," the expert added, explaining that some of her female patients "imagine that the intrauterine device is really big and that it will damage and scratch the uterus".
Implemented in the governorates of Irbid, Mafraq, Zarqa and Amman, the research study will make use of participatory qualitative methods and rigorous quantitative data analysis, responding to some of the most critical SRH needs facing young men and women living in Jordan with a focus on Syrian refugees and members of their host communities.
The policy, regulatory, and service delivery infrastructure, the factors that influence demand for and utilisation of SRH information and services, the quality of existing services targeting youth, and the development of strategies for improving youth SRHR services are the main objectives of the research project, according to HSPS.
In the framework of the project, the Women Empowerment and Gender Unit at JOHUD on Wednesday organised a workshop bringing together several Jordanian and Syrian volunteers along with programme coordinators, where participants learned about the main objectives of the project, their role within it and the importance of SRH in their lives.
Running through August 2019, the findings of the study will be used to improve youth's access to SRH services in Jordan by creating a "more equitable social environment" through several multilevel interventions, Harvard reported.
Related Articles
Aug 24,2016
AMMAN — Traditions, early marriage, lack of awareness and societal pressure are the main challenges in providing reproductive health service
Mar 19,2017
The article "Donald Trump's little women" (The Jordan Times, March 10-11, 2017), written by Francoise Girard, the president of the Internati
Jun 09,2015
AMMAN — The Spanish Agency for International Development Cooperation(AECID) has selected a consortium of four Spanish NGOs to implement a ne
Newsletter
Get top stories and blog posts emailed to you each day.