You are here
Jordan Atomic Energy Commission chief recounts milestones for Kingdom
By JT - Nov 15,2019 - Last updated at Nov 15,2019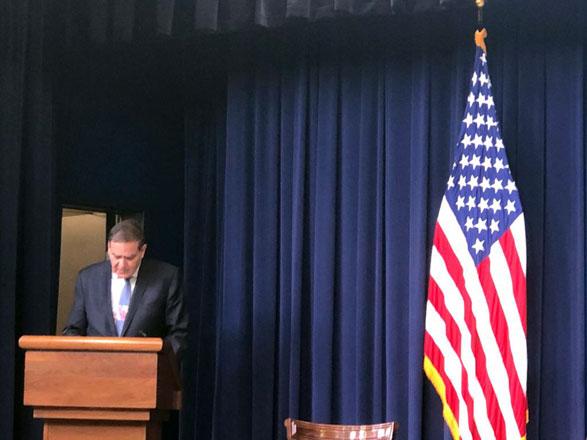 Chairman of the Jordan Atomic Energy Commission Khaled Toukan speaks at an International Framework for Nuclear Energy Cooperation meeting in Washington, DC, on Thursday (Photo courtesy of JAEC)
AMMAN — Jordan continues to play a leading role in many of the International Framework for Nuclear Energy Cooperation (IFNEC) activities and believes in the importance of its mission, Chairman of the Jordan Atomic Energy Commission (JAEC) Khaled Toukan said on Thursday.
Participating in an IFNEC meeting at the White House in Washington, DC, Toukan said that Jordan's energy strategy aims for a sustainable, environmentally friendly, secure energy system through the diversification and optimal utilisation of indigenous energy resources, according to a JAEC statement.
"We have taken several important steps along a transparent roadmap that have sought to implement the national energy strategy to formulate a reliable, secure, economic and sustainable energy mix, and nuclear energy is one of its main constituents," Toukan was quoted in the statement as saying.
The chairman added that the JAEC has pursued the promotion of nuclear energy in Jordan with strict adherence to the highest nuclear safety and security standards.
"The current Jordanian National Energy Strategy sets a priority on 'clean' energy sources, especially renewables. It includes ambitious targets to increase the contribution of renewable energy sources, especially solar and wind to 2GWe, amounting to 20 per cent of generation capacity by 2020," he added.
In contrast to systems that utilise primarily intermittent renewables, there are many examples of cross-sectorial integration of renewables and nuclear energy that have been explored, Toukan said, adding that many possible configurations of cross-sectorial integration and the economics of various configurations have been analysed.
All configurations share the attribute of optimising the efficiency of both renewables and nuclear power simultaneously, enabling the overall energy system to maximise the use of renewables, run nuclear plants at a constant level of output when they are most cost-efficient and cover grid requirements continuously, he said.
The Kingdom has reached several milestones on its path to develop its nuclear energy programme, the chairman said.
The commissioning of the Jordan Research and Training Reactor (JRTR) in December 2016, he said, was a "flagship achievement, representing our current vision of a centre of excellence for nuclear science and technology established to serve Jordan and the Middle East region as a whole".
The JRTR has been deemed an "anchor point" for researchers to carry out their experiments through the operation of its various neutron beamlines and laboratories.
The reactor will also provide services to the industrial, medical, energy and other vital sectors, in addition to being utilised to qualify and train engineers and specialists in various fields of nuclear science and technology.
Currently, it is producing radioactive I131 and plans are being devised to produce Lu177 and Mo99/Tc99, he noted.
The Synchrotron-light for Experimental Science and Applications in the Middle East (SESAME) represents yet another scientific achievement, Toukan highlighted in the statement.
SESAME, which was inaugurated in 2017, is providing the Middle East with a "world-class, state-of-the-art" facility for advanced research in disciplines ranging from physics to biological and medical sciences, as well as archaeology, the chairman noted.
He added that the JAEC is in the final stage of selection of a small modular reactor (SMR) to be ready for operation by 2030 for electricity and/or water desalination. "We have been conducting joint feasibility studies with several SMR vendors, namely with NuScale, X-Energy, KAERI, CNNC and ROSATOM," he said.
Toukan said that public opinion is increasingly playing a more prominent role in societies globally and in this respect, will have a "fundamental role" in the formulation of energy policies. Nuclear energy issues remain to receive selective attention.
"As a consequence, it is now recognised that the future of nuclear energy will not only depend on technical and economic factors, but public acceptability," he added.
Newsletter
Get top stories and blog posts emailed to you each day.