You are here
'Jordan border safe despite militants' gains in Iraq'
By Khetam Malkawi - Jun 22,2014 - Last updated at Jun 22,2014
AMMAN — Although the Islamic State of Iraq and the Levant (ISIL) has controlled Rutba which is located 60km northeast to the border with Jordan, this does not pose a threat to the Kingdom, officials and experts said on Sunday.
Army troops [of Iraq] withdrew from Rawa, Ana and Rutba on Sunday morning and ISIL moved quickly to completely control these towns, Reuters reported Sunday.
A top government source told The Jordan Times that "our border with Iraq is under full control", saying that the latest developments are not threatening to national security.
The two countries have a 180km shared border.
Later on Sunday, Reuters quoted Government Spokesperson Mohammad Momani as saying that no traffic was crossing the Iraqi-Jordanian border and the situation on the Iraqi side was "not normal".
"The last traffic was around 7:30pm (1630 GMT) and border officials are saying the situation is not normal on the other side of the border," Momani said.
In a previous statement he made at the Lower House of Parliament, Minister of Interior Hussein Majali said the government has dispatched Gendarmerie, paramilitary and additional security forces to the border and border crossings to ensure "business as usual".
This was echoed by military and strategic expert retired major general Mamoun Abu Nowar.
In an interview over the phone with The Jordan Times, Abu Nowar said the Kingdom is capable of protecting its border with Iraq.
"Our borders are well-defended, and I believe that Jordan is having military cooperation with other militarily strong countries making it extremely difficult to penetrate our borders," he said.
The only possibility is that small groups of militants might succeed in crossing the border illegally with plans to carry out terrorist attacks, but not military action in the traditional sense.
Recently, Abu Nowar and another strategic expert said that ISIL is overrated in size and power, stressing that what is happening in Iraq is primarily a "popular revolution" by Sunni tribes, whose ties with Jordan, according to analysts, are friendly and strong.
However, according to the expert, by controlling Rutba and Al Qaem among other crossing borders, ISIL and Sunni militants want to lay siege to the Iraqi capital Baghdad that is led by a Shiite government.
"Controlling the crossing borders will help them control Al Furat Basin and lay siege to Baghdad," Abu Nowar explained.
Asked if ISIL has sleeping cells in Jordan, the expert said that even if this was true, it is not considered a threat, as they have no support in Jordanian society and "they know that they are not welcomed by Jordanians".
As for the videos that ISIL is posting online and threatening Jordan, Abu Nowar noted that members of the group are "experts in psychological warfare" and they are using the Internet "to spread fear and show their power".
The military expert had previously estimated the number of fighters of Al Qaeda-inspired group in Syria and Iraq at no more than 12,000, nearly 3,000 of whom are foreigners.
Related Articles
Jun 24,2014
Travellers who crossed into Jordan from Iraq on Tuesday reported a "tribal revolution" by Sunni groups on the Iraqi side of the border and no presence of the radical Islamic State of Iraq and the Levant (ISIL) group.
Jun 17,2014
Jordan's military capabilities and social make-up are key factors the country can rely on to repel any threats by external enemies or extremist groups, military and strategic experts said.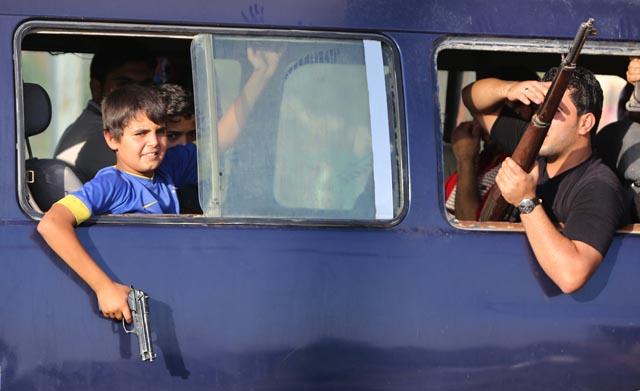 Jun 17,2014
With the Islamic State of Iraq and Levant (ISIL) advancing on Iraq's key cities and with the Al Qaeda-inspired militia perceived as turning from a "virtual" to "real" state, Jordan should be vigilant and fully prepared to deal with any security developments, according to columnists.
Newsletter
Get top stories and blog posts emailed to you each day.