You are here
Jordan calls for non-interference, respect in Mideast foreign policies
Arab foreign ministers warn no tolerance of Iran's meddling in Arab countries' affairs
By JT - Nov 19,2017 - Last updated at Nov 19,2017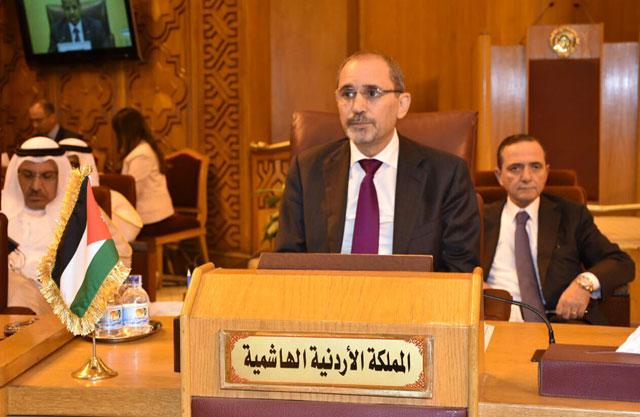 Foreign Minister Ayman Safadi takes part in an Arab League meeting in Cairo on Sunday (Petra photo)
AMMAN — Foreign Minister Ayman Safadi on Sunday stressed the importance of joint Arab action to safeguard Arab national, economic, political and social security, the Jordan News Agency, Petra, reported.
The remarks came during his participation in the ministerial emergency meeting of the Arab League that was held at the request of Saudi Arabia to discuss Iranian interference in internal affairs of Arab countries.
Safadi stressed Jordan's keenness, as the president of the current Arab summit, on cooperating with the league's general secretariat to host or launch a pan-Arab dialogue to reach an understanding of threats facing the Arab nation's security.
The minister urged the league members to work together to achieve common goals, including the realisation of the rights of the Palestinian people to be free of occupation, helping Iraq in its anti-terror fight and the Syrian, Yemeni and Libyan peoples in restoring stability and security to their countries.
"Threatening the security of any given Arab state is a threat to all Arabs," said the minister, stressing Jordan's concern over the security of the kingdoms of Saudi Arabia and Bahrain.
The top diplomat condemned a recent ballistic missile attack targeting Saudi Arabia, describing it as "heinous", in addition to the terrorist blast that targeted an oil pipeline in Bahrain. He considered the two acts as threats to the pan-Arab security.
He added that the region does not need more crises, stressing that Arabs seek peace rather than conflicts.
"We want regional relations to be based on cooperation, respect and no interference in the internal affairs of states, in accordance with international laws and conventions", said Safadi.
"This is the message that the Arab summits have sent to Iran and other countries, and today's message is that we want relations of respect rather than tension resulting from interference in the Arab affairs, expansionist policy, and pursuit of power and domination," said the minister.
Reuters reported that participants in the emergency meeting in Cairo warned they would not stand by in the face of Iranian interference in Arab affairs.
Regional tensions have risen in recent weeks between Saudi Arabia and Iran over Lebanese Prime Minister Saad Al Hariri's surprise resignation, and an escalation in Yemen's conflict.
Saudi Arabia also accuses Hizbollah of a role in the launch of the missile towards Riyadh from Yemen this month. Iran denies accusations that it supplies Houthi forces there, the agency said.
"The kingdom will not stand by and will not hesitate to defend its security," Saudi Arabia's Foreign Minister Adel Al Jubeir told the assembly.
"Any leniency in dealing with their policies would only encourage them more, so we must stand together," Jubeir said, referring to Iran and its regional policies.
Arab League Secretary General Ahmed Aboul Gheit told ministers that Arab nations would raise the matter with international organisations, including the UN Security Council. But the assembly gave no details on what measures they would take.
"Iranian threats have gone beyond all limits and pushed the region into a dangerous abyss," Aboul Gheit said.
Related Articles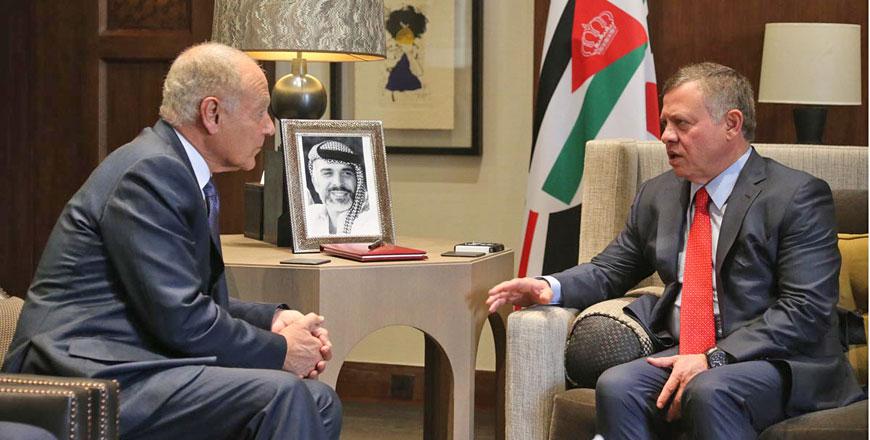 Mar 19,2017
AMMAN — His Majesty King Abdullah on Sunday emphasised the importance of coordinating and unifying stances of Arab states to address challen
Nov 22,2017
AMMAN — His Majesty King Abdullah on Wednesday discussed with visiting Arab League Secretary General Ahmed Aboul Gheit regional and pa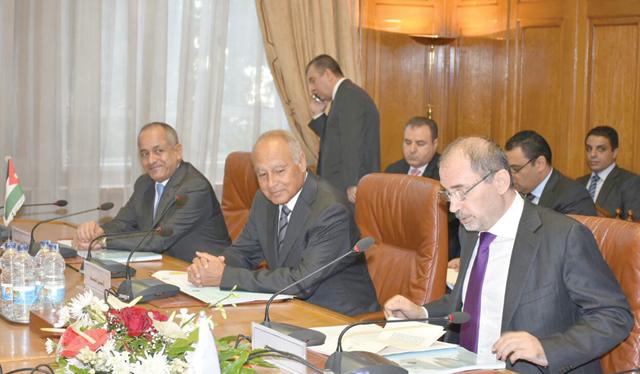 Sep 13,2017
AMMAN — Foreign Minister Ayman Safadi on Tuesday chaired a meeting of a committee tasked with following up on the implementation of the deci
Newsletter
Get top stories and blog posts emailed to you each day.