You are here
Jordan, China seek to build on 40-year partnership
China's vice premier in Jordan to discuss bilateral relations, regional peacemaking
By JT - Apr 20,2017 - Last updated at Apr 20,2017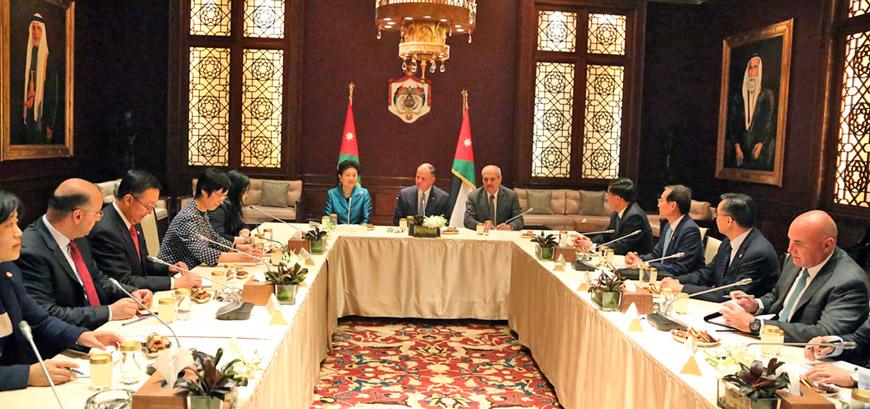 HRH Prince Feisal meets Vice Premier of China's State Council Liu Yandong at the Basman Palace on Thursday (Petra photo)
AMMAN — HRH Prince Feisal, the Regent, on Thursday received Vice Premier of China's State Council Liu Yandong as the two countries mark the 40th anniversary of establishing diplomatic ties.
The meeting, held at the Basman Palace and attended by Royal Court Chief Fayez Tarawneh, focused on means to bolster ties between Jordan and China, especially in the economic sphere according to a Royal Court statement.
They also discussed Jordan's role in the region, and its efforts to resolve regional challenges through political solutions, in order to enhance global peace and security.
Talks also focused on regional and international efforts to combat terrorism and extremism, which, they agreed, threaten global peace and security, as well as efforts to revive peace negotiations between the Palestinians and the Israelis in line with the two-state solution, the Arab Peace Initiative and international legitimacy resolutions.
For her part, the Chinese official voiced her country's keenness to promote cooperation and partnership with Jordan in various fields, underlining the respect the Kingdom enjoys in regional and international arenas for its unaltered pro-peace and security stands.
Liu also met with Prime Minister Hani Mulki and members of the Cabinet. Mulki noted that prevailing regional and international challenges have prompted Jordan to seize all available opportunities to capitalise on current achievements and create a suitable environment to enhance commercial and investment exchange, the Jordan News Agency, Petra, reported.
Underlining some of these achievements, with the help of China, Mulki cited the completion of the financial closure of Jordan's biggest oil-shale project, the first of its kind in the region, which uses direct burning of oil shale to generate electricity at a capacity of 485 megawatt, or 15 per cent of the Kingdom's generation capacity.
In this regard, he expressed appreciation for the Chinese government's support for this strategic $2.2-billion project implemented by a consortium of international companies, including Chinese firms.
Liu commended the prosperity and stability of Jordan amidst a turbulent region, praising the Kingdom's success in organising the Arab summit and unifying pan-Arab stances, a necessary step for reaching settlements to regional issues.
During the meeting, Foreign Minister Ayman Safadi commended China's role in international politics and its support of Jordan's push for a just and comprehensive solution to the Palestinian issue, considered as the key to regional security and stability, Petra reported.
The Chinese official also participated in a symposium organised by the Chinese embassy in Amman on the occasion of the 40th anniversary of diplomatic relations between Jordan and China.
In her remarks, Liu said that Jordan has managed to achieve economic and trade developments despite all regional challenges, noting her country's appreciation of such achievements and its keenness on supporting such endeavours.
China supports Jordan's efforts in maintaining the country's internal security and stability, just as the Kingdom is committed to the People's Republic of China's unity, the Chinese official said.
The trade exchange volume between the two countries in 2016 stood at $3.17 billion, 75 times larger than when diplomatic ties were established, she said, noting that Beijing is the second largest commercial partner of Jordan and its biggest exporter.
She also spoke about discussions between the two countries regarding the Attarat project of electricity generation through the use of oil shale, which China will be funding and implementing.
Liu praised the Kingdom's role in receiving and hosting Syrian refugees, and stressed her country's commitment to continuing the provision of humanitarian aid to help Jordan shoulder the burden.
Health Minister Mahmoud Sheyyab reviewed health cooperation between the two countries, and stressed the "advanced medical care" in China, referring to an agreement on exchanging health information and expertise, according to Petra.
Tourism Minister Lina Annab said that the number of Chinese tourists in Jordan rose by 40 per cent in 2016, compared to the previous year. She also noted the 120 per cent increase in the first quarter of this year, compared to the same period of 2016.
Related Articles
Apr 22,2017
AMMAN — Vice Premier of China's State Council Liu Yandong and Petra Development and Tourism Region Authority (PDTRA) President Mohammad Nawa
Apr 09,2017
AMMAN — His Majesty King Abdullah and Chinese President Xi Jinping on Friday exchanged congratulatory letters to mark the 40th anniversary o
Sep 27,2017
AMMAN — Minister of Foreign and Affairs Expatriates Ayman Safadi met in Beijing on Wednesday with Chinese State Councilor Yang Jiechi and Fo
Newsletter
Get top stories and blog posts emailed to you each day.