You are here
Jordan, EIB to sign two loan agreements Sunday
By JT - Nov 05,2015 - Last updated at Nov 05,2015
AMMAN — Jordan and the European Investment Bank (EIB) will sign two loan agreements worth $126 million on Sunday, the Luxembourg-based bank said Thursday.
EIB Vice President Dario Scannapieco and Planning and International Cooperation Minister Imad Fakhoury will sign the agreements, according to the Planning Ministry.
Scannapieco, who is in charge of EIB's activities in the southern Mediterranean countries, will pay his first official visit to Jordan on November 8-9, the bank said in a statement e-mailed to The Jordan Times.
"The EIB's finance will support Jordan's efforts to improve potable water availability in the northern governorates and to strengthen the high voltage electricity transmission backbone of the country which will enable Jordan to reach its national objective of 10 per cent renewable energy in its energy mix by 2020," the statement added.
During his two-day visit, Scannapieco is scheduled to meet with Prime Minister Abdullah Ensour, as well as several ministers and senior officials, according to the EIB statement.
The EIB vice president will visit the main control room of the Disi project in Madaba, co-financed by the bank with a contribution of $225 million.
"This is my first visit to Jordan and my message will be clear: the EIB supports Jordan in its efforts to build and improve its socio-economic infrastructure and encourage private sector development," the statement quoted Scannapieco as saying ahead of his visit.
Since starting its activities in Jordan in 1978, the EIB has provided total financing of over 1 billion euros to support key economic and social sectors: water, energy, industry, transport and education.
The EIB's aim in the past years has been to deploy its resources to provide an appropriate practical response to the expectations expressed by the Jordanian people. It encourages entrepreneurialism by supporting small businesses and promoting job creation, according to the statement.
Related Articles
Nov 09,2015
AMMAN — Jordan and the European Investment Bank (EIB) on Sunday signed two loan agreements worth $126 million to finance electricity and wat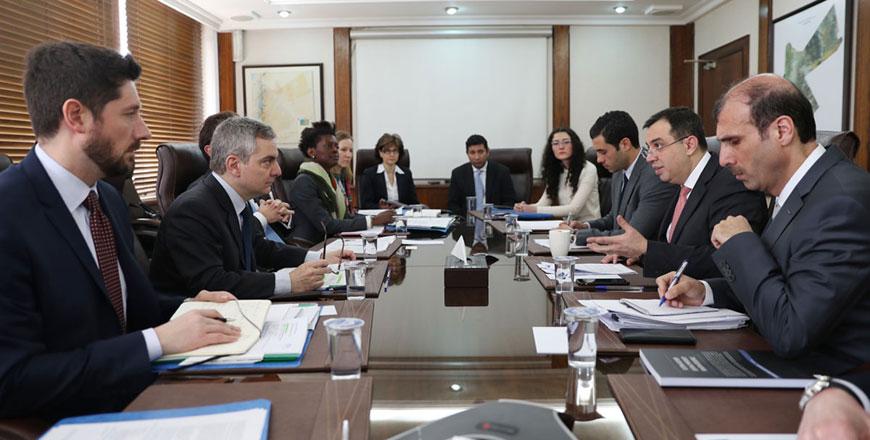 Mar 13,2017
AMMAN — Jordan and the European Investment Bank (EIB) on Monday discussed prospects of further cooperation in priority fields, on the backdr
Feb 04,2016
Werner HoyerAMMAN – President of the European Investment Bank (EIB) Werner Hoyer on Thursday said the bank will respond to what Jordan ident
Newsletter
Get top stories and blog posts emailed to you each day.