You are here
Jordan excels in some tourism areas, lags in others, Tourism Competitiveness Index shows
By Jason Ruffin - Sep 27,2018 - Last updated at Sep 28,2018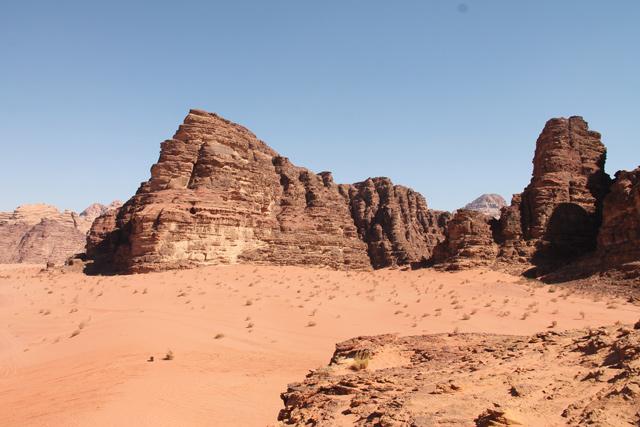 Touristic sites like Wadi Rum have been attracting more visitors to the Kingdom, with Jordan recording a second year of improvement in the tourism competitiveness (Photo by Camille Dupire)
AMMAN — "One step backward, two steps forward" was how Graeme Harrison, a senior consultant for Oxford Economics described the Jordanian findings published in the USAID's 2017 Tourism Competitiveness Index (TCI) in collaboration with the Ministry of Tourism and Antiquities on Thursday.
Overall, the TCI documented a second year of overall improvement for Jordan's tourism competitiveness, exceeding expectations in the "performance" category, which includes items such as the amount of money visitors spend in the country.
However, the index also reported a fall in the "enabling environment" category, which takes into account tourism infrastructure, business environment and retention of talent in the tourism sector, among others.
"If you think of 'enabling environment' as important for future growth, that [the result of the index] is a concern, and it is the second year in a row that the pillar has declined," Harrison said during the conference introducing the TCI to tourism sector stakeholders.
Regionally, Jordan ranked 11th out of 14 countries, overtaken by Egypt and Turkey who rode to resurgence on the back of a strong year for economies, global travel and tourism. The United Arab Emirates ranked first in the region, largely due to its tourism infrastructure, according to Harrison.
In terms of money spent by individual visitors, Jordan outperformed both Egypt and Turkey, and witnessed a steady rise in this category over the last few years, the index showed.
Some 911 jobs were created in the tourism sector, most of them in the hotel and car rental industries, marking a 1.8 per cent increase compared with the previous year. However, losses in work opportunities were observed in tourist shops, travel agencies and the guide sector, the report indicated, stressing that the 1.8 per cent figure "fell short of expectations".
As for the first half of 2018, a slight decline in job creation was observed.
While most sub categories of the "enabling environment" pillar either declined or remained stable, a bright spot was recorded for Jordan's safety and security, which "still remains a strength of the Jordan tourism sector compared to other destinations", the TCI read.
Total international visitors rose by 7.7 per cent in 2017, buoyed by Jordanians visiting from abroad, which accounted for around 50 per cent of inbound travellers, according to the TCI.
However, 70 per cent of Jordanians returning from abroad stayed with friends or family during their visits, leading to a drop in occupancy rates at hotels, according to the index.
Levels of tourism outside of the capital have slowed, possibly caused by Jordanians from abroad choosing to stay in Amman, Harrison elaborated.
"If we make efficient marketing plans for other sites such as Jerash, there are also many other destinations that can be used as tourism sites that are not being publicised," a business student from Yarmouk University pointed out at the conference, adding "I think if they are more publicised, especially in European countries, this will help with overcrowding, sustainability and providing opportunities for women."
Part of USAID's Enabling Environment initiative, the TCI aims to provide public and private tourism stakeholders with information on "areas of progress, demand and need for improvement" with the aim of developing and growing the sector, according to USAID's website.
Newsletter
Get top stories and blog posts emailed to you each day.