You are here
Jordan Food Week kicks off at Ras Al Ain Hangar
Seven-day exhibition gathers local producers, restaurants from across the Kingdom
By Muath Freij - Jul 19,2018 - Last updated at Jul 20,2018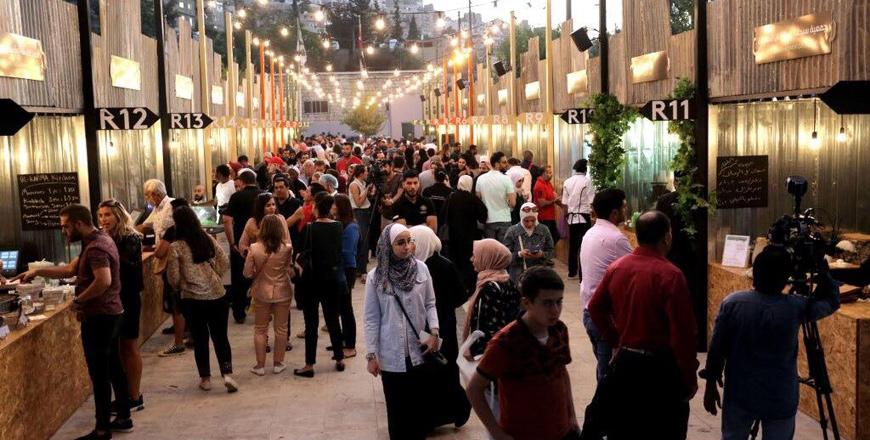 The Jordan Food Week is taking place at the Ras Al Ain Hangar from July 18 to 24 (Photo courtesy of USAID)
AMMAN — Standing at a stall in Ras Al Ain Gallery in Amman on Wednesday, Amal Obeidat was displaying her products to hundreds of visitors with great jubilation and excitement.
For Obeidat, who is residing in Irbid, participating in an all-food exhibition was not only "fascinating" because it enables her to generate money, but also because it makes her feel "financially independent".
"I have been selling these items including jameed and cheese from my house for ten years. Such projects help empower women, enable them to depend on themselves financially, help their families meet the needs of their life and curb the pressure of life the family encounters," the mother of two told The Jordan Times as she dealt with customers.
Obeidat was among many women and restaurant representatives taking part in the seven-day Jordan Food Week event, supported by USAID.
The project is designed to help home-based businesses reach new markets and increase their revenues, according to a statement from the organisers.
Taking place at the Ras Al Ain Hangar from July 18 to 24, Jordan Food Week was held to "significantly increase the profile of and demand for Jordanian, artisanal food and to create new perceptions around Jordanian food among local buyers and the international market".
As part of a five-year plan to strengthen Jordan's economy through small business growth in the artisanal food and experiential and adventure travel sectors, USAID, through its Local Enterprise Support project, has supported approximately 1,200 home-based, artisanal food producers in six governorates across Jordan over the past three years, the statement showed.
Um Tareq, a resident of Zarqa, said she has been preparing mamoul, the traditional home made sweet served during Eid time, for seven years and she wanted to give it a try to sell her products outside her city.
"This exhibition helped me promote my products outside Zarqa and it will give me the chance to learn more about food preparation," she added.
Farouq Al Mofti, a partner in a restaurant participating in the exhibition, said the traditional foods displayed in the exhibition helped them further boost their menu with new items that they will add in the future.
A total of 1,500 people toured the exhibition during the opening, organisers said.
Saudi tourist Khaled Khater said he is "fascinated" by the Jordanian traditional meals, which are the "sought-after" meals among Saudi tourists, prompting him to pay a visit to the event on Wednesday evening.
"What encouraged us to come is that we wanted to taste the Jordanian traditional meals and learn the creativity of Jordanian people. The good thing about this event is that the modern meals were done by aspiring young people," he added.
Jordanian Fanoeel Maaya, who came with his wife, said the idea of women selling their products was "the unique element" of the exhibition.
"Participants who are selling these products are women who wanted to be exposed and teach the new generation about traditional food," he told The Jordan Times while testing some food on display.
For her part, his wife Tamara Al Nimri said she was attracted to the exhibition because "it is not only designed for the sake of restaurants".
"These women brought us back to the era of traditional meals that we used to have, not the modern meals the current generation is used to having," she concluded.
Newsletter
Get top stories and blog posts emailed to you each day.