You are here
Jordan gold medallist hopes to inspire other women to participate in taekwondo
Juliana Al Sadiq won gold medal in 18th Asian Games held in Indonesia recently
By Muath Freij - Sep 24,2018 - Last updated at Sep 24,2018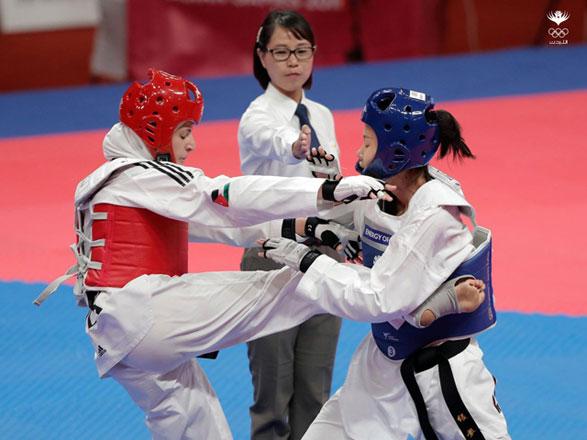 Juliana Al Sadiq (left), seen here in action, won gold medal in the 18th Asian Games held in Indonesia recently (Photo courtesy of Jordan Olympic Committee)
AMMAN — Juliana Al Sadiq stood screaming out in happiness and immediately grabbed her mobile phone to call her mother: "Mom, I won my first gold medal at the Asian games. I dedicate this medal to you."
Interviewed by The Jordan Times, Sadiq recalled the moment she made her dream come true by becoming the first Arab female athlete to win a gold medal at the 18th Asian Games held in Indonesia.
Sadiq was among the Jordanian delegation which achieved major accomplishments at the recent Asian Games.
Sadiq said she started her early sports career as a gymnast. "But my father, who was into taekwondo, inspired me to change my sports path when I was eight years old," she told The Jordan Times in an interview.
She said that switching from gymnastics to taekwondo was not difficult to her.
"Gymnastics gave me more strength and skills which helped me strengthen my skills in taekwondo. I like to engage in martial arts and I was so happy to practice and engage in fights with competitors my age," she added.
She recalled that she used to watch games of her award winning brother who was her source of inspiration as well.
"I was dreaming to be like him and I was dreaming to reach the level I am reaching now, to be the first Arab female athlete to clinch a gold medal in taekwondo," she said with a smile.
She noted that her family supported her and contributed to encouraging her to reach the level she is at now. "Everyone believed in me to get a medal and I wanted to make everyone happy," she added.
Sadiq said she was nervous at the event; however she said she used that feeling as a source of motivation for her win.
"My coach, Faris Assaf was supporting me and gave me good guidance," she added. Her coach Assaf said she showed the characteristics of being a champion.
"There are many women practising taekwondo but not the number we are longing for. We are expecting that Sadiq's medal will motivate more women to join in," Assaf added.
Sadiq said people have started accepting women who want to practise martial arts.
"Because they know that it does not damage the image of women, but in the past people were not aware of the sport itself and they did not know what taekwondo refers to or means," she added.
Al Sadiq expressed hope that her achievement would send a message to her fellow girls that sports do not have to affect their time or studies.
"Sports are for all, whether [you are] a woman or a man, young or old, so everyone should join. Women should participate in this sport because we are talented," she added.
Newsletter
Get top stories and blog posts emailed to you each day.