You are here
'Jordan has earned world's respect'
By JT - Nov 30,2017 - Last updated at Nov 30,2017
AMMAN — US lawmakers said their meetings with His Majesty King Abdullah over the past two days were insightful and important, providing a clear picture of the conditions in the Middle East.
In interviews with the Jordan News Agency, Petra, in Washington, DC, following their meetings with King Abdullah, the legislators said Jordan has earned everyone's respect and support at Capitol Hill, be they Republicans or Democrats.
"We have senators of both parties, and across the political spectrum, and we're all coming to help Jordan," said Senator Patrick Leahy of Vermont, the ranking Democrat on the Senate Committee on Appropriations.
It is worthwhile to meet with His Majesty when he visits Washington, DC, Senator Leahy added.
"For someone who sits back here, as much as we study [the region], it is impossible to fully understand it," he noted.
Senator Lindsey Graham (R-South Carolina), a member of the Senate Committee on Appropriations, said: "Republicans and Democrats are having a hard time reaching an [agreement] on almost anything, except Jordan."
The King represents calmness and a sense of reason throughout the Middle East, Senator Graham added.
"The role of Jordan is really indispensable. It's a country that everyone respects," he said.
For his part, Representative Mac Thornberry (R-Texas), chair of the Armed Services Committee at the US House of Representatives, said it is important for the US to build on its partnership with Jordan in the service of mutual interests.
"It is incredibly helpful for members of Congress in the US, and especially of the Armed Services Committee, to have His Majesty's insights on the region… . He has great insight and great experience, and we need to hear that," Representative Thornberry added.
Representative Kay Granger (R-Texas), chair of the House Appropriations Defence Subcommittee, said the King is a "world figure that really is a man of peace, and he's smart enough to get things done for his country and other countries. I really look up to him, and over the years — 10 years — that we've been meeting, his opinion is very important".
Representative Granger also stressed the US' keenness to support and help Jordan, in order to enable it to deal with the refugee issue.
Jordan is taking in refugees on behalf of the whole world, "and so we want to be helpful with that issue, as well as many others that Jordan is coming to talk to us about", she added.
Representative Jeff Fortenberry (R-Nebraska), a member of the House Appropriations Subcommittee on State, Foreign Operations, and Related Programmes, said Jordan stands out "in terms of leadership and presence, in terms of vision, the ability to achieve peace and being realistic about the difficulties along the way".
"The King presents… such clarity and wisdom in his interactions," Representative Fortenberry added, stressing the "deeply valued relationship" with Jordan, and the "abiding respect" for the Jordanian people.
Representative Ted Poe (R-Texas), a member of the House Foreign Affairs Committee and chair of the Subcommittee on Terrorism, Non-proliferation, and Trade, said: "Jordan is in a troubled neighbourhood. There is tension and conflict all around Jordan.
"The US [is] a friend of Jordan; we need to know exactly how Jordan feels about what's taking place, how they're handling the turmoil in the region, and also what the US can do to stabilise the region and also help Jordan in [the] peace process."
"I think it's imperative that US continue to help Jordan, not only politically, but certainly militarily in areas that we can agree on where Jordan needs assistance," the lawmaker continued.
Senator Bob Corker (R-Tennessee), chair of the Senate Committee on Foreign Relations, said the US appreciates the role that His Majesty plays "in helping stabilise a very unstable region", noting that whenever the King holds meetings at Congress, discussions address "the great relationship we have between our countries".
"I have personally visited the refugee camps in Jordan, and I have seen how the people of Jordan themselves have welcomed these refugees into their own homes [and] the burden that is placed on water supplies and schools and healthcare," Senator Corker added.
Related Articles
Feb 01,2017
AMMAN — His Majesty King Abdullah on Tuesday discussed regional developments and Jordan's strategic relations with the US at meetings in Was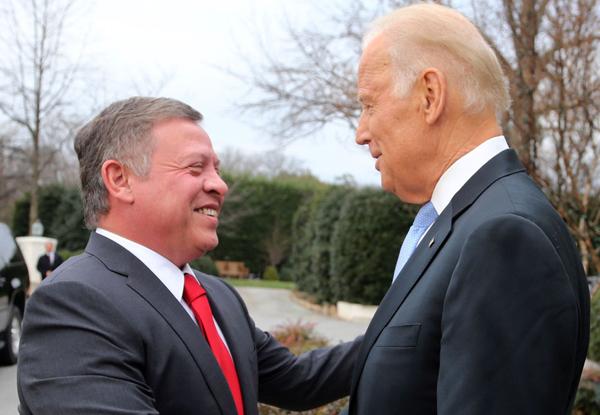 Jan 13,2016
AMMAN — His Majesty King Abdullah on Tuesday held a series of meetings in Washington with US administration officials and key lawmakers, wit
Jun 27,2018
AMMAN — His Majesty King Abdullah on Tuesday held a number of meetings at the US Congress with the leaderships of the Senate and the House o
Newsletter
Get top stories and blog posts emailed to you each day.