You are here
Jordan has a wide range of options to halt Israeli provocations in Jerusalem
By Omar Obeidat , Raed Omari - Nov 06,2014 - Last updated at Nov 06,2014
AMMAN – Jordan has various options to stop unprecedented provocative Israeli measures against holy sites in Jerusalem, former politicians and analysts said Thursday.
Jordan and other Muslim states enrolled in the US-led coalition against the extremist Islamic State (IS) can push Washington to put more pressure on Israel to stop its radicalism-igniting assaults on Al Aqsa Mosque, they told The Jordan Times.
Hailing Jordan's decision to recall its ambassador from Tel Aviv and lodge a complaint with the UN Security Council over Israeli practices in Al Haram Al Sharif, analysts argued that Jordan has up its sleeve other options to oblige Israel to halt its provocative measures in Islam's third holies place.
Adnan Abu Odeh, former Royal Court chief and political thinker, explained that Jordan has acted with reason in addressing the Israeli assaults against Al Aqsa Mosque, describing the recalling of Amman's Ambassador to Israel Walid Obeidat and protesting against the Israeli unilateral acts at the Security Council as "natural diplomatic measures taken within such context".
However, the veteran statesman also explained that Jordan has another handy option to deal with Israel's "stubborn" stance on Jerusalem, citing the Kingdom's status as a key ally to Washington and its membership in the US-led alliance against the radical IS.
"The US, which has succeeded in grouping Islamic states within its coalition against IS, is, ironically, supporting Israel, which is igniting radicalism through its assaults on Islamic sites," Abu Odeh said.
He also said that Jordan and other Islamic member states in the anti-IS alliance should convince Washington that its efforts to eliminate Islamic extremism are "in vain" as long as it is supporting Israel. "In the American discourse and action on extremism, there is much discrepancy."
On whether freezing or abolishing the 1994 Wadi Araba Peace Treaty between Jordan and Israel can be used as a tool by Amman to put more pressure on Israel, Abu Odeh said: "This is not an easy option."
"Abolishing the peace deal automatically entails a change in the nature of the Jordanian-Israeli relationship from the state of peace to the state of war or enmity that can lead to war. This is not an easy choice. But between the peace deal and abolishing the deal, there are other political options for Jordan."
However, Abu Odeh explained that Jordan's complaint to the Security Council about Israel's violations in Jerusalem is proof the Jordanian-Israeli relationship is on "shaky grounds these days".
Asked about the reason behind frequent Israeli assaults on Al Aqsa Mosque despite being bound up with a peace treaty with Jordan, Abu Odeh said: "Israel seeks to make us accept the new reality it is trying to impose in the Old City."
In a recent op-ed published in Al Rai newspaper, former media minister Saleh Qallab explained that the Israeli escalations were meant by Prime Minister Benjamin Netanyahu's right-wing party to push Jordan to unilaterally freeze the peace deal.
Qallab added that Israel seeks to get rid of the obligations stipulated in the Wadi Araba peace deal with Jordan which "tie up its hands and renders it, consequently, unable to move ahead with its scheme to transform Jordan into a substitute homeland for Palestinians".
Political analyst Nabil Ghishan said Israel should realise that there are limits to Jordan's patience towards provocations in Jerusalem, as the Kingdom would be ready to take other steps such as expelling Tel Aviv's ambassador in Amman.
Parliament should work on supporting the government's measures to stop Israeli violations by preparing legislation to freeze the peace treaty with Israel, Ghishan added.
However, the analyst said that Jordan cannot take the confrontation with "the extremists' government in Tel Aviv alone", but Arab and Islamic states should immediately take a serious stance to help Jordan and Palestinians confront and stop these unprecedented provocative Israeli escalations in Jerusalem.
"Where is Turkey, which once had an agenda to lead Sunni countries in the region? Where are other regional players such as Qatar, Saudi Arabia, the United Arab Emirates and Morocco?" he asked.
Jordan and moderate Arab states should link their support to the war on extremists in Iraq and Syria to a tough international stance against "Zionist extremism", he suggested.
"Netanyahu is heading a government of Jewish extremists and he is just executing their demands in Jerusalem," he added.
Analyst Khaled Shoqran, head of Al Rai Centre for Studies, said the Israeli right-wing government should know that His Majesty King Abdullah will not tolerate harming holy sites in the Old City, indicating that expelling the Israeli ambassador in Amman or freezing the peace treaty are options Jordan may consider.
Global public opinion has never been as sympathetic to the Palestinian cause as it is currently and what Israel is working to achieve is to drag Palestinians into a third Intifada to falsely reintroduce them as terrorists, Shoqran said.
"Israel should not take advantage of chaos in the region to test Jordan's options or capabilities to defend its custodianship of Al Aqsa Mosque and other holy sites in Jerusalem," he said.
Related Articles
Nov 05,2014
The government on Wednesday recalled Jordanian Ambassador in Tel Aviv Walid Obeidat for consultations following Wednesday's Israeli raid on Al Aqsa Mosque in Jerusalem.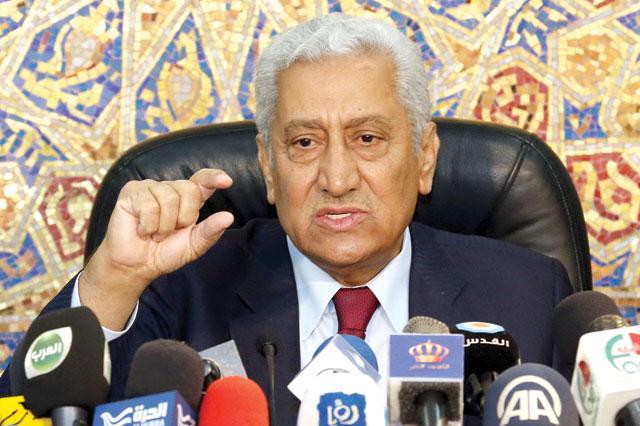 Nov 09,2014
Prime Minister Abdullah Ensour on Sunday said that abolishing the Jordanian-Israeli peace treaty is an "impossible" matter, citing its risks on the country in the light of the regional transformations and exceptional circumstances.
Nov 01,2014
Jordan should not be left alone in the face of the "unprecedented" Israeli violations at Jerusalem's Al Aqsa Mosque complex as the troubled region will sink into more violence and chaos if no deterrent action is taken, politicians said Saturday.
Newsletter
Get top stories and blog posts emailed to you each day.