You are here
Jordan keen on empowering women, ensuring equal opportunities — PM
By Rana Husseini - Dec 08,2017 - Last updated at Dec 08,2017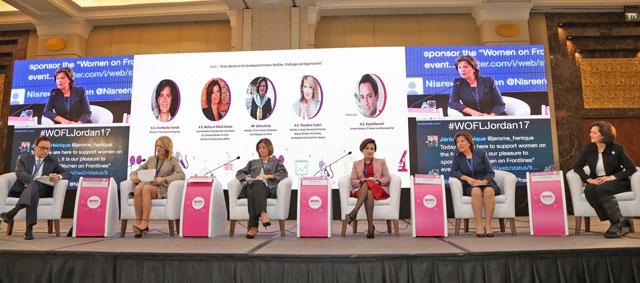 Women on The Front Lines Jordan 2017 included different panels and sessions with leading women figures in Jordan (Photo courtesy of Women on The Front Lines)
AMMAN — Jordan believes in the importance of sustainable development and its role in empowering women and ensuring equal opportunities, Prime Minister Hani Mulki said on Thursday.
In his address, delivered on his behalf by Minister of Social Development Hala Lattouf, during the opening session of "Women on the Front Lines Conference (WOFL) — MENA Chapter" in its second regional edition organised by the May Chidiac Foundation (MCF) in Amman, the premier highlighted the impact of regional crises on women.
"The conflicts in neighbouring countries have created many challenges, including the rise of extremists and terrorists as well as the occurrence of horrifying crimes such as trafficking of women and children," he added:
"We also face the problem of refugees in Jordan including a large number of women and children, and, although it is affecting our budget and other resources, we are still committed to providing human services to the refugees. But we also call on the international community to stand with the Kingdom to help women refugees," Mulki said.
The premier highlighted several achievements made for women in Jordan, including designated quotas in the municipality elections as well as canceling and/or amending several articles in the Jordanian Penal Code that used to discriminate against women.
Founder and President of MCF May Chidiac said: "There is a saying that says women represent half the society, but I say women represent the entire society."
"Women raised generations, fought for their rights to reach high level positions and are still fighting to prove their human identity," Chidiac said, adding "I say it clearly today: we, as Arab women, will no longer accept to live under the mercy of backward mentality no matter how long it takes or how much it costs."
She urged the participants to make use of the recent technological advancements, including social media, "to be able to convey our ideas and lobby for our demands".
Conference Chairperson Maha Sha'er also told the gathering that the conference "would not have been possible if it was not for their Majesties King Abdullah and Queen Rania's support and their firm belief in protecting women's status, pushing for their equal rights to education, political representation and success in our society".
Today, Sha'er added, the need for women to take an active role in the workforce is no longer a luxury but a must due to life's demanding financial needs.
"What's truly alarming is that, as much as there are women in the workforce, we do not encounter many women in executive or CEO positions," Sha'er said.
Jerome Henique, CEO of Orange Jordan, also addressed the gathering, mostly women, saying that their achievements are giving women around the world an "optimistic and sustainable future and development to look forward to, elevating their status, well-being and growth".
"We, at Orange Group, are working tirelessly to achieve women's involvement in all facets of what we do, from elevating their representation in leadership to empowering local women through our initiatives. As we all know, societies benefit when women are empowered," Henique said.
The CEO added that women make up almost "a third of our workforce, where a majority of them are holding high executive and managerial positions. This percentage should be even more and I personally feel committed to promoting women in managerial positions every time it is possible".
During the first panel on women's challenges and opportunities, Tourism Minister Lina Annab said that "there is an urgent need to fight the stereotypical image of women and to encourage them in all fields".
Women in leadership and decision making positions should encourage other women to reach high positions," Annab said.
For her part, Lattouf added that "women should believe in themselves and their capabilities and believe that they can make a difference".
The conference aimed to promote women's empowerment and encourage them to work for a better future.
It included different panels and sessions with leading women figures who made a difference in the fields of politics, media, art, business, and management who shared their life experiences and professional achievements with the audience.
Discussion panels covered the role of women in development and their participation in decision-making, as well as the role of women entrepreneurs in the business world and innovation.
Last year, Jordan hosted the first edition of the WOFL, which was held under the patronage of Her Majesty Queen Rania.
Established in 2009 by Lebanese journalist Chidiac, who survived an assassination attempt in Lebanon in 2005, the MCF is a non-profit organisation dedicated to training, research and education on media, democracy, and social welfare.
The foundation also runs an affiliated non-profit media institute that aims to foster the values of freedom of expression, human rights and democracy in media production industries by providing young professionals with state-of-the-art technical facilities and training programmes.
Related Articles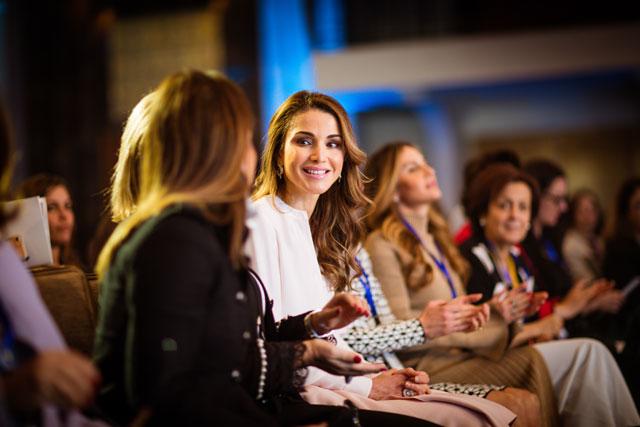 Dec 07,2016
AMMAN — Known for their excellence, talent and commitment to their professions, women from across the Arab region who have made a difference
Mar 08,2017
AMMAN — HRH Princess Ghida Talal, chairperson of the King Hussein Cancer Foundation board of trustees, on Wednesday participated in the Wome
Oct 08,2017
AMMAN — A women's coalition representing the civil society, parliamentarians and city councils was formed on Saturday, in a bid to increase
Newsletter
Get top stories and blog posts emailed to you each day.