You are here
Jordan mobilising international platforms to fund refugee response plan — Fakhoury
By JT - Dec 31,2015 - Last updated at Dec 31,2015
AMMAN — The 2016-2018 Jordan Response Plan (JRP) to the Syrian crisis includes several interventions, programmes and projects that require around $7.99 billion, Planning and International Cooperation Minister Imad Fakhoury said Thursday.
Fakhoury made his remarks during a meeting with the Senate Arab, International and Expatriates' Affairs Committee where they discussed developments in the Syrian crisis, its economic repercussions on the Kingdom and the JRP, according to a Planning and International Cooperation Ministry statement.
Fakhoury clarified the advantages of the new 2016-2018 JRP, noting that the Syrian crisis cannot be limited to a certain timeframe and so the three-year JRP is updated each year in accordance with changes on the ground.
The $7.99 billion is to be distributed as follows: $2.483 billion to support the refugees and meet their needs, $2.306 million to enable host communities and improve services offered to them, and around $3.201 billion to support the budget in order to cover the costs of subsidised materials and security needs.
According to the plan, Syrians in the Kingdom amount to 1,369,678, of whom only 632,935 are registered at the UNHCR, with 18 per cent of the total figure (114,724) living in camps.
A total of 121,882 Syrian refugee students enrolled in public schools during the academic year 2013-2014 and that number increased to 140,559 in 2014-2015 and in the year that followed they amounted to 143,542, according to the plan.
There are 30,000 Syrian refugee students still on the waiting list, in addition to 90,000 children who are supposed to be students but are not enrolled in any school, according to the document, which also reveals that there are 98 public schools working on the shift-system and underlines the need for 50 more schools to take in those on the waiting list.
The total costs of hosting Syrian refugees during the years 2011-2015 amounted to $6.6 billion, according to the ministry statement.
The 2016-2018 JRP was prepared through a joint effort between ministries and concerned institutions, UN organisations, donor countries and NGOs, Fakhoury told the senators.
He said the 2015 JRP estimated that $2.99 billion is needed to cover the needs of refugees, hosting communities and the Treasury, adding that only 36 per cent (around $1.078 billion) of the required funds were funded.
Fakhoury also said that efforts were intensified to attract extra funding through mobilising international platforms, including a conference for donor countries expected to be held under the patronage of Norway, Germany, Kuwait and the UK in April 2016.
Related Articles
Aug 15,2015
AMMAN — Minister of Planning and International Cooperation Imad Fakhoury on Saturday said that donor countries and organisations have so far
Jan 14,2016
AMMAN — Planning and International Cooperation Minister Imad Fakhoury on Thursday discussed with UK Secretary of State for International Dev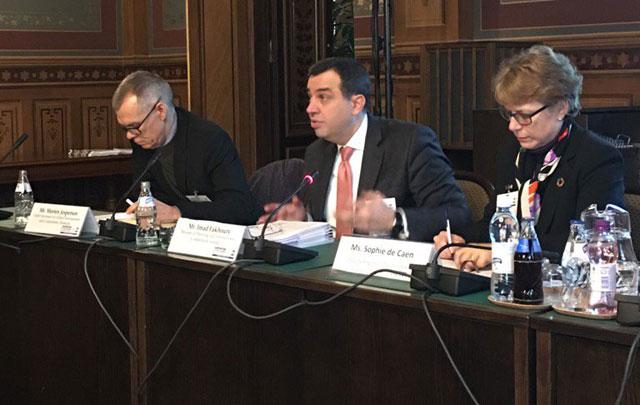 Jan 25,2017
AMMAN — Planning and International Cooperation Minister Imad Fakhoury has participated in an international conference in Helsinki to discuss