You are here
'Jordan needs support to face unprecedented Israeli violations'
By Mohammad Ghazal - Nov 01,2014 - Last updated at Nov 01,2014
AMMAN — Jordan should not be left alone in the face of the "unprecedented" Israeli violations at Jerusalem's Al Aqsa Mosque complex as the troubled region will sink into more violence and chaos if no deterrent action is taken, politicians said Saturday.
They said Israel's closure of Al Haram Al Sharif in the occupied holy city and preventing Muslims from entering the mosque on Thursday constitute a violation of the 1994 peace treaty between Jordan and Israel, which states that "Israel respects the present special role of the Hashemite Kingdom of Jordan in Muslim holy shrines in Jerusalem" as well as the UN Resolution 242, which urges Israel to withdraw from the territories it occupied in 1967, including the West Bank and East Jerusalem.
"Jordan's firm position and threat to revoke the 1994 peace treaty was taken seriously by Israel. Even the US seems to have realised the message and pressured Israel to go back on its decision," Adnan Abu Odeh, a former Royal Court chief, told The Jordan Times Saturday.
"If Israel continues its aggressions against holy sites in Jerusalem and [its] provocative measures, a third Intifada [uprising] will be the least expected action in return… The whole region will sink into more violence," Abu Odeh warned.
He and other politicians interviewed by The Jordan Times criticised the Arab and Muslim world's silence over the aggression against Al Aqsa Mosque, which they warned would ignite public anger, which — along with continued Israeli provocations — will lead to more tension and violence.
They called for coordinated efforts to face Israeli escalations.
"What Israel is doing is not surprising. It has always been violating [the laws of] God and man," former foreign minister Kamel Abu Jaber told The Jordan Times.
Israel, he said, is taking advantage of the current chaos across the area.
Arabs are disarrayed and disorganised at the political, economic and military levels, and Israel is seeking to impose new realities by taking advantage of this situation, Abu Jaber added.
Jordan needs to think "seriously" about the next step, he argued, calling for holding a national forum to look into a detailed plan to face Israeli aggression.
Jordan, Abu Jaber added, should also call for a conference at the Arab and Islamic level and then push for an international forum to create pressure to stop Israeli violations.
"Israel's aggression is like a steamroller and a well-studied plan is needed to stop it," he said.
Abu Odeh agreed.
"Jordan needs consistent, solid and sustainable diplomacy to deal with Israeli measures and should follow its firm position with tougher stances, especially towards Jerusalem," he said.
The government, which on Saturday said Israel is not after peace in the region, stressed that there are directives by His Majesty King Abdullah to take all available measures to face Israeli actions.
"The King is very upset over the Israeli violations. Our message was clear and violations against Al Aqsa Mosque and the holy places in East Jerusalem will not go unanswered," Minister of Political and Parliamentary Affairs Khaled Kalaldeh said.
"If Israel wants to live in the region, it should respect the presence of others. Israel needs to resort to wisdom and refrain from its irrational and illegal measures," he told The Jordan Times.
"We will not spare any effort or measure to stop Israeli violations," the minister said.
Jawad Anani, former Royal Court chief and several-time minister, said Israel's illegal violations are fuelling a "religious war" in the region.
"For Israel, this is a historic moment to realise its scheme and Judaise Jerusalem as the Arabs are busy fighting the so-called Islamic State and others face different issues," Anani added.
"It is unacceptable that the Organisation of Islamic Cooperation remains silent or the Arab League has not convened. They need to support Jordan," he stressed.
Anani said Jordan needs to be "vigilant" towards any attempt by Israel to harm its national security."We need to be careful as it is Jordan's tough stand that prevented Israel from further escalations."
Abu Odeh, also a former lawmaker and minister of information, stressed the dire need to expose Israeli practices.
"Had Israel closed Al Aqsa Mosque Friday and prevented Muslims from performing Friday prayers, it would have been a precedent in history since Muslim leader Saladin captured Jerusalem from Crusaders in 1187."
Related Articles
Jul 05,2014
The government on Saturday denounced the closure of the gates of the Old City of Jerusalem by Israeli occupation authorities and preventing Muslim worshippers from reaching Al Aqsa Mosque on the first Friday of the holy month of Ramadan. 
Oct 04,2015
AMMAN — After Friday prayer this week, around 2,000 political, association, party, parliamentary and popular figures participated in a march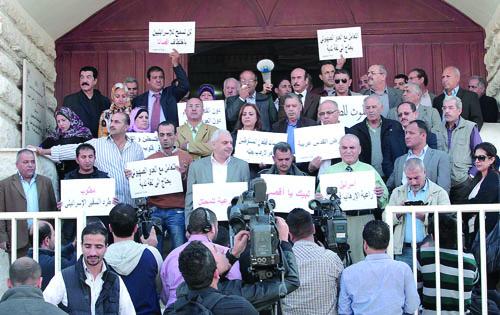 Nov 11,2014
Scores of journalists on Tuesday called on Arabs and Muslims to extend support to Arab Jerusalemites to enable them to stand up in the face of Israeli escalatory measures aimed at evicting them from the holy city.
Newsletter
Get top stories and blog posts emailed to you each day.