You are here
Jordan to negotiate new IMF deal — central bank governor
By Reuters - Nov 03,2015 - Last updated at Nov 03,2015
AMMAN — Jordan will begin negotiating a new funding programme with the International Monetary Fund (IMF) this week to help boost its growth, the Central Bank of Jordan (CBJ) governor said on Tuesday.
CBJ Governor Ziad Fariz said an IMF mission will travel to Amman this week to discuss the main components of a new extended facility fund to replace a three-year, $2 billion standby arrangement programme that ended this summer.
The IMF said in July that its programme had stabilised Jordan's economy after it suffered severe fiscal strains brought on by higher spending in the aftermath of the Arab Spring protests in the region in 2011.
It was too early to talk about the size of IMF financing under the new facility, which could be concluded by the first quarter of next year, Fariz said.
Officials have said on condition of anonymity that the programme could secure the Kingdom up to $2 billion in loans.
The governor said the size of the facility would be calculated based on Jordan's total exposure to the fund.
The new IMF programme would help the country maintain the pace of structural reforms while consolidating financial stability and cutting debt, Fariz said.
"The challenge we face is faster growth beyond the present rates, to maintain a low budget deficit, maintain fiscal stability and reduce debt," he added.
The latest estimate for gross domestic product growth stood at between 2.6 to 2.9 per cent, Fariz said.
He added that the economy had been hit by commercial ties with main trading partner Iraq being ruptured due to conflict there. Iraq receives around 20 per cent of Jordan's exports — over $1.2 billion worth — annually.
Jordan's annual GDP growth has fallen to around 3 per cent after averaging 6.5 per cent before 2009. The medium-term target is around 4.5 per cent.
The economy has also suffered under the influx of refugees from Syria and Iraq.
Fariz said the stability of the economy meant it had mostly remained resilient in the face of regional turmoil.
up
3 users have voted, including you.
Related Articles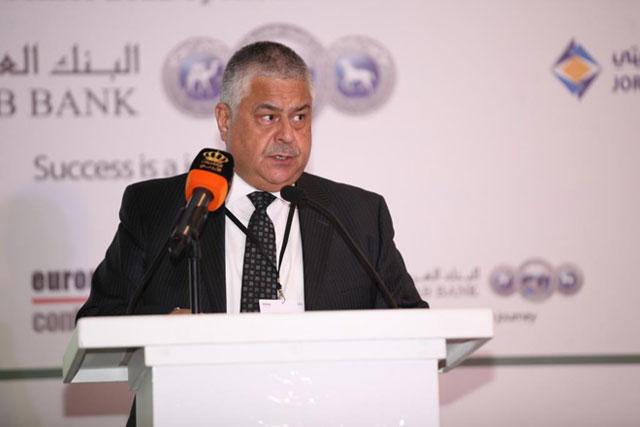 Mar 20,2018
AMMAN — The Kingdom's macroeconomic situation has remained relatively stable despite regional instability, high vulnerability, and other cha
Feb 14,2015
The Central Bank of Jordan (CBJ) lowered its basic interest rates twice in 2013 and 2014 with a total of 125 points, yet banks' response to these procedures was not as expected in terms of credit facilities, CBJ Governor Ziad Fariz said. 
Apr 17,2014
Central Bank of Jordan (CBJ) Governor Ziad Fariz revealed this week that new specialised bodies are on the table to fund small-and medium-size enterprises (SMEs), if banks are unable to do so. 
Newsletter
Get top stories and blog posts emailed to you each day.