You are here
Jordan, Palestine continue to coordinate efforts to protect Al Aqsa Mosque from Israeli violations
By JT - Nov 23,2020 - Last updated at Nov 23,2020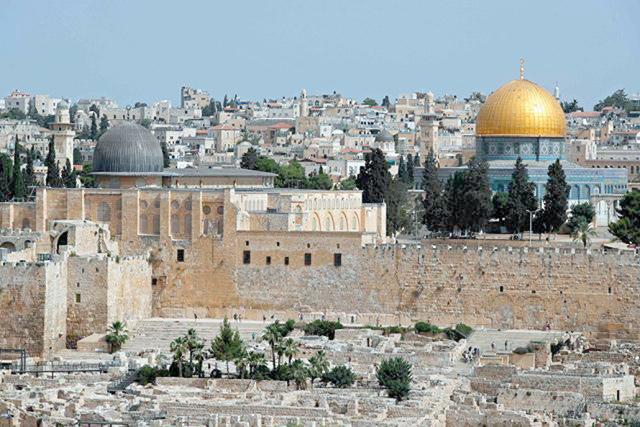 The Old City of Jerusalem with the Dome of the Rock (right) and Al Aqsa Mosque (left) (AFP file photo)
AMMAN — The Palestinian foreign ministry on Monday said in a statement that it is coordinating efforts with Jordan to protect Al Aqsa Mosque from Israeli violations.
According to the statement, the foreign ministers of the two sides, during a meeting held in Amman last week, discussed the escalation measures by Israeli occupation authorities and Jewish extremist organisations against Al Aqsa Mosque.
The statement cited the daily ongoing break-ins at Al Aqsa, along with the public calls for rallying more intruders, as well as the performance of Talmudic rituals inside the holy site's complex, while Palestinians are denied free access to Al Aqsa.
"Palestinians are subject to the worst forms of punishment and are experiencing racial restrictions that denied their access to the holy site, including arrests, deportations, withdrawals of IDs, and setting up barriers to hinder worshippers," the statement said.
The Palestinian foreign ministry said that it considers the escalation "very dangerous", especially since it coincides with the US presidential transition, and called on Palestinians, Arabs and Muslims to deal with Israeli threats seriously, the Jordan News Agency, Petra, reported.
The statement also urged the international community and UN Security Council to take all necessary measures to protect Muslim and Christian holy sites in Jerusalem, the foremost of which is Al Aqsa Mosque, exhorting UNESCO and UN organisations to fulfill their obligations and responsibilities under their relevant decisions.
Newsletter
Get top stories and blog posts emailed to you each day.