You are here
Jordan ranked 13th among Arab countries for expected GDP growth in 2020 — report
By Maram Kayed - Feb 23,2020 - Last updated at Feb 24,2020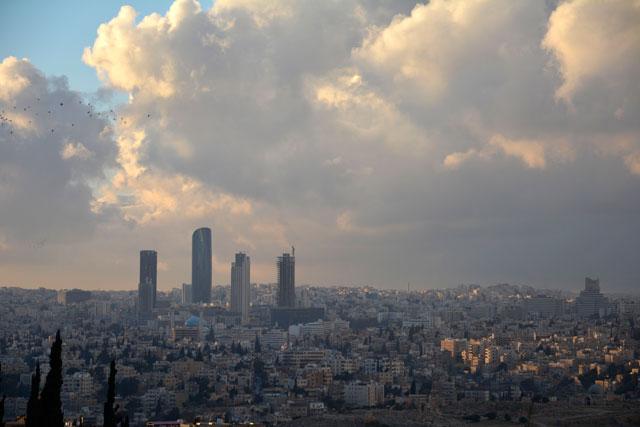 A view of Al Abdali commercial district in Amman (Photo by Amjad Ghsoun)
AMMAN — Jordan ranked 13th among 20 Arab economies in terms of expected GDP growth for the year 2020, according to the Prospects for Arab Economies Report, with a growth rate that is likely to reach 2.4 per cent.
The report, issued by the Arab Investment and Export Credit Guarantee Corporation, placed Jordan after Djibouti, Mauritania, Egypt, Iraq, Morocco, Oman, Somalia, Kuwait, Qatar, the United Arab Emirates, Tunisia and Algeria.
"Jordan has been implementing several reforms, including the government economic incentive bundles, and are now at their 5th reform package," said Adel Bino, an economist and professor of economy at the University of Jordan.
He told The Jordan Times over the phone that, while some of the government's decisions regarding the economy still need more than a few months to take effect, some sectors are already welcoming the reforms.
"When you have a country as financially challenged as Jordan, you have to constantly introduce reform packages not just for the sake of paying off your debts, but to stop the masses from causing political upheaval," said professor of political economy and international affairs Bader Madi.
The report indicated that the gross domestic product continued to rise during the year 2019 to $2.7 trillion in 20 Arab countries, an increase of $26 billion from last year.
The report noted that the increase "is a reflection of the stabilisation in the Arab countries' share of the global GDP", which was 3.1 per cent of the global $86.6 trillion. At the same time, Arab countries' share in the GDP of emerging and developing countries decreased from 7.9 per cent in 2018 to 7.7 per cent in 2019.
"The decrease in Arab countries' share among developing countries can be attributed to the fact that China and India are working on tremendously improving their GDPs, which could have taken the bigger share of development," noted Bino.
According to IHS (Information Handling Service) estimates, China and India are working towards reaching contributions of 25 per cent of the global GDP by 2025.
The report also highlighted that a large share of the Arab region's total GDP is concentrated in six countries, namely Saudi Arabia, the United Arab Emirates, Egypt, Iraq, Qatar and Algeria, whose combined GDP for 2019 reached $2.1 trillion, or 77 per cent of the total GDP for Arab countries.
According to the report, the International Monetary Fund predicted that the total GDP in Arab countries would increase by $94 billion in 2020 due to the "expected growth of output in all Arab countries, especially Egypt, which is responsible for half the amount of expected growth".
"Egypt and other Arab countries' share could be substantially larger had it not been for the political unrest in the region. Unfortunately, the economy is largely affected by the political stability of the country and vice versa," Madi concluded.
Newsletter
Get top stories and blog posts emailed to you each day.