You are here
Jordan ranks 9th among top tourist destinations globally — UNWTO
By JT - Oct 01,2023 - Last updated at Oct 01,2023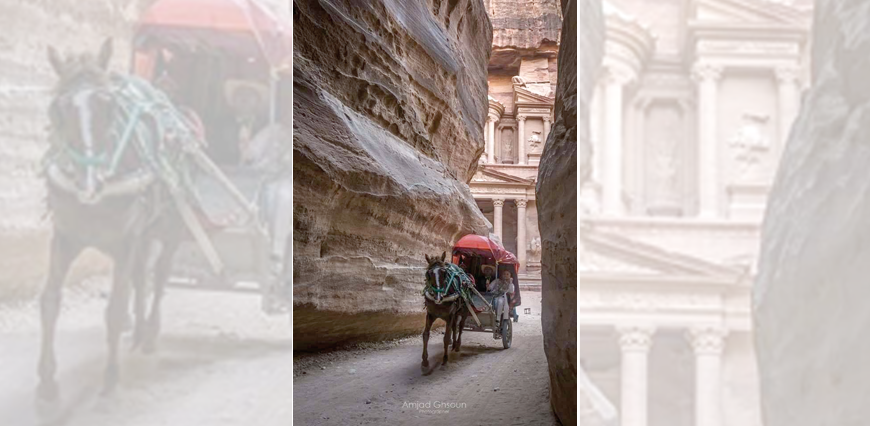 Tourists ride a horse-drawn cart from Petra's Treasury, the rose-red city's iconic façade, as they pass through the Siq, a 1.2km-long gorge leading to the Treasury, 235km south of Amman (Photo by Amjad Ghsoun)
AMMAN — The United Nations World Tourism Organisation (UNWTO) announced that Jordan ranked ninth among top tourist destinations globally, after showing a remarkable achievement during the first seven months of this year, recording a growth rate of 23 per cent in visitor numbers, compared with the same period in 2019.
The organisation pointed out, in its report, that the Middle East region, which hosts numerous exceptional tourist destinations, has achieved the best results worldwide in the growth of visitor numbers, surpassing pre-pandemic levels of 2019 by a rate up to 20 per cent.
The Ministry of Tourism and Antiquities, in a statement, said that this achievement comes following the directives of His Majesty King Abdullah and HRH Crown Prince Hussein to the government to focus on the tourism sector as one of the key drivers of economic growth.
This is in addition to several fundamental measures implemented by the ministry to mitigate the impacts of the global pandemic, aimed at elevating the performance of the tourism sector and surpassing the record numbers of 2019.
Foremost among these steps is the launch of the National Tourism Strategy in Jordan for the years 2021-2025.
The ministry added that the measures taken by the government to preserve the tourism sector and to confront the COVID-19 pandemic, and the implementation of intensive external marketing campaigns, coupled with the operation of flights from new destinations via low-cost carriers, as well as government efforts at all levels in partnership with the private sector and the concerned entities, have had a significant impact on efforts to attract large numbers of tourists to the Kingdom.
The ministry stated that the number of visitors to Jordan has achieved a notable increase and "unprecedented" levels compared with the same period in previous years.
The number of visitors in the first eight months of the current year, 2023, reached about 4,503,537, with an increase rate of 41.9 per cent compared with the same period in 2022, according to the statement.
The tourism revenues for the same period also reached JD3.651 billion according to data issued by the Central Bank.
Related Articles
Dec 28,2021
AMMAN — The Ministry of Tourism and Antiquities on Tuesday launched the National Tourism Strategy for the years 2021-2025. The strategy
May 27,2023
AMMAN — The Kingdom ranked eighth globally in terms of international tourism receipts growth during the first quarter (Q1) of 2023, accordin
Jan 01,2019
AMMAN – Tourism revenues have surpassed the $5-billion mark in 2018, marking an 8 per cent increase from last year's $4.6 billion, according