You are here
Jordan reaffirms decision on Baqoura and Ghumar lands
Gov't says lease of border lands to Israelis to be terminated
By JT - Oct 16,2019 - Last updated at Oct 16,2019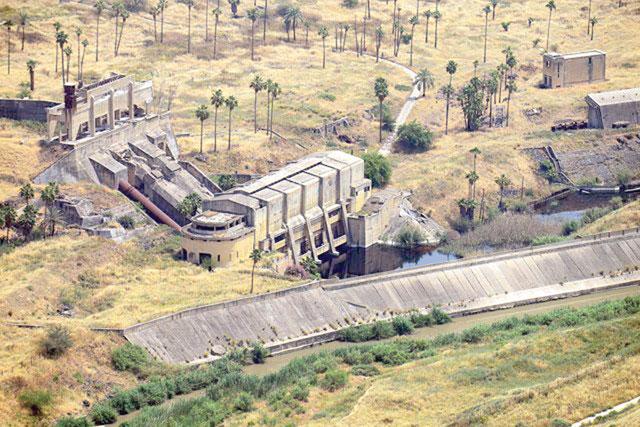 An old electricity power plant is seen in Baqoura, a Jordanian land that was placed under a special regime in the 1994 peace treaty with Israel. Jordan has decided to cancel the annexes dealing with this land and another in Ghumar, a right maintained in the peace pact (Photo courtesy of Wikipedia)
AMMAN — The Foreign Ministry on Wednesday stressed that Jordan is not going to renew the lease of its lands in Baqoura and Ghumar to Israelis.
Commenting on reports published in Israeli media claiming that Jordan has agreed to extend the "lease" of its border lands with Israel, the ministry spokesperson Sufian Qudah said that the Kingdom's decision on October 12, 2018 to terminate the annexes on the Baqoura and Ghumar areas is "final and irreversible".
Citing a provision in the peace treaty with Israel giving Jordan the right to terminate or extend the lease of Baqoura and Ghumar areas to Israelis by November 10, 2019, Qudah said:" "There will be no renewal."
The spokesperson also said that Jordan and Israel now are in negotiations on arrangements following the termination of the lease and not on renewing it.
In October 2018, His Majesty King Abdullah announced the Kingdom's decision to terminate the annexes on the Baqoura and Ghumar areas in the Peace Treaty with Israel by the end of their legal term in October, 2019.
Under the 1994 Wadi Araba Peace Treaty with Israel, Jordan had to decide this year whether or not to renew an agreement that placed thousands of dunums in Baqoura, in the northwestern corner of the Kingdom, and Ghumar, south of the Dead Sea, at the disposal of Israeli farmers, but the Kingdom decided to terminate the annexes and return the lands to Jordanian sovereignty.
up
4 users have voted, including you.
Newsletter
Get top stories and blog posts emailed to you each day.