You are here
Jordan urges greater Mediterranean cooperation to face global challenges
By JT - Jun 03,2016 - Last updated at Jun 03,2016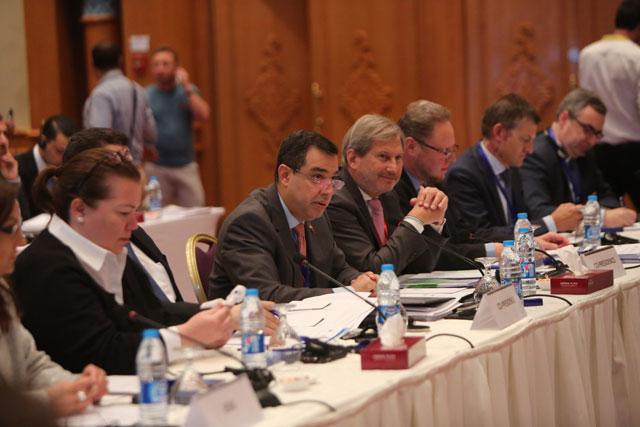 Planning and International Cooperation Minister Imad Fakhoury speaks at a meeting of the Union for the Mediterranean, held at the Dead Sea, on Thursday (Photo courtesy of Planning and International Cooperation Ministry)
AMMAN — Jordan on Thursday urged Mediterranean nations to strengthen cooperation and develop a stronger vision to face common challenges.
"We are meeting today [Thursday] at a time our region is facing significant challenges which [have also challenged] the European continent in spite of its size and wealth, especially the refugee influx and migration," Planning Minister Imad Fakhoury told ministers from 43 countries.
Speaking at a meeting of the Union for the Mediterranean (UfM), held at the Dead Sea, Fakhoury urged action to identify "the root causes of the common challenges we face", including problems related to regional stability, security and terrorism, migration, refugees and climate change.
These challenges underline the need for a better vision, he said, and "a stronger regional perspective that could be translated into strategic and tangible cooperation on the ground".
Fakhoury also called for more effective regional integration to boost economic growth and job creation.
"The two sides of the Mediterranean are in need for deeper economic integration based on a win-win approach that supports global efforts for regional peace, stabilisation [and] reconstruction...," he said.
In a draft declaration issued after the meeting, seen by The Jordan Times, ministers reiterated Fakhoury's call for closer integration.
Addressing common needs requires "a strong regional perspective" and "strategic and tangible cooperation on the ground", the draft declaration said.
Ministers also encouraged efforts to promote partnerships between public and private sectors, and to develop deeper financial markets.
EU Commissioner for European Neighbourhood Policy and Enlargement Negotiations Johannes Hahn, who attended the meeting, expressed the EU's commitment to the Mediterranean countries, noting that creating meaningful futures for the region's youth was "the most important challenge".
"We need to send them the message that we see the future of this region as one of cooperation and exchange," Hahn said, according to a statement from the UfM.
Several new initiatives were announced after the meeting, including a 90-million-euro renewable energy programme with Jordan, the UfM added.
In his speech, Fakhoury highlighted a Jordanian project to build a desalination plant with a pipeline to discharge brine into the Dead Sea.
"We value this strategic project as the only option to satisfy the current and future needs of domestic water supply, as well as in being a key enabler for economic growth in other sectors," Fakhoury said, adding that the plan would also promote "peace and prosperity" in the region.
The official said Jordan, as joint president of the UfM, had been "doing its utmost" to achieve the union's objectives and to create new bridges of cooperation.
Jordan succeeded in achieving UN Observer Status for the UfM "in order to give it more visibility and universality to assume its rightful position within the community of international organisations", Fakhoury noted.
Jordan also successfully organised "many operational, ad-hoc and ministerial meetings in various fields ranging from business development, social and civil affairs, higher education and research, environment, urban development, to water, energy and transport", he added.
However, he said, the union's goals have not yet been met. Without progress, Fakhoury warned, the region would face "a continued vortex of instability".
The region needs a plan to stabilise, reconstruct and deepen integration, and to strengthen cooperation, according to the minister.
"Let us make sure we do not let our nations and the Mediterranean region down," Fakhoury urged.
Related Articles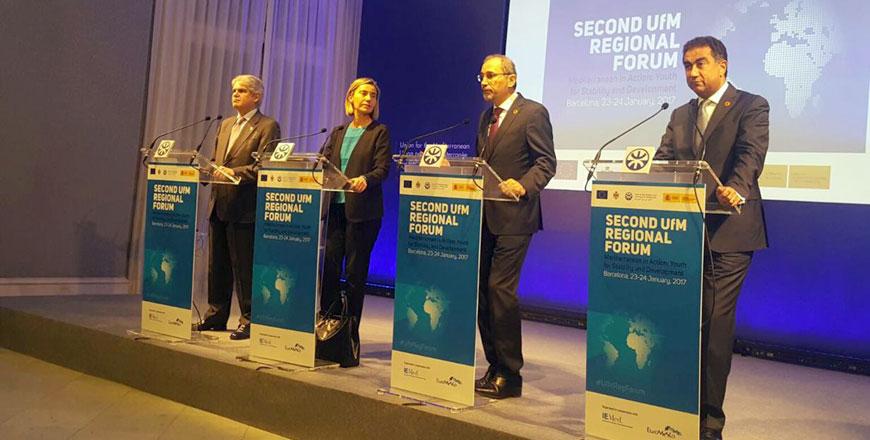 Jan 23,2017
AMMAN — Minister of Foreign Affairs and Expatriates Ayman Safadi on Monday co-chaired, along with High Representative of the EU for Fo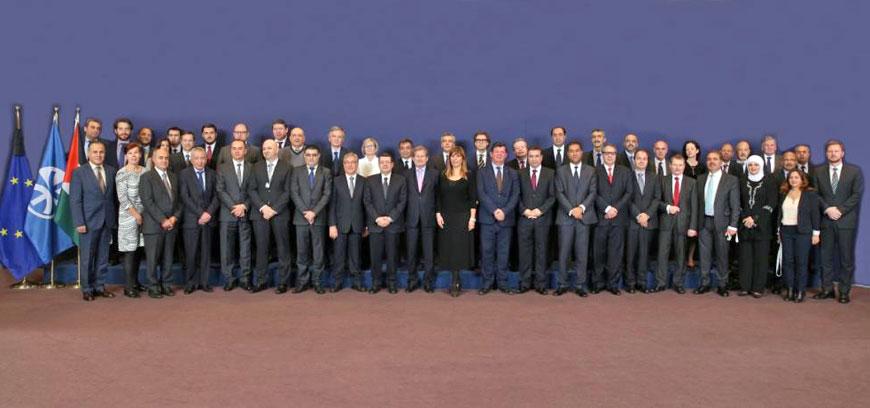 Nov 17,2015
AMMAN — Ministers in charge of maritime affairs from 43 member countries of the Union for the Mediterranean (UfM) committed to closer cooper
Sep 22,2016
AMMAN — Labour ministers from the member countries of the Union for the Mediterranean (UfM) will meet at the Dead Sea on Monday, the Labour
Newsletter
Get top stories and blog posts emailed to you each day.