You are here
'Jordan working to incorporate water, sanitation among the post-2015 development goals'
By Hana Namrouqa - Mar 24,2014 - Last updated at Mar 24,2014
AMMAN — Jordan is coordinating with international aid agencies to incorporate water and sanitation among the post-2015 development goals, Water Minister Hazem Nasser said on Monday.
"If the Arab region, which suffers from water scarcity, doesn't push for incorporating water and sanitation as one of the post-2015 millennium development goals, then none of the water-rich countries will do so," Nasser said in a ceremony marking World Water Day.
The UN is working with governments, civil society and other partners to build on the momentum generated by the MDGs and carry on with an ambitious post-2015 development agenda, according to its website.
Eradicating extreme poverty and hunger is one of eight MDGs to be met by all the world's countries by 2015. The other goals are: reducing child mortality, achieving universal primary education, promoting gender equality, improving maternal health, combating diseases such as HIV/AIDS, ensuring environmental sustainability and creating global partnerships for development.
The MDGs are drawn from the actions and targets contained in the Millennium Declaration adopted during the UN Millennium Summit in September 2000.
"Water supply tops Jordan's priorities because the water sector is facing major challenges in light of global warming and the resulting decrease in rainfall. Water resources are being depleted and there is unprecedented demand on our already shrinking water resources," the minister said in a speech he delivered on behalf of Prime Minister Abdullah Ensour.
Underscoring that the Arab region's share of freshwater constitutes 1 per cent of the world's freshwater resources, Nasser added that the current water deficit in the region stands at 45 billion cubic metres and is expected to surge to 127 billion cubic metres by 2030, when precipitation will drop by 20 per cent due to climate change.
"UN studies indicate that water prices in the Arab region will be 11 times higher than water prices in the rest of the world by 2030… our region will need over $2 billion in capital cost for water and sanitation projects during the next decade, which is a huge financial burden even for fiscally capable countries, such as the Gulf states," he pointed out.
Celebrated annually on March 22, World Water Day's theme for this year is water and energy. Its objectives include raising awareness of the inter-linkages between water and energy and demonstrating, through case studies, that integrated approaches and solutions to water energy issues can achieve greater economic and social impacts.
Related Articles
Feb 15,2014
HRH Prince Hassan has joined leading development advocates and practitioners calling for justice to be included in the Post-2015 Development Goals, according to a statement issued Saturday.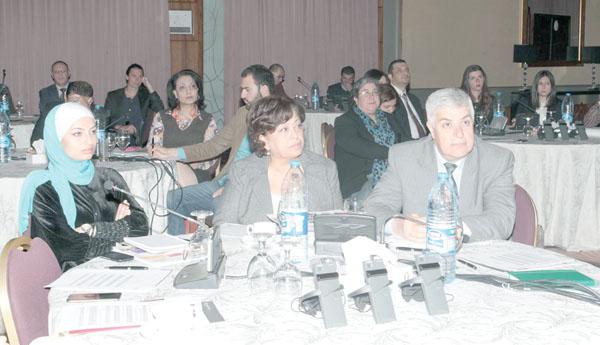 Mar 23,2015
A UN official on Monday urged local civil society organisations and young Jordanians to participate in designing and implementing the UN Post-2015 Development Agenda.
Jul 06,2015
LONDON — About 800 million people still live in dire poverty and suffer from hunger despite the United Nations Millennium Development Goals
Newsletter
Get top stories and blog posts emailed to you each day.