You are here
Jordanian archaeologist reads dice to decipher ancient board games' social role
By Saeb Rawashdeh - Sep 23,2023 - Last updated at Sep 24,2023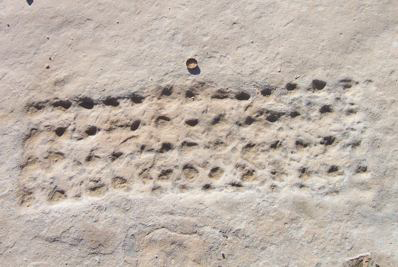 An ancient game board in Petra with four by fourteen holes (Photo courtesy of Nabataea)
AMMAN — People in the past spent more time on leisure activities than the present day generation, said a Jordanian archaeologist at the lecture "Game Boards from Petra" held at American Centre of Research on Wednesday.
"All these social rules that we have today didn't exist in ancient times," said Commissioner from Petra Archaeological Park and Tourism Board Bilal Khrisat, noting that he started observing ancient game boards while studying archaeology in India.
Most game boards in Petra are carved in the rocks and the largest number of them is in front of Siq, a 1.2km-long gorge leading to the Treasury, the rose-red city's iconic façade, Khrisat said, adding that studies on the game boards in Jordan began in 1928.
"Nabataeans were on the trade crossroads and they used to play and modify these games," Khrisat said, adding that the oldest mancala board was found in Ain Ghazal and it dates back to 6,000 BC.
Mancala is a game that is played everywhere in the East, but in Petra there was a specialised mancala adapted to the local cultural environment, Khrisat noted, adding that ancient gamers had a linear mathematical thinking.
Some games revolved on luck while others focused on how to strategically beat opponents, he said, noting that older age groups have more time to play social games than youngsters, who are involved with education or work.
"Games can tell us about cognitive skills of people," Khrisat said, noting that games are a source of creativity.
He also mentioned the role of referees and time keepers who regulated the game and prevented conflicts between competitors.
"Also, games would be played early in the morning or in the evening," Khrisat said, adding that some games are associated with the architectural structure, temples and tombs, for instance.
Nadar is a game where a player stacks stones and the competitor tries to knock them all down with a pebble while another game's aim is to remove stones one by one by a single hit, he explained.
"Most of these games were played by two people, but some included more players in each team," Khrisat said.
Nowadays mancala is very popular in Salt and Zarqa where local residents organise competitions.
Locational analysis and the sun angle can determine many things about the game boards, Khrisat said.
"By analysing social games of the past scholars can reconstruct old societies and its culture and art patterns."
Related Articles
Feb 25,2020
AMMAN — On a terrace high above the lower Wadi Al Hasa in central Jordan, two game boards were found at an archaeological site, shedding lig
Aug 22,2022
IRBID — Since ancient times, humans have had leisure time to win or lose in games of chance or skill, as evidenced by the excavations at Neo
Jul 19,2016
AMMAN — The Jordan Tourism Board (JTB) hopes to entice Pokémon Go players to holiday in the Kingdom, but it will not be promoting Pokestops