You are here
Jordanian, Chinese artists mix musical traditions at Jerash festival
By Ahmed Bani Mustafa - Jul 24,2017 - Last updated at Jul 24,2017
The Jinan Traditional Chinese Orchestra and Jordanian singer Caroline Madi perform during the Jerash festival on Saturday (Photos by Hassan Tamimi)
JERASH — Jordanian and Chinese musicians and singers on Saturday performed traditional songs of both countries at Jerash Festival 2017.
The Jerash Festival is held in the ancient Greco-Roman town of Jerash, 48km north of Amman.
At the northern theatre, known for hosting cultural and artistic concerts, the Jinan Traditional Chinese Orchestra performed a joint concert with Jordanian singers and musicians using both Chinese and Arabic traditional instruments.
The troupe played Chinese, Jordanian and mixed songs.
The concert came as part of Jordanian and Chinese efforts to enhance bilateral relations in all fields, including culture, Yang Rong Hao, the cultural consul from the Chinese embassy in Amman, told The Jordan Times on Saturday.
It coincides with the celebrations of the 40th anniversary of cultural and diplomatic relations between Jordan and China, he said.
"Every year, the Chinese culture ministry chooses one of the top performing traditional Chinese troupes to participate in the Jerash festival," according to Hao.
Cultural ties between Jordan and China represent a "role model" among the Arab countries, the consul said.
The genres of Arabic and Chinese music are "polar opposites", which makes it difficult for Chinese musicians to play Arabic music with authentic Chinese instruments, Jordanian singer Caroline Madi told The Jordan Times.
Madi, who is the daughter of renowned Jordanian singer Malik Madi, said her father took part in many courses in cultural and musical workshops in China and became keen on exchanging his artistic knowledge with his Chinese counterparts.
During the concert, Caroline performed a popular traditional Chinese song titled "Jasmine flower". She said she performed part of it with an Arabic rhythm, which made it a "unique" tune for the Chinese.
"The Chinese troupe played three Jordanian songs, while I performed a Chinese song with a mix of Arab and Chinese music," Caroline said.
On the other hand, the Jordanian singer said that she participated in the 2nd Arab Arts Festival in China, which was an "enriching experience".
Speaking of her participation in the Jerash festival, she said it came as part of an exchange between the Jordanian and Chinese ministries of culture.
The north theatre always hosts "distinguished cultural events" where people can enjoy a blending of cultures, Laith Mahmoud, an attendee, told The Jordan Times.
"I enjoyed being in a two-thousand-year-old structure and listening to music of a different culture," Mahmoud added.
"The music that was played during the concert was captivating, as it represents one of the oldest cultures in the world and was played using authentic instruments," Yasmin Shami said.
The north theatre was built during the Roman era, 2nd century AD, as the city's local council. It was expanded in the 3rd century to be used for theatrical performances such as concerts and plays, which can be seen in still-existing carvings of the Muses, goddesses of the arts and culture, according to historians.
Related Articles
Jul 22,2017
AMMAN — The first two days of Jerash festival saw a large turnout of local and foreign visitors, an official said.Thousands of fans attended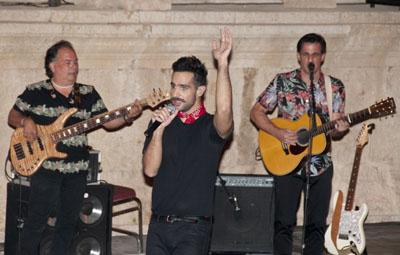 Jun 26,2014
As expected, young Jordanian singer and musician Jaafar delighted the audience at Jerash's North Theatre on Wednesday night, singing mainly covers but also a few of his own compositions.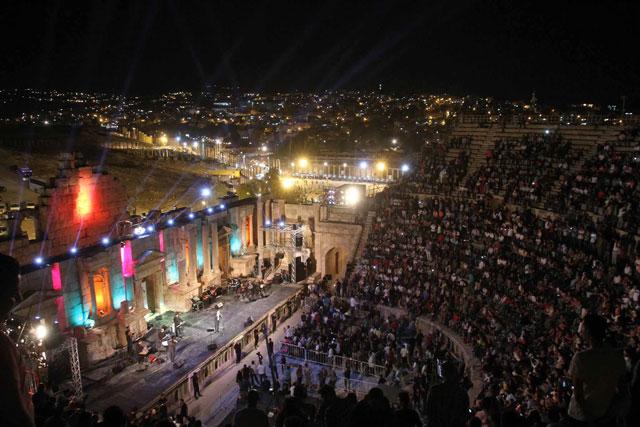 Jul 30,2016
AMMAN —The 31st Jerash Festival for Culture and Arts concluded in the ancient Greco-Roman city on Saturday, and will move to Amman for a ser
Newsletter
Get top stories and blog posts emailed to you each day.