You are here
'Jordanian efforts secured opening of Al Aqsa Mosque'
By JT - Oct 30,2014 - Last updated at Oct 30,2014
AMMAN — Jordanian efforts led by His Majesty King Abdullah succeeded in securing the opening of Al Aqsa Mosque to worshippers as of Friday, Government Spokesperson Mohammad Momani said on Thursday.
Momani, who is also minister of state for media affairs and communications, said King Abdullah's directives to the government and his strongly worded messages to the international community regarding Al Aqsa Mosque and unilateral Israeli measures resulted in the reopening of the mosque.
All possible options were available to Jordan to take the necessary measures to stop recurrent Israeli violations of Islamic holy sites in occupied Jerusalem through galvanising international efforts and addressing the UN Security Council, the spokesperson said.
Earlier on Thursday, the government denounced Israeli occupation forces' actions in Jerusalem, which included closing the gates of Al Aqsa Mosque at dawn and banning worshippers from entering.
In a statement carried by the Jordan News Agency, Petra, Awqaf Minister Hayel Dawood underlined that such measures are a "dangerous escalation", warning that Al Aqsa Mosque should not be paying the cost of an attempt to kill Israeli Rabbi Yehuda Glick.
He noted that Israel is using the incident to attack the mosque, the third holiest shrine in Islam, and help extremists invade it.
The minister called on Muslim and Arab countries and organisations to support Jordan in its endeavours to pressure the Israeli occupation to stop its terrorist blockade of Al Aqsa Mosque Complex, known to Muslims as Al Haram Al Sharif.
Commenting on the Israeli actions, former prime minister and current Senator Samir Rifai, who chairs the Senate's Foreign Affairs Committee, called for an immediate end to Israeli assaults on Al Haram Al Sharif.
"Jordan, on the basis of the historic Hashemite custodianship over holy sites in East Jerusalem and on the provisions of the treaty of peace, expects and demands that all Israeli measures taken in occupied East Jerusalem must be stopped comprehensively and immediately, including the intensified and increased dangerous and unacceptable assaults on Al Haram Al Sharif /Al Aqsa Mosque compound by Israeli settlers under the protection of Israeli police," Rifai said in a statement e-mailed to The Jordan Times.
"All measures attempting to impede or undermine the work and authority of the Islamic awqaf [department] in East Jerusalem must also be stopped immediately. Denial of access to Muslim worshippers to enter Al Haram Al Sharif /Al Aqsa Mosque compound and all attempts at altering the status quo there must be brought to a complete halt," he noted.
Such provocative actions are inconsistent with the Jordanian-Israeli peace treaty and in violation of international laws, Rifai stressed.
"They also place the entire region in peril and adversely affect the already shaken regional stability by fuelling tension and feeding extremism and the agendas of terrorists," he warned.
In another statement carried by Petra, the Jordanian women parliamentarians' forum also condemned the Israeli occupation force's violations in Jerusalem, describing them as an attempt to "restore Israeli pride" after "the defeat in Gaza".
The forum's coordinator, Deputy Fatima Abu Abtah, said Israelis are desecrating holy Islamic sites in the occupied city.
Abtah urged the government to work towards ending Israel's attacks, noting that the Islamic sites in Jerusalem have always been and continue to be under Hashemite custodianship.
Related Articles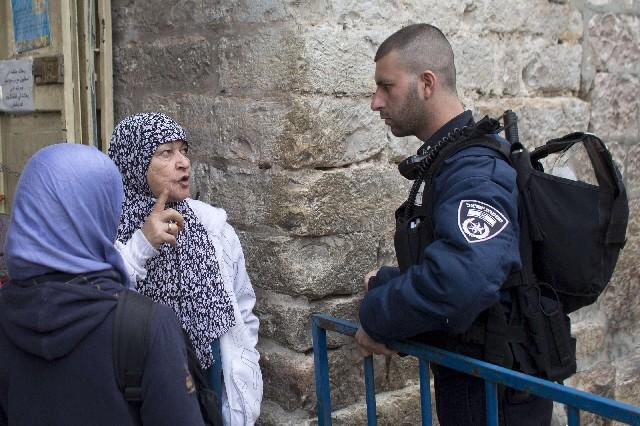 Mar 19,2014
Under the protection of Israeli security members, dozens of Jewish settlers on Wednesday entered Al Haram Al Sharif through Bab Al Magharbeh for the second day in a row, according to the Awqaf and Islamic Affairs Department in Jerusalem.
Apr 24,2016
AMMAN — The government on Sunday cautioned against the grave repercussions of break-ins by groups of Israeli settlers and occupation forces
Jan 09,2016
AMMAN — Jordan was tasked by the Conference of Arab Lawyers, recently concluded in Cairo, to form an international legal committee to follow
Newsletter
Get top stories and blog posts emailed to you each day.