You are here
Jordanian exports to GAFTA countries increased 22.6% in 2022 — DoS
By JT - Jan 28,2023 - Last updated at Jan 28,2023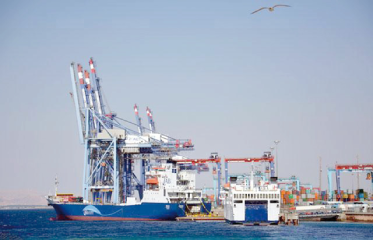 The value of national exports to the Greater Arab Free Trade Area countries increased by 22.6 per cent to JD2.5 billion during the first 11 months of 2022, compared with the same period in 2021, according to the Department of Statistics (File photo)
AMMAN — The value of national exports to the Greater Arab Free Trade Area (GAFTA) countries increased by 22.6 per cent to JD2.5 billion during the first 11 months of 2022, compared with the same period in 2021, during which national exports to GAFTA amounted to JD2 billion, according to foreign trade data, issued by the Department of Statistics (DoS) showed on Saturday.
The value of the Kingdom's imports from GAFTA nations went up by 38.1 per cent during the January-November period of 2022, reaching JD5.4 billion compared with JD3.9 billion in the same period of 2021, the Jordan News Agency, Petra, reported, citing DoS figures.
The DoS figures also showed that the Kingdom's trade balance deficit with GAFTA nations rose to some JD2.9 billion during the first 11 months of 2022, compared with JD1.9 billion in the corresponding period of 2021.
Saudi Arabia was the top importer of Jordanian exports during the first 11 months of 2022, amounting to some JD768 million, followed by Iraq at JD565 million, then Palestine at JD182 million and the UAE at some JD165 million.
Saudi Arabia was also the top exporter to the Kingdom, as the value of Jordan's imports from the neighbouring Gulf kingdom amounted to some JD2.7 billion, followed by the UAE at JD1.5 billion.
The Kingdom's top exports to GAFTA countries include fertilisers, medicines, fruits, vegetables, skin care materials, paints, chocolate and furniture, while Jordan's top imports from GAFTA include crude oil and its derivatives, jewellery, dates, wheat, fish, iron, cheese, honey and grains.
Newsletter
Get top stories and blog posts emailed to you each day.