You are here
Jordanian programming company shines at global education forum
By Camille Dupire - Jan 25,2018 - Last updated at Jan 25,2018
Hanan Khader sits with children who learn how to code with Hello World Kids in Amman recently (Photo courtesy of Hello World Kids)
AMMAN — The founder of Hello World Kids (HWK), a Jordanian organisation that teaches coding and programming to kids between the ages of 6 and 15, is participating in Bett, one of the largest educational technology forum in the world.
Hanan Khader and her team convened in London on Wednesday, to present her educational company to some 34,700 experts in the field, representing 850 leading companies between January 24 and 27.
"I believe teaching programming is a global mission that needs to be realised for every kid, everywhere in the world," Khader, who started programming when she was 10 years old, told The Jordan Times ahead of the event.
"Teaching coding is not only about creating a new generation of programmers but rather about instilling skillability at a very young age. When a kid learns how to code, he/she also learns crucial skills such as problem solving, critical thinking or data analysis, among others," she explained, stressing that "these tech skills will be useful for a lifetime."
"These children we teach have an amazing potential; we get kids as young as four years old asking us questions which we don't even know how to answer," recalled Lama Al Himssi, head of marketing at HWK, noting that curricula start from simplified computer use for 6 years old and goes all the way up to mobile app development for the 13 years old.
The courses provided by HWK, which include in-school teaching and holidays sessions, have reached over 40,000 students spread across 80 schools around the Kingdom, in addition to 12 schools in Lebanon.
Khader, who said she expects to train 150,000 kids next year, stressed the "huge" room for innovation in the field. "It is not like mathematics or philosophy, where all discoveries have already been made and theories been proven; in tech, no one knows everything and anyone has the potential to create something new," she said, citing several of her former students' inventions.
Mohammed Khirfan, a 5th grader, is among the young inventors featured in the HWK textbook, displaying the "Space War Game" he created during the course. Another student, 11-year-old Ibrahim Abdeen, designed a computer game dubbed "Angry Bird Balloon", which requires the player use the famous bird character to pop up as many balloons as possible.
Sitting in the HWK offices located at King Hussein Business Park, Lana, a 7-year-old, is taking part in the winter camp session. "I did not know what coding was but I was curious, so I came here. I love that I know how to use a computer better than my parents now," she said, highlighting how "funny and smart" the two mascots of HWK, Redo and Greeno are.
"With the course, which we adapt to every level and learning ability, children get to own their learning experience, which should be the case for any student," Khader highlighted, noting that "we need to move away from the old system which does not prepare children to the demands of the future."
Hello World Kids strives to implement this inclusive vision, notably by providing programming courses for children with disabilities, including deaf and mute students across the Kingdom.
"These children know more than us about what their peers need and they just need someone to give them the opportunity to change the world," the founder underlined, noting that she partnered with the King's Academy to provide educational solutions for children with special needs.
Ultimately, HWK does not aim to replace the human component in the learning equation, Khader stressed, explaining that "we instead fill the gap between two very separate worlds: that of the programmer and of the teacher".
For Areej Khalil, a mother of three, "there is nothing more beautiful than seeing my children feeling confident and proud of their achievements", reflecting upon Khader's vision that "I remember that great sensation I felt when I created something when I started coding myself."
The organisation, which started three years ago, has partnered with the Crown Prince Foundation and the Queen Rania Teacher Academy and aims to reach out to all schools across the Kingdom as well as globally.
Related Articles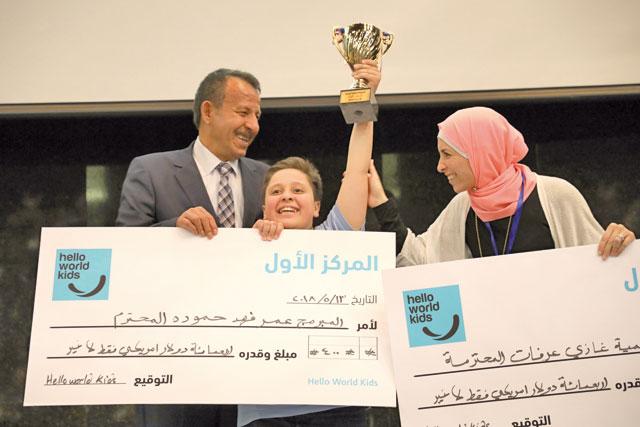 May 20,2018
AMMAN — A national programming competition organised by local organisation Hello World Kids (HWK) last week gave young innovators the chance
Mar 12,2019
AMMAN — Her Majesty Queen Rania on Tuesday met with the winners of the Queen Rania Award for Education Entrepreneurship to congratulate them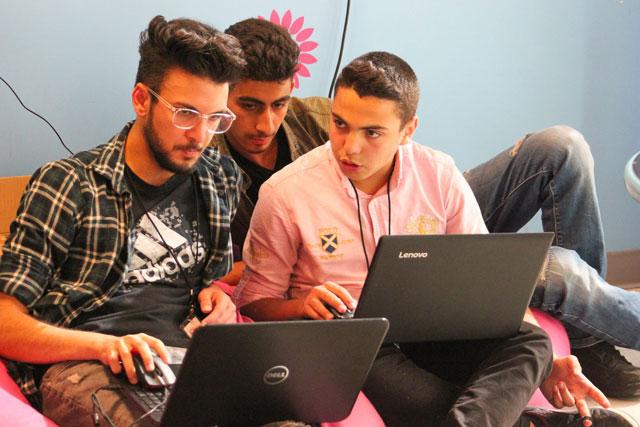 May 06,2018
AMMAN — Applications developers, parents, youth and children came together this weekend to come up with innovative technology based solution