You are here
Jordanian students win second place at int'l contest for car design
Achievement could be 'first step' towards a Jordanian-manufactured car
By Renad Aljadid - Jul 16,2018 - Last updated at Jul 16,2018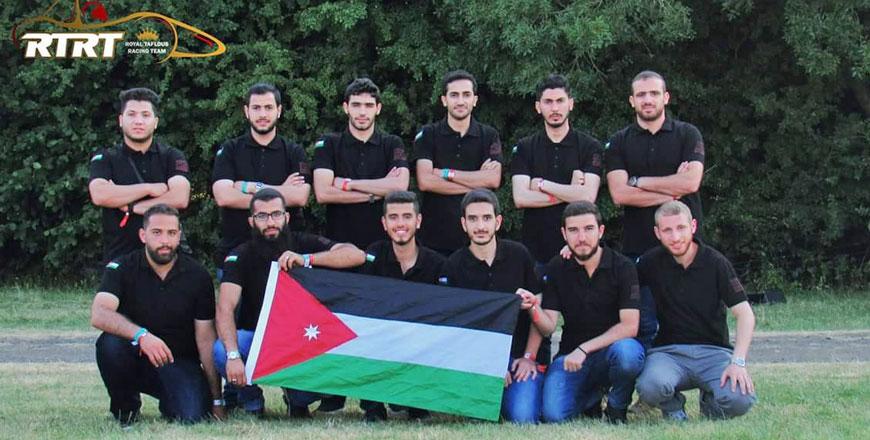 The twelve team members raise Jordan's flag after they take second place at the Formula Student competition for their car design project (Photo Courtesy of RTRT)
AMMAN — Twelve Jordanian mechanical engineering students have seized the second place at the Formula Student, an international competition held annually in the UK, for their design plan of a car project.
Competing against 36 universities from a dozen countries, the Royal Taflous Racing Team (RTRT) from Tafileh Technical University (TTU) won second prize in the Class 2 track equally with the University of Bath from the UK and Università degli Studi di Modena e Reggio Emilia from Italy.
The competition's Class 2 track requires the submission of an entire car project including the car's engineering design, the business presentation, the cost and manufacturing data and a business logic case along with a prototype of the car, team members said.
RTRT started preparing for the competition in early 2017 "with great enthusiasm", Ahmad Rafiq, one of the team leaders, recalled, stressing "we never thought we would achieve a high position and succeed while competing against other universities that have such a long experience in the field".
"We started a long journey of hard work and self-learning to be able to enrol in the competition, as we had to read more books and learn how to use new programmes," Rafiq told The Jordan Times, describing their achievement as "the first step" towards a Jordanian-manufactured car.
An educational engineering competition that aims to develop enterprising and innovative young engineers, Formula Student (FS) seeks to encourage youth to pursue careers in engineering, according to their website.
The team leader said they are hoping to turn their software car design into a real, manufactured race car with which they could compete next year in the competition's Class 1 track, where contestants take part in a car race with the vehicles they designed.
In a statement quoted by the Jordan News Agency, Petra, TTU President Mohammed Khair Hourani stressed that the university has pledged to offer all the necessary requirements and logistical support to the students, as well as to facilitate their work in the competition.
Rafiq noted that the team received funding from the Scientific Research Deanship at the university to buy the books and programmes they need, in addition to an advanced computer device.
Emad Majdalawi, a team member, stated that the competition has introduced him to "new worlds of knowledge and new cultures", stressing "nothing feels better than seeing the efforts you have exerted for long, exhausting nights pay off, and, you can finally raise the flag of your country to the whole world".
The participating students, who were trained by professors Ali Al Ahmar, Wael Adayleh and Ahmad Mustafa, included Mohammad Bani Issa, Ahmad Rafiq, Rabah Al Natour, Mohammad Nafeth, Omar Btoush, Emad Majdalawi, Belal Al Beady, Bajis Maaly, Mahmoud Mallah, Mohammad Muhaisri, Hamza Al Ashal and Mohammad Al Humsi.
Newsletter
Get top stories and blog posts emailed to you each day.