You are here
Jordanian, Syrian filmmakers tell local stories for youth festival
Screenings focus on 'migration, diversity and social inclusion'
By Muath Freij - Oct 19,2016 - Last updated at Oct 19,2016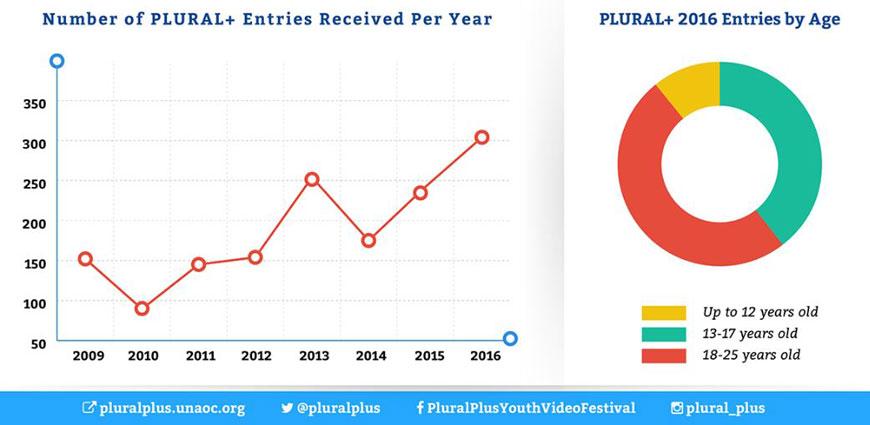 AMMAN — Syrians living in Zaatari can tell the camp's stories better than outsiders, says refugee Khaldiah Ali, who has filmed a short documentary that has been screened internationally.
Ali, a 19-year-old who fled her home in Daraa, wanted to change negative perceptions towards Syrians living in the Zaatari Refugee Camp, 90km northeast of Jordan, and to show the residents' accomplishments and hardships
Her 10-minute documentary, "Another kind of girl", was screened alongside other short films at Amman's Rainbow Theatre on Monday as part of the Plural+ Youth Video Festival.
"People believe that most Syrians there cannot read or write," says Ali, noting that in fact, residents of the camp, who number around 79,900, are very smart.
"For example, if a girl cannot read at school then she can read at her home and teach the children around her. Children, if they cannot play, they can create toys and entertain themselves," she claims, adding that her film had been shown in Germany and the US.
Filmmakers from outside Zaatari do not have the same insight into life in the camp as the refugees who live there, she notes.
"Films are the most effective way to send messages about the camp."
Jordi Torrent, media literacy education project manager at the UN Alliance of Civilisations (UNAOC), says the Amman screenings were part of the global Plural+ Youth Video Festival, which is a joint initiative of the UNAOC and the International Organisation for Migration.
"The festival focuses on three main issues: migration, diversity and social inclusion... We are in our eighth year and [the festival] invites young people up to 25 years old to send videos up to 5 minutes of length on these topics," he says in an interview with The Jordan Times ahead of the screenings.
The festival helps empower young people and helps their voices be heard by policymakers who often talk about the youth, Torrent adds.
"In the media, most of the time we only hear about youth when it is crime, violence [or] sports entertainment, but very seldom do we hear about youth when they speak about serious issues."
A number of award-winning Jordanian films that were submitted to the festival over the years were screened on Monday.
"I thought to join forces with the Royal Film Commission because they have been supporting Plural +," Torrent notes.
This year's festival will open in New York on October 27, he adds.
"The way it works is that people hear about the festival through the support of social media and other partners, and this year we received over 300 videos from 40 countries. From Jordan we received three videos and two of them have received awards."
A short list is created, and an international jury selects 31 videos for screenings and awards, Torrent explains.
The UNAOC official sees a positive change in filmmaking among young people in recent years.
"One thing is that young people are getting better and better at making videos, because the tools are now very accessible compared to the past," he explains.
"The other thing, obviously we have this challenging moment that we are living [through] right now... not only in the region, but globally. So, young people are engaged in this discussion and they are engaged in ensuring that their voice is being heard."
Commenting on the quality of Jordanian films, Torrent says local filmmakers are highly skilled and that their work is very well-produced.
Wala Ahmed, another Jordanian filmmaker who attended her movie's screening, says her film depicts harassment, an experience she has had dealt with personally.
"I wanted to highlight the harassment issue so that all girls do not feel scared facing it and do not hide it and speak about it instead."
Ahmed says the Internet gave her the opportunity to express her ideas and to tackle reality in an artistic way.
"My movie was screened in the US, and I feel proud that I did something positive for the sake of Syria; I felt that I am a good element in society."
Related Articles
Dec 15,2016
AMMAN (UN Communications Group) — When Alaa Sa'di heard about PLURAL+ Film festival, an initiative of the UN Alliance of Civilisations and t
Nov 30,2016
AMMAN (UN Communications Group) — A 17-year old woman who came to Jordan four years ago won the first award in her life when she participate
Aug 20,2017
AMMAN — The seventh edition of Arab Film Festival Amman kicked off on Sunday at the Royal Film Commission-Jordan (RFC), with the scree
Newsletter
Get top stories and blog posts emailed to you each day.