You are here
Jordanian tweeps call for immediate help for Zaatari refugees
By Mohammad Ghazal - Jan 09,2013 - Last updated at Jan 09,2013
AMMAN — Twitter users in Jordan on Wednesday urged their compatriots and Arabs to help Syrian refugees in the Zaatari Refugee Camp in light of the prevailing weather conditions.
"Remember when you are… warm in your bed that there are Syrian refugees dying… of cold," Wael Abubaker said in a tweet Wednesday.
Razan Nour urged everybody to help the Zaatari camp residents facing harsh weather conditions.
Violent riots erupted at the camp on Tuesday as heavy rain submerged hundreds of tents.
Other tweeps called for immediately providing the Syrian refugees in the camp with trailers instead of tents.
"Syrians at Zaatari camp have to be given a proper shelter at least for this storm… all citizens and Arabs should help," a Jordanian Twitter user said.
On Tuesday, more than 500 tents at the camp were flooded by the heavy rain affecting the country, the Jordan News Agency, Petra, reported.
A polar front, which started on Monday, brought snow to the Kingdom on Wednesday and is expected to continue affecting the country on Thursday.
On Monday and Tuesday, heavy rains caused floods in various parts of the country, disrupting traffic and damaging infrastructure, including tunnels and bridges.
Streets across Amman were flooded as the downpour blocked several underpasses and streets.
Jordanian tweeps also continued to post remarks about the traffic congestion, with some blaming the Greater Amman Municipality for the state of streets in the capital.
"Weather in Jordan is like Europe, but the country's capabilities seem like those of Somalia," Yaser Al Zayat tweeted.
Another Twitter user, Majd Sawalha, said the condition of roads in Amman makes one regret loving snow and winter, while a tweep called Salameh proposed a Cabinet reshuffle and the creation of a new portfolio for the ministry of sewage systems and floods.
Some, like Mohammad Abu Romoh, posted sarcastic comments.
"In summer, Jordanians go to sea, but in winter the sea comes to them," he tweeted.
Others criticised announcing Wednesday as a public holiday, saying it was counter-productive, while several praised sanitation workers and traffic police who were on duty across the country to clear the streets and help motorists.
Related Articles
Dec 12,2013
Mixed reactions towards observing Thursday as a day off due to the snow and calls for helping Syrian refugees in light of the cold weather affecting the Kingdom dominated the day's tweets.
Mar 10,2014
Civil Defence Department (CDD) personnel early Monday evacuated around 120 Syrian refugees living in the Zaatari Refugee Camp after rain flooded their tents, an official source said.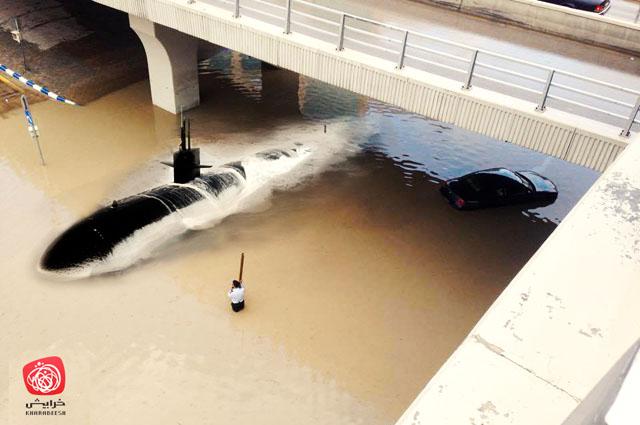 Nov 03,2014
Social media websites were flooded Monday with pictures of blocked streets and underpasses due to heavy rainfall, which wreaked havoc on the capital's streets.
Newsletter
Get top stories and blog posts emailed to you each day.