You are here
Jordanians exempted from new Saudi transit regulations — Foreign Ministry
Decision comes after 'intensive calls' with Saudi officials
By JT - Oct 19,2019 - Last updated at Oct 19,2019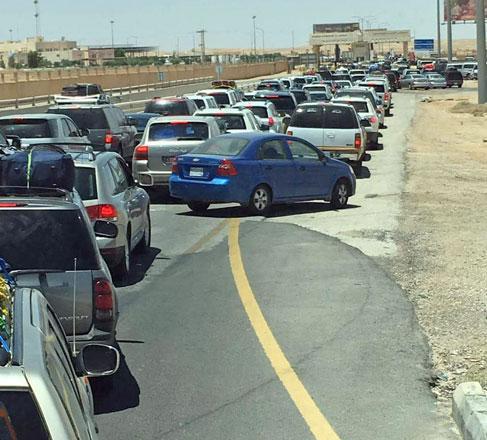 Saudi authorities have agreed to exempt Jordanian truck drivers from newly issued visa guidelines, according to the Foreign Ministry (JT File photo)
AMMAN — Saudi authorities have made a decision to ease the passage of Jordanian goods and passengers to and from Arab Gulf countries through Saudi territory, the Foreign Ministry said on Friday.
The ministry's spokesperson, Sufian Qudah, said that the ministries of foreign affairs and transport followed up during the past few days on complaints of truck drivers, who said they were not able to obtain multiple-entry visas from Saudi Arabia, according to the Jordan News Agency, Petra.
Qudah said that the Foreign Ministry conducted "intensive calls" to follow up with officials in Saudi Arabia, which resulted in an announcement by Jordan's Ambassador in Riyadh Ali Kayed that Saudi authorities have agreed to exempt Jordanian truck drivers from newly issued instructions, reverting to prior regulations.
These stipulations granted truck and bus drivers six-month multiple entry visas, Petra reported.
The new Saudi regulations were placed on several nationalities besides Jordanians, Qudah noted, thanking the Saudi authorities for their decision and citing its direct positive impact on a vital sector in the Jordanian economy, which he said "strengthens and deepens relations between the peoples and leaderships of both countries," Petra added.
Newsletter
Get top stories and blog posts emailed to you each day.