You are here
Jordan's diplomacy made significant win in pro-Jerusalem campaign — analysts
By Saeb Rawashdeh - Jan 03,2015 - Last updated at Jan 03,2015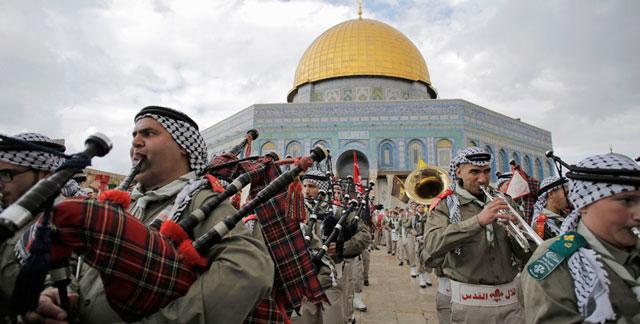 AMMAN — Amid all domestic and regional turmoil and ensuing challenges, Jordan stood alone in a key battle for Jerusalem and came out triumphant, observers said.
They said Jordanian diplomacy made its most significant 2014 win in early November by successfully lifting the Israeli closure of Al Aqsa Mosque and repelling Israeli aggression on Al Haram Al Sharif.
In interviews with The Jordan Times senior diplomats and Middle East experts emphasised the pivotal role played by His Majesty King Abdullah and the Foreign Ministry during the Israeli escalated aggression in East Jerusalem.
Following incursions of Israeli security forces into Al Aqsa Mosque, Jordan withdrew its ambassador to Israel, Walid Obeidat, over violations in East Jerusalem.
Parallel to the escalation of violence in East Jerusalem, King Abdullah led a diplomatic offensive by contacting influential political centres, efforts that contributed to the reopening of Al Aqsa Mosque and resulted in the high-profile meeting in Amman between the King, US Secretary of State John Kerry and Israeli Prime Minister Benjamin Netanyahu. Egyptian President Abdel Fattah Al Sisi took part by phone.
Israel vowed to work for calming the situation in Jerusalem to keep the status quo intact. Al Aqsa was opened for the first time in years to Palestinian worshippers of all ages.
According to veteran diplomat and columnist Hasan Abu Nimah, Jordanian diplomacy did its very best to contain Israeli aggression in East Jerusalem.
"King Abdullah and Jordanian diplomacy did their utmost to neutralise Israeli escalation of violence and incitement at Al Haram Al Sharif, using practical and diplomatic efforts to curb attempts of right-wing Zionist circles to seize Muslim shrines," Abu Nimah said.
Although the Hashemite dynasty is the custodian of both Muslim and Christian holy sites in East Jerusalem, it's also the role of the entire Arab and Muslim world to maintain pressure on the Israeli side since the Israelis easily break promises and ignore treaty obligations, according to the analyst, who urged a unified joint Arab-Muslim political front to increase chances of preserving the status quo at Muslim and Christian shrines in the holy city.
According to Article 9 of Wadi Araba Peace Treaty, the Hashemite dynasty exercises the role of custodians over holy sites in East Jerusalem.
A political analyst and founder of the Arabic Media Internet Network (AMIN), Daoud Kuttab said that to maintain the momentum of the pro-Jerusalem campaign led by Amman, Jordan will need to give more attention to its Jerusalem team, i.e., staff of the Islamic Waqf Department, including the appointment of fresh blood to take over the administration of the shrines.
"One of the major weaknesses in the current team is its lack of any media or PR skills. While the other side is employing and spending millions to sharpen their message, Jordanian waqf staffers are nowhere to be found," Kuttab said.
According to Yassar Qatarneh, president of the Amman-based Third Way Institute and an expert on conflict resolution, what Jordan achieved was a triumph to moderates because Jordan only used diplomatic instruments to solve the problem, at a time when the voice of extremism seemed to be louder in the region.
In a telephone interview a former Jordanian diplomat, Musa Keilani said the picture in Jerusalem and the entire Palestinian situation will be clearer after the March election in Israel.
"We should wait and see what the new Israeli government will look like," Keilani stressed.
Related Articles
Nov 15,2014
Jordan's "well-studied" diplomatic push proved to be successful in the face of the recent Israeli escalation at Al Aqsa Mosque and Al Haram Al Sharif, government officials said Saturday.
Dec 07,2017
AMMAN — As Jordan making contacts to summon an emergency Arab League Council meeting, Turkey will next week host an Islamic gathering to res
Jul 27,2017
AMMAN — The Arab League on Thursday thanked Jordan for its efforts, led by His Majesty King Abdullah, the Custodian of the Muslim and Christ
Newsletter
Get top stories and blog posts emailed to you each day.