You are here
JT reporter presents book on Jordan's interfaith drive to Pope
By JT - May 30,2018 - Last updated at May 30,2018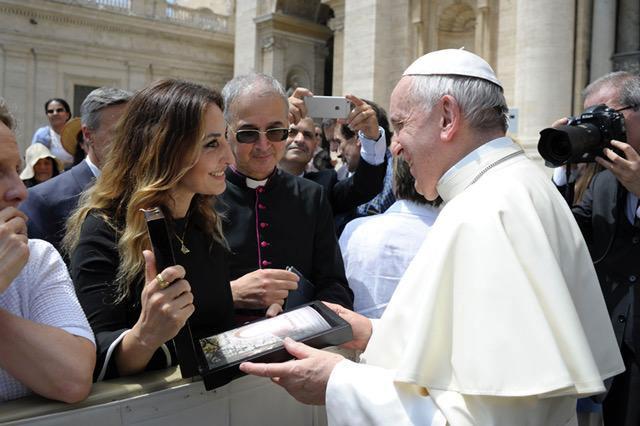 The Jordan Times reporter Rula Samain presents a copy of her book on Jordan's interfaith efforts to Pope Francis at the Vatican on Wednesday (Photo courtesy of Rula Samain)
AMMAN — The Jordan Times' reporter and author Rula Samain has presented a copy of her book "Fortress of Peace: Jordan's Interfaith Drive and Model of Coexistence" to Pope Francis at the Vatican.
"It was a great honour for me that His Holiness accepted the present. In fact, the Pope himself and senior Vatican officials are aware of the efforts His Majesty King Abdullah in the field of interfaith harmony, and some were involved in these efforts and aware of the book," Samin said.
She added that the visit and the brief meeting with the Pontiff during the general audience on Wednesday were arranged by the Vatican embassy in Amman and Monsignor Khaled Akasheh, bureau chief for islamic relations at the pontifical council for interreligious dialogue at the Vatican.
The book, published last year in English and is being translated into Arabic, documents the Kingdom's efforts to promote interreligious harmony at the world level and defend the true image of Islam.
"Fortress of Peace" focuses on Jordan as an exemplary model of peace, interfaith harmony, tolerance and dialogue, Samain said upon launching the book, which has attracted the attention of organisations and figures concerned with the issue around the world.
The book is divided into five sections, starting with the Hashemites' philosophy of religious coexistence since the Great Arab Revolt, Jordan's initiatives in interfaith dialogue: mainly the Amman Message and its accomplishments, "A Common Word" and "The World Interfaith Harmony Week".
In Another chapter, the author interviewed Arab and foreign figures who had been involved in interfaith activities organised by Jordan, who gave their reflections on the experience and advice on how to avoid setbacks and move ahead towards a fully mature experience.
The writer had also toured religiously mixed communities around the country to collect the verbal heritage of Muslim-Christian coexistence, coming up with a series of anecdotes that show the unique cordial relationship between the Muslim and Christian components of the Jordanian society.
In the last chapter, the author discusses "outstanding issues" that need to be addressed regarding the Christian community in Jordan, from a legal perspective.
Related Articles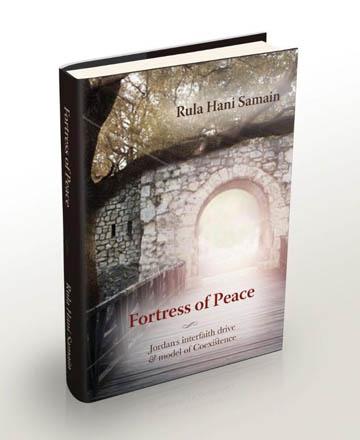 May 06,2017
AMMAN — The Jordan Times' reporter Rula Samain on Monday will launch a book that presents and evaluates Jordan's interfaith initiatives and
May 09,2017
AMMAN — The Jordan Times' reporter Rula Samain on Monday launched her book "Fortress of Peace — Jordan's Interfaith Drive and Model of Coexi
May 08,2018
AMMAN — Interreligious dialogue refers to people of different faiths, both individual and institutional, coming to a mutual understanding an
Newsletter
Get top stories and blog posts emailed to you each day.