You are here
JTGA says no tourist guides will escort groups into Petra on February 23
Association cites 'frequent' attacks on guides for decision
By Ahmed Bani Mustafa - Feb 20,2018 - Last updated at Feb 21,2018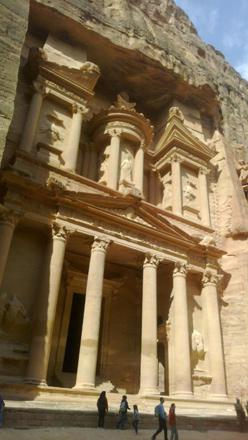 A view of the Treasury in ancient city of Petra (Photo by Ahmed Bani Mustafa)
AMMAN —The Jordanian Tourist Guides Association (JTGA) announced on Tuesday that guides will not escort groups into ancient Petra on February 23, due to the repeated physical and verbal assaults against tourist guides by locals.
JTGA threatened to extend the one-day strike "should no action taken by relevant authorities".
Hassan Ababneh, JTGA president, said that he has sent many written complaints to the Ministry of Tourism and other concerned authorities, but "no did not receive the slightest attention from them on the issue that hinders the tourist guides in the Petra".
Ababneh told The Jordan Times on Tuesday that the association is working on documenting number of the attacks which "take place monthly".
"Last month a guide was beaten and his spine was broken", accords to Abbabneh.
He called on authorities to take action and control the "chaotic" situation in the site.
Jordanian tourist guides have been suffering physical and verbal assaults by locals at some tourist sites and no "effective" action has been taken by authorities, tourist guides said.
Locals, who confirmed the occurrence of such incidents, said that the guides tell tourists not to buy from them or ride their animals, a Petra shopkeeper said.
An official security source told The Jordan Times that Tourism Police in the sites deal with such cases, describing them as "infrequent", noting that the cases dealt with executively are then referred to the judiciary.
"Our task is executive, which is arresting the suspects and referring them to courts with all explanations and evidence. The rest is related to the judicial authorities, who issue rulings after litigations," Public Security Department spokesperson Lt. Col. Amer Sartawi has said.
"The majority of tourists do not want to waste their time shopping instead of sightseeing. At the same time, the majority of shop and animal owners in Petra [235km south of Amman] wants guides to bring their groups into their shops or ride their animals," a tourist guide, who preferred to remain unnamed, told The Jordan Times.
"Petra and all Jordanian sites are very safe for everybody, except for tourist guides, who are expected to be professional with their clients and salespeople for locals," the guide explained.
Locals do not assault tourists as they are the source of living for them, he added.
However, they can "easily attack" a guide and expect little or no punishment, the guide claimed.
"When the locals attack a guide, they rush to a hospital, get a medical report that they were injured, file a case against the guide, and it ends up in the dropping of both the guide and the assailant's cases," according to the tour leader.
Lawyer Mohammad Basha said that if the guides continue litigation and do not drop the lawsuits, they will "absolutely" get their rights.
"Judiciary will look into both cases and find out who was guilty after using all evidences, however, litigation would take long time, which leads tour guides to drop their lawsuits," said the Basha.
Mahmoud Bedoul, a shop owner in Petra, said that some guides try to be fair to all shops by stopping at a different one during each tour and dealing with all animal handlers the same way.
However, others stop at a certain shop every tour that "give them commission" and some do not stop at all to prevent tourists from buying at Petra, but rather at other places where they can get better commissions.
The local said that the growing number of underage animal handlers have "worsened" the situation, adding that those youngsters are taught that tourist guides tell their clients not to ride animals.
Hani Massadeh, a tourist guide, agreed with Bedoul, saying that some guides "cause the problem" by choosing to work with people who pay more commission.
Authorities have placed billboards at the visitor centre in Petra, instructing tourists to consider their weight if they want to ride animals and also make sure they are in good condition and treated well.
Ahmad Qatawneh, another tourist guide, who said he was recently attacked by "dozens" of locals at the Treasury in Petra for allegedly asking his "obese" clients not to ride donkeys.
"One of them came and asked me why I told them not to ride donkeys, then an argument ensued, suddenly, he and his friends started beating me in front of police," Qatawneh said.
"I obtained a medical report and the assailant did the same. We were both arrested until we dropped the case against each other," he said.
Qatawneh said that he dropped the lawsuit as he was booked for several trips that he had to do.
Saleh Hammad, another guide, called on authorities to take more measures to ensure the safety of guides on-site.
Related Articles
Sep 11,2017
AMMAN — A video of an Asian tourist quarrelling with a local bedouin in Petra, 220km south of Amman, has gone viral on social media over the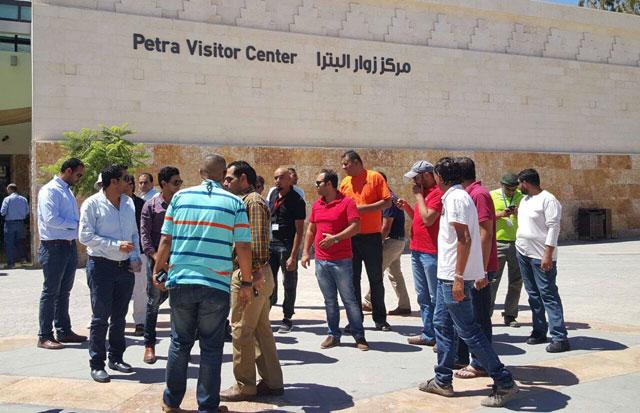 Jul 25,2016
AMMAN — Dozens of tour guides went on strike and protested at the Petra Visitor Centre on Monday over allegations of corruption within their
Jan 18,2018
AMMAN — People of Petra are keen to cooperate with authorities and organisations to end mistreatment of animals, a local community represent
Newsletter
Get top stories and blog posts emailed to you each day.