You are here
King, Abbas discuss efforts to solve Jerusalem crisis
FM outlines Jordan's 'diplomatic engagement' to restore calm
By JT - Jul 27,2017 - Last updated at Jul 27,2017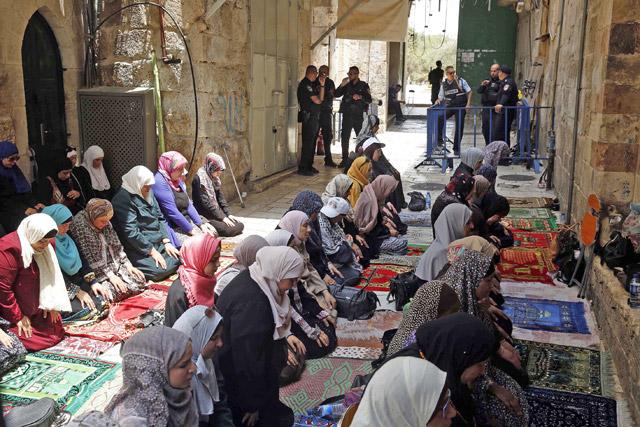 Muslims pray as they await the declaration of the report of the International Institute of Islamic Waqf on the entrance problem of Al Aqsa in front of Al Aqsa Mosque compound after Israeli authorities decided to remove metal detectors from the compound in Jerusalem on Wednesday (Anadolu Agency photo)
AMMAN — His Majesty King Abdullah on Wednesday discussed, during a phone call, with Palestinian President Mahmoud Abbas the crisis in Al Aqsa Mosque/Al Haram Al Sharif, according to a Royal court statement.
King Abdullah and President Abbas affirmed the continued coordination of efforts towards solving this crisis, in order to ensure that normalcy is fully restored and that the situation is not escalated any further.
The two leaders stressed that the historic and legal status quo of Jerusalem remains intact.
Also on Wednesday, Foreign Minister Ayman Safadi reiterated that Jordan's efforts to protect Jerusalem and the holy sites were still ongoing.
They started the moment the crisis at Al Haram Al Sharif broke out, he said, when a shootout between Palestinian gunmen led to the death of three Palestinian youths and two members of the occupation forces.
Israel closed down the holy shrine and when it was reopened, metal detectors and cameras were installed at its gates, triggering Palestinian anger and protests. Israel removed the devices under pressure, especially from Jordan, but said they would be replaced by advanced technologies.
Safadi told Sky News Arabic that Jordan's pro-Jerusalem diplomacy, led by King Abdullah, is aimed at restoring calm through a "popularly accepted" solution that ensures the cancellation of all unilateral Israeli acts, respect of the historic and legal status quo of Jerusalem, returning the situation to its previous state, and removal of metal detectors, cameras and any other measure.
There has been some progress, but the crisis has not been solved yet, pending the reversal of all Israeli measures, Safadi told the Abu Dhabi-based news channel.
The foreign minister underlined an Arab League foreign ministerial meeting scheduled for Thursday, at Jordan's request, while there have been contacts with the US side, the Palestinian leadership and other players. The Americans, he said, want a resolution to the crisis and "we are working together to achieve that".
Related Articles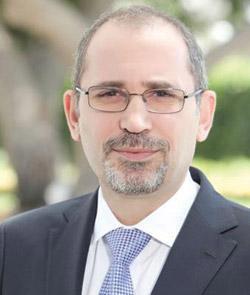 Jul 27,2017
AMMAN — The Arab League on Thursday thanked Jordan for its efforts, led by His Majesty King Abdullah, the Custodian of the Muslim and Christ
Nov 15,2014
Jordan's "well-studied" diplomatic push proved to be successful in the face of the recent Israeli escalation at Al Aqsa Mosque and Al Haram Al Sharif, government officials said Saturday.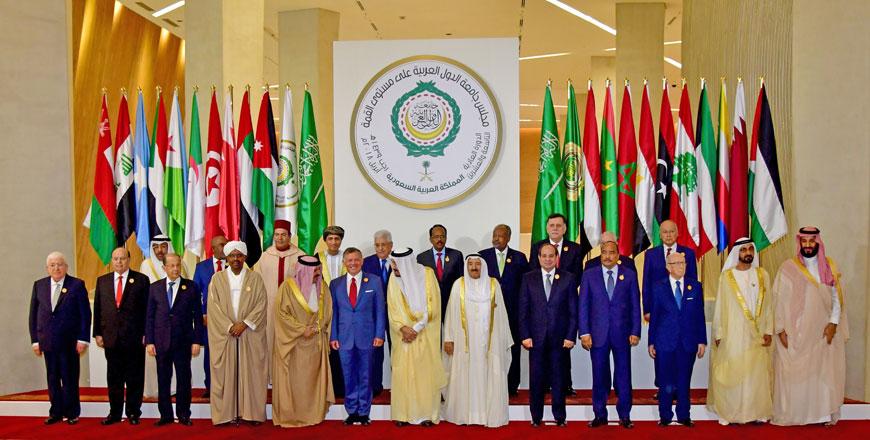 Apr 15,2018
DHAHRAN — Arab leaders on Sunday commended the efforts of His Majesty King Abdullah in defending Jerusalem as he performs his role as the cu
Newsletter
Get top stories and blog posts emailed to you each day.