You are here
King highlights 'noble role' of imams, preachers in spreading true message of Islam
Awqaf minister outlines strategy to turn mosques into self-sufficient institutions that support community
By JT - May 27,2019 - Last updated at May 27,2019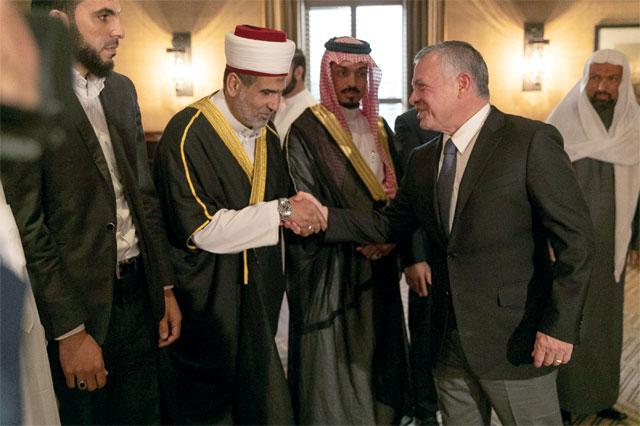 His Majesty King Abdullah meets with a group of imams and preachers from awqaf directorates around Jordan at Al Husseiniya Palace on Sunday (Photo courtesy of Royal Court)
AMMAN — His Majesty King Abdullah on Sunday stressed the great responsibility of imams and preachers in providing guidance and promoting the values of solidarity, compassion and charity.
During a meeting at Al Husseiniya Palace with a group of imams and preachers from awqaf directorates around Jordan — attended by HRH Prince Ghazi, His Majesty's chief adviser for religious and cultural affairs and personal envoy — King Abdullah stressed the need to apply the teachings of Islam, which is based on tolerance, mutual respect and love, according to a Royal Court statement.
His Majesty highlighted the noble role and message of imams and preachers, in the service of God, spreading the true message of Islam especially during Ramadan, a blessed month that represents an opportunity to instil positive behaviour.
Speaking at the meeting, Awqaf Minister Abdul Nasser Abul Bassal highlighted the ministry's strategy to turn mosques into self-sufficient institutions that support the community in education, healthcare and social services, in addition to religious affairs, in coordination with various state institutions.
For their part, the imams and preachers emphasised their role in guiding society towards positive behaviour, as well as combating malicious rumours that weaken society, the statement said.
They also stressed the importance of promoting volunteerism to serve society.
The imams and preachers said they also have a role in countering extremist ideology and spreading the values of tolerance and moderation preached by Islam.
They commended the King's efforts to defend Islam and highlight its true image, lauding His Majesty's initiatives that call for good deeds, such as the national campaign in solidarity with gharimat, indebted Jordanian women unable to pay back loans they had taken to support their families.
The imams and preachers stressed the importance of the Hashemite Custodianship of holy sites in Jerusalem, noting that they stand with His Majesty's leadership in defending and safeguarding these holy sites, and expressing pride in the King's position in support of the Palestinian cause and the legitimate rights of the Palestinian people.
They also spoke about some of the challenges facing imams and preachers around the Kingdom, the statement added.
His Majesty hosted an Iftar in honour of the imams and preachers, and joined them in performing maghreb prayer.
Royal Hashemite Court Chief Yousef Issawi, Adviser to His Majesty for Communication and Coordination Bisher Al Khasawneh, Adviser to His Majesty for Policies and Media Kamal Al Nasser, Chief Islamic Justice Abdul Karim Khasawneh, Grand Mufti Mohammad Khalaileh and Royal Hashemite Court Imam Ghaleb Rababah attended the meeting.
Newsletter
Get top stories and blog posts emailed to you each day.