You are here
King holds talks with Kuwait, Bahrain leaders
Kuwait to increase investments in Jordan, enhance economic cooperation
By JT - Jun 13,2018 - Last updated at Jun 13,2018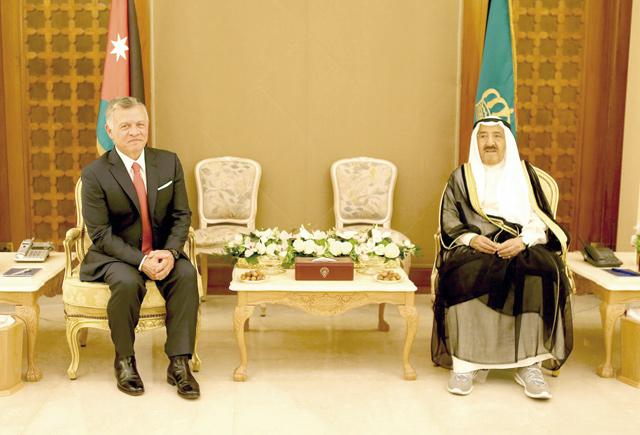 His Majesty King Abdullah meets with Emir of Kuwait Sheikh Sabah Al Ahmad Al Jaber Al Sabah in Kuwait on Tuesday (Photo courtesy of Royal Court)
AMMAN — His Majesty King Abdullah and Emir of the State of Kuwait Sheikh Sabah Al Ahmad Al Jaber Al Sabah held talks in Kuwait on Tuesday, focusing on brotherly relations between the two countries and regional developments.
Later in the day, His Majesty arrived in Bahrain for a meeting with King Hamad Bin Isa Al Khalifa and the crown prince of Bahrain.
During the talks held at Dasman Palace, King Abdullah and the emir expressed their pride in the distinguished level of Jordanian-Kuwaiti relations and their keenness to expand cooperation, especially in the economic and trade fieldms' and increase the volume of Kuwaiti investments in the Kingdom's vital sectors, according to a Royal Court statement.
In this context, His Majesty expressed Jordan's "great appreciation for Kuwait's historic and supportive stands led by Sheikh Sabah Al Ahmad Al Sabah, in addition to standing by Jordan's side under all circumstances and showing willingness to support Jordan's economy at all times".
They underlined the importance of maintaining coordination and consultation between the two countries on various regional issues and challenges, thus continue serving the interests of the Arab nation and its just causes, the statement said.
His Majesty also underlined the importance of Sheikh Al Sabah's efforts in serving Arab causes and enhancing Arab solidarity.
The talks also addressed the current developments in the region, with the two leaders emphasising the need to reach political solutions to the crises in the region and continue the war on terror within a holistic approach.
For his part, Sheikh Al Sabah expressed his deep appreciation for the "honourable stands of Jordan, under the leadership of His Majesty the King Abdullah, in supporting his Arab brothers and the important role played by His Majesty to serve Arab causes and strengthen the framework of pan-Arab action and cooperation, in addition to his continuous efforts to achieve security and stability in the region".
The talks were attended by the Minister of Foreign Affairs and Expatriates in the caretaker government Ayman Safadi, Chairman of the Joint Chiefs of Staff Lt. Gen. Mahmoud Freihat, Adviser to His Majesty, Director of King's Office Manar Dabbas and Jordanian Ambassador to Kuwait Saqr Abu Shattal, in addition to senior Kuwaiti officials.
In Manama, King Abdullah held similar talks with King Hamad attended by Crown Prince Salman Bin Hamad Al Khalifa.
His Majesty King Abdullah offered his condolences to the Bahraini monarch over the passing away of Sheikha Hala Bint Daij Al Khalifa, according to a Royal Court statement.
During the meeting, both leaders underlined the strong ties between Jordan and Bahrain and their keenness to strengthen coordination and consultation on various issues of mutual concern to serve the interests of both countries.
Newsletter
Get top stories and blog posts emailed to you each day.