You are here
King: Jordan ready to help Tunisia counter challenges at all levels
By JT - Oct 21,2015 - Last updated at Oct 21,2015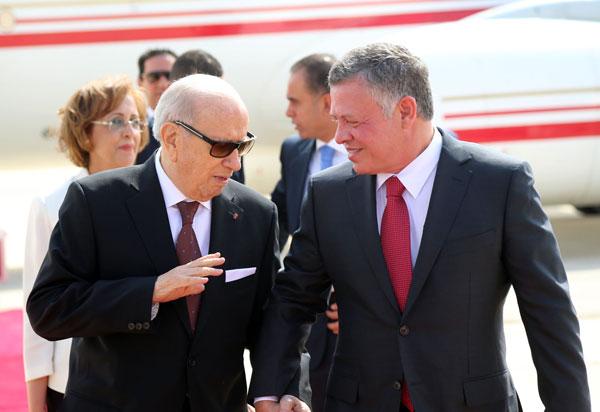 His Majesty King Abdullah receives Tunisian President Beji Caid Essebsi ahead of their talks in Amman on Tuesday (Photo courtesy of Royal Cour)
AMMAN — His Majesty King Abdullah and Tunisian President Beji Caid Essebsi on Tuesday stressed their desire to enhance cooperation in political, economic, military and security fields.
The King held a one-on-one meeting with Essebsi at Basman Palace, followed by expanded discussions focusing on sustaining coordination and consultation in all fields that could benefit the interests of both countries and their peoples, according to a Royal Court statement.
After the talks, King Abdullah and Essebsi, who arrived in Amman earlier in the day on a two-day visit, attended the signing ceremony of a cooperation agreement in civil protection and civil defence, and another on cooperation in the security field, which were signed by Interior Minister Salameh Hammad and Tunisian Minister of Foreign Affairs Taieb Baccouche.
Another agreement in the military field was signed by King's Military Adviser and Chairman of the Joint Chiefs-of-Staff Gen. Mashal Al Zaben and Baccouche.
His Majesty also bestowed the Order of Al Nahda, the Kingdom's highest-ranking medal, upon Essebsi for his contributions to "enhancing brotherly ties and distinguished relations between the two countries", the Royal Court said.
During the meetings, both sides called for increased cooperation in the economy, IT, energy, health and tourism sectors, and stressed the importance of exchanged visits between businesspeople of both nations to explore investment opportunities.
Towards that end, they highlighted the significance of the upcoming meetings of the joint higher committee.
King Abdullah said that Jordan and Tunisia face similar economic challenges, mainly poverty and unemployment, in addition to dealing with refugee issues, the statement added.
In this regard, and despite regional challenges, both countries continue their development and reform schemes, with Tunisia announcing its five-year development plan and Jordan launching its 10-year economic and social development blueprint.
Jordan, the King stressed, stands ready to help Tunisia at all levels — governmental, military, security and other fields — and to support the Arab country in countering various challenges.
He added that Jordan and Tunisia have many similarities that entitle them to boost cooperation and build partnerships in various fields.
The King also congratulated Essebsi on Tunisia's National Dialogue Quartet receiving the Nobel Peace Prize, a sign of the international community's appreciation for the Tunisian democratic model.
For his part, Essebsi expressed his appreciation for the King's invitation to visit Jordan, adding that Tunisia highly appreciates His Majesty's stances, and those of the late King Hussein, describing King Abdullah as "the best successor to the best predecessor".
The Tunisian leader voiced appreciation of Jordan's role in facing various challenges, praising the Kingdom's role at regional and international levels.
"When we look at Jordan's role, we view it with all due respect and pride," Essebsi said.
He also outlined the Tunisian reform experience and referred to the challenges his country faces as a result of conditions in neighbouring Libya, especially in terms of refugee influx and controlling common borders, added the statement.
Regarding extremism and terrorism, which, they agreed are the most serious threat to the region and the world, both leaders stressed the importance of intensifying regional and international efforts and cooperation to fight these phenomena, as well as continuing coordination and consultation among relevant parties within a comprehensive strategy.
Discussions also tackled dangerous Israeli escalations in the West Bank and Al Haram Al Sharif, in addition to the latest developments in the Syrian arena.
Following the meetings, which were attended by senior officials from both countries, the King hosted a banquet in honour of the Tunisian president and the accompanying delegation.
Also on Tuesday, Prime Minister Abdullah Ensour met with Essebsi and reiterated His Majesty's keenness on enhancing Jordanian-Tunisian ties and joint cooperation in all fields.
Ensour and Essebsi also highlighted the significance of the joint higher committee's meetings, scheduled to be held in December, and their role in enhancing economic and commercial ties between the two countries.
Ensour reviewed the repercussions of the Syrian crisis on Jordan and the pressure 1.4 million Syrian refugees have caused to the economic and service sectors.
Essebsi praised Jordan's role and efforts to preserve security and stability in the region, expressing his admiration at the Kingdom's ability to maintain security in a turbulent region.
Related Articles
Oct 21,2015
AMMAN — His Majesty King Abdullah on Wednesday saw off Tunisian President Beji Caid Essebsi, who left the Kingdom after a two-day state visi
Dec 05,2015
AMMAN — The Jordanian-Tunisian Higher Committee on Saturday discussed ways to increase trade between the two countries, citing the "great po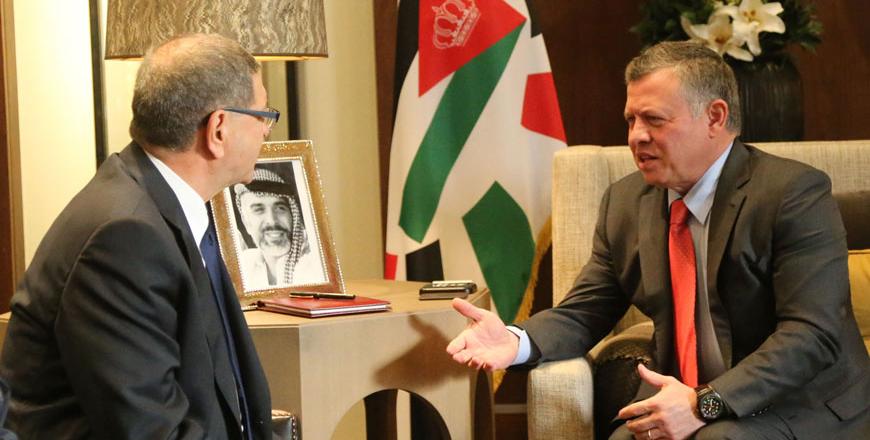 Dec 07,2015
AMMAN — His Majesty King Abdullah on Monday stressed the need for a strategic and comprehensive counterterrorism approach, underlining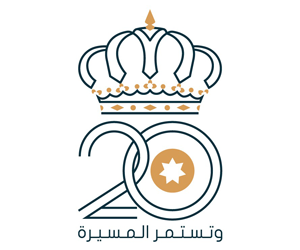 Newsletter
Get top stories and blog posts emailed to you each day.